Slovak Air Arm use of the Avia B-534 and Bk-534 during the Second World War

The SVZ (Slovenské Vzdusné Zbrane - Slovak Air Arm) of the Slovak republic used at least 79 B-534's and 11 Bk-534's during its existence.
The Avias came from the former 3rd air Regiment of the Czechoslovak Air Force. They was organised into three stihacia letky (Fighter Squadrons), the 11th, 12th and 13th stihacia letka (Fighter Squadron). A number of machines were also allocated to the Letecká skola (Air School) and the Letecký park (Air Depot).
The base of the 11th and 12th letka was Piestany; the 13th letka was based at Vajnory (Bratislava) airfield.
On 1 May 1941, the II. Stihacia perut' (IInd Fighter Wing), was established as a 'roof' unit over the Fighter Squadrons. From 1 June 1943, the 13th letka was removed from its establishment, as it was to form the basis for the IIIrd Fighter Wing, which was eventually never formed. The 13th letka was by this time flying Bf109's on the Eastern Front and the Avias of the 11th and 12th letka had to be superseded by Stukas. On 1 August 1943 there were only 43 B-534's and Bk-534's surviving, with 34 of them flyable.
The combat career of the Avias in the SVZ begun before the breaking up of Czechoslovakia and continued a time afterwards with minor clashes with the Hungarian Air Force, when Hungary tried to expand its territory in eastern Slovakia.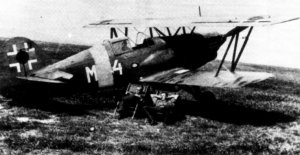 Avia B-534 of 13th letka during readiness on the East front
In Poland during September 1939, the SVZ was the only official combat ally to the Luftwaffe. The SVZ committed three squadrons to the operations of which two were fighter squadrons. The Slovak units limited themselves to occupation of parts of northern Slovakia, which had been seized by Poland in 1918 with support of the Entente powers and in 1938 in collaboration with Germany.
The fighters' participation was restricted to escorting German Ju 87s during their eight missions from Vinné airstrip near Michalovce. After these operations the fighters shifted to patrolling the border.
During these operations catár (Sergeant) Viliam Grun were shot down and made an emergency landing on Polish territory, but avoided capture, eventually making it home after a very treacherous journey.
Another pilot, desiatnik (Corporal) Viliam Jaloviar was killed in a landing accident near Presov on 9 September after returning from a sortie.
On 26 September a two-aircraft patrol attacked a Polish RWD-8 which was fleeing to Hungary and it was shot down by catár Grun. The Polish aircraft force-landed near Presov.
The SVZ fighter was more involved in the German attack on Soviet Union in June 1941. It was planed that the II. Stihacia perut' should have been deployed there in 1941 with a full complement of three fighter squadrons. But the 11th letka did not progress beyond East-Slovakian airfields.
On 7 July 1941, the 12th and 13th letka, with 11 machines each, left for Ukraine. The Slovak fighters were assigned with escorting German Ju 87s and Hs 126s of 3.(H)/Aufkl. Gr. 32 and 4.(H)/Aufkl. Gr. 32 operating in the northern part covered by Luftflotte 4.
On 16 July, a Slovak Avia B-534 'roj' encountered heavy flak while escorting a Luftwaffe Hs 126. J. Svejdik's fighter was hit, forcing him to return. While attempting to land his stricken aircraft he crashed, but survived the accident.
On 20 July 1941, the first ground-attack raid, a strafing one, was executed against retreating Soviet columns on the Vinnica-Niemirov road.
Due to the severe fuel shortage of the special BiBoLi fuel mixture needed for Slovak aircraft, all Letov Š-328 were grounded on 21 July, in order to save the dwindling fuel stock for the Avia B-534 fighters.
On the same day, a pair of B-534s of the 13th letka was hit by machinegun fire while flying at 50 metres over enemy lines. One of the pilots, Rotnik L. Zatkonak, had to force-land behind enemy lines. His machine, struck by 40 bullets, was repaired on the spot by technicians flown in, so he was able to return to his unit the next day.
On 23 July, the 12th letka moved from Proskurov to Vinnitsa.
In the early morning on 25 July, the B-534s moved to Tul'chin, located 70km from Vinnitsa.
Soon after their arrival, at 07:15, a fighter trio took off to escort a Hs 126 of 4.(H)/Aufkl. Gr. 32. While flying over the front line, the aircraft received heavy ground fire over Trotsianov (30km south of Gaysin). The Avia of Catník (Sergeant) Frantisek Brezina's (total 14 victories in WWII) was damaged by Soviet AA fire and he was forced to land behind enemy lines, 4km north of Trotsianov, close to a retreating Soviet column. The stranded Brezina was then rescued by Catník Stefan Martiš (total 5 victories in WWII), who despite strong fire landed near Brezina's stricken machine and brought him home clinging to the biplane's wing struts!. Martiš was wounded by bullets, but could fly B-534 no. 181 back to Tul'chin.
On 28 July, the Slovak airmen fighting on the Eastern Front made their first claim when an unidentified pilot of a 'roj' (three-aircraft basic formation) of the 12th letka, led by Squadron CO nadporučík (1st Lieutenant) Josef Pálenicek, damaged a Soviet 'Curtiss' biplane fighter in a dogfight east of 'Gaysina at 18:22.
This claim was made in combat with fighters from 168 IAP, which took off from Grushka airfield to provide fighter escort to bombers attacking Gaysin. Over the target, two reportedly Rumanian 'polutoraplan' (i.e. '1-1/2-wing') fighters jumped one of the I-153s, damaging it. The I-153 had to make an emergency landing in the Yuzefpol area.
Slovak sources gives the date for this combat to 29 July, but the details match with Soviet data on this date.
On 29 July, a Hungarian CR.42 was spotted flying over Tul'chin airfield, where the Slovak 13th letka was located. Three Slovak pilots scrambled with their Avia B-534s to pursue the 'intruder', whose identity was well known to them. One of them, Ján Reznák (top Slovak ace of WWII with 32 victories), managed to catch up with the unsuspecting CR.42. The Slovak pilot, who at that time was not skilled and had no combat experience, started to fire from long range, and only slightly damaged the Hungarian machine. However, in the meantime, they approached the Hungarian airfield and the AA artillery opened up on the Slovak attacker, compelling Reznák to retreat.
The Hungarian command vehemently protested to the Germans, but the case eventually vanished in 'red tape'. It however illustrated how tense the relationship actually was between the two Axis 'allies'!
At 18:22, a 'roj' of three Avia B-534 of 12th letka, led by nadporučík (1st Lieutenant) Josef Pálenicek, tangled with a mixed group of VVS fighters, made up of I-16s, I-153s and I-17s. The presence of the modern 'I-17' (most probably MiG-3s) – besides their numerical superiority – offered a decisive advantage to the Soviet side. Therefore, Pálenicek ordered his men to break combat and return home, flying at tree top level.
On 30 July, the Commander of the 12th letka received orders from the German 17th Army to strafe Soviet columns retreating towards Uman with bombs and machinegun fire. During the mission, Avia B-534 No. 242 flown by Catník Martin Danihel was hit by ground fire. Danihel force-landed in enemy territory, near Babanka. He was rescued by his comrade Catník Jozef Drlicka, who landed nearby and brought him home clinging to the wing struts!
They were both awarded the Eiserne Kreuz II.Klasse (Iron Cross 2nd Class) for this bravery on 8 September together with their colleague Augustin Kubovic.
Later this scene was reconstructed in peace airfield for a war document film.
On 15 August 1941, the 13th letka returned to Piest'any.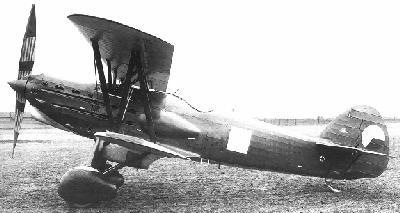 Avia B-534.159
On 17 August, the Slovak Air Force's 13th observation letka, equipped with Letov Š-328 biplanes, was withdrawn from the front due to attrition. As the 13th fighter letka had earlier left for Slovakia, only two Slovak combat units, the 12th fighter letka and the 1st observation letka (Letov Š-328s), remained. They now operated in the Kiev area, far from Odessa.
At 18:15 on 7 September 1941, Catník Jozef Drlicka of 12th letka claimed one victory while flying Avia B-534, when he during dogfights over the bridge near Gornostaypol (about 70km south of Kiev) shot down a Soviet I-16.
An unknown Slovak pilot claimed a second I-16 at the same time.
At 07:55 on 8 September 1941, Catník J. Kocka of 12th letka claimed one I-16 during dogfights over the bridge near Gornostaypol (about 70km south of Kiev).
On 3 October, Slovak anti-aircraft units mistakenly fired on a friendly aircraft. The B-534 of František Hanovec from the 12th letka was damaged, although the pilot was unhurt. The aircraft was repaired but not until 15 October, which indicates the precarious state of the Slovak expeditionary air unit's field repair capability.
On 16 October, the 12th letka returned to Slovakia.
12th and 13th letka's flew 1119 front-line missions during 1941, including 58 air combats, 14 strafing missions, 14 bombing missions, 383 patrol missions, 91 escort missions escorting Slovak aircraft and 88 escort missions escorting German aircraft. The remaining missions were various ferry flights.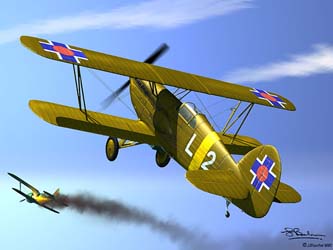 © Jerry Boucher.
Picture kindly provided by Jerry Boucher from the VIRTUAL AIRCRAFT WEBSITE.
Click on the image to see it in full size.
On 1 June 1942, the 11th letka was sent to the Soviet Union for anti-partisan operations in the hinterland. This tour lasted fourteen months and they lost two aircraft to enemy ground fire.
The front-line career of the Avias was curtailed primarily by the supply problems associated with both the spare parts and the BiBoLi fuel (an alcohol-benzol-petrol mixture, a carry-over from the pre-war Czechoslovak Air Force, for which the engines were adjusted). But above all, the obsolescence and the general wear and tear caused by the combat operations was the main cause of problems. In early February 1942, the first Slovak pilots were sent to Denmark for conversion training on the Bf109, which from then on started to be used by the Slovak pilots at the front and from the bases at home.
Four Avias were among the 27 machines whose escape and landing on the Red Army-controlled territory on 31 August 1944 meant the end of the short history of the SVZ.
Sources:
Air Enthusiast No 56 winter 1994
Avia B-534 - Jirí Vraný, 1994 MBI, Praha, ISBN 80-901263-6-7
From Barbarossa to Odessa: Volume 1 – Dénes Bernád, Dmitriy Karlenko and Jean-Louis Roba, 2007 Ian Allan Publishing Ltd, ISBN 978-85780-273-3
From Barbarossa to Odessa: Volume 2 – Dénes Bernád, Dmitriy Karlenko and Jean-Louis Roba, 2008 Ian Allan Publishing Ltd, ISBN 978-85780-280-1
Additional image is kindly provided by Csaba Stenge and Pavel Vancata.



Last modified 11 September 2019