Aviators from WWII

Lieutenant Mark Fownes Somerville
27 January 1913 – 8 May 1941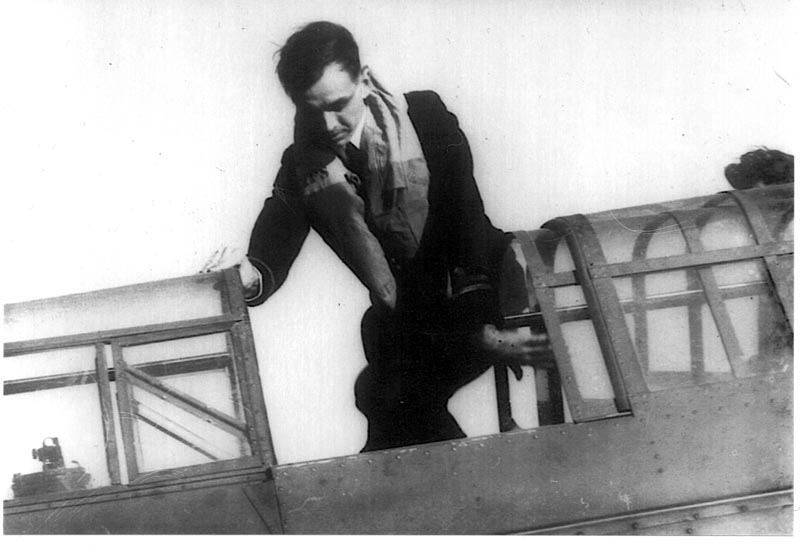 Mark Somerville
Image kindly provided by Bruce Buchanan
Mark Somerville was born on 27 January 1913.
He was nephew to Admiral Sir James Somerville, commander of Force H.
He served as Senior Observer of 808 Squadron on HMS Ark Royal, which was equipped with Fairey Fulmar Is. He usually flew as observer to Lieutenant Rupert Tillard, CO of 808 Squadron, and took part in all his claims.
On 8 November 1940, HMS Ark Royal and her escort approached Sardinia. At 18:00, Tillard and Somerville shot down a lone SM 79 at 3,000ft some 50 miles south of Sardinia. Tillard's attack appeared to kill the rear gunner, and he then shot the aircraft down into the sea.
This was 808 Squadron's first victory.
At 09:50 the next day, Red Section of 808 Squadron intercepted a Z.506B of the 196a Squadriglia R.M. flown by Tenente Silvano Donda at 6,500ft, and this was shot down by Lieutenant Tillard.
Soon after 11:00, a formation of some 25 to 30 SM 79s from Decimomannu airfield were encountered some ten miles from the carrier, soon after they had left the Sardinian coast. Lieutenant Tillard and two other Fulmar pilots engaged at 11:15. Tillard attacking the leader of one formation from 300 yards down to 50. This bomber was reported to have crashed into the sea by another pilot, and by watchers on HMS Glasgow. Now Skuas of 800 Sqyadron joined the fight, three attacking at 11:30 and claiming hits to several bombers, but none shot down. Skua 6K was hit twice by return fire and 6M once. Three minutes later a further trio (6F, 6G and 6H) also attacked, claiming several hits.
On this occasion none of the SM 79s were in fact lost, but of the 20 taking part, 18 were hit, many members of the crews being wounded and some killed. The Skua crews involved were:
6K L2908 Lieutenant Spurway/Pilot Officer (A) Hart
6L L3049 Sub Lieutenant (A) Hurle-Hobbs/ Pilot Officer (A) V. H. Cordwell
6M L3007 Pilot Officer (A) Burston/N/A Holmes
6F L3015 Lieutenant J. A. Rooper/Sub Lieutenant (A) G. R. Woolston
6G L2952 Lieutenant R. G. French/N/A G. J. Jones
6H L3017 Pilot Officer (A) A. Jopling/N/A J. Glen
Following the recently highly successful attack on the Italian Taranto fleet base, a further convoy into the Mediterranean had been swiftly organised by the British called Operation MB 9. It was escorted by Force H, consisting of HMS Ark Royal, HMS Renown, HMS Sheffield, HMS Despatch, HMS Manchester and HMS Southampton with ten destroyers. With the British ships close to their rendezvous point and the convoys reaching Malta, 27 November became a day of heavy operations.
At around midday the opposing fleets clashed (as often quite inconclusively) in what was later called the Battle of Cape Spartivento. Eleven Swordfishes from 810 Squadron led by Lieutenant Commander M. Johnstone attacked at around 12:40, claiming a hit on the battleship Vittorio Veneto (in fact, they all missed).
In the early afternoon, nine Swordfishes from 820 Squadron led by Lieutenant Commander J. A. Stuart-Moore attacked the Italian cruisers, claiming two hits (none achieved). Three CR.42s of 154a Squadriglia piloted by Capitano Tovazzi, Tenente Giannini and Sergente Maggiore Bortolani intercepted a British plane identified as a "Blackburn" during a cruise over the Italian fleet and Giannini claimed it shot down. Ten SM 79s of the 32o Stormo, escorted by CR.42s of the 3o Gruppo Autonomo then arrived over Force H and seven Fulmars of 808 Squadron, which were up, intercepted at 14:30 claiming two or three victories without being able to stop them. Green Section's Lieutenant Rupert Tillard claimed one SM 79 shot down but then he and the men of his section were bounced by the CR.42s. A formation of five CR.42s of the 153a Squadriglia led by Capitano Giorgio Tugnoli and including Tenente Alfonso Mattei, Sottotenente Ciapetti (154a Squadriglia), Sergente Maggiore Visconti and Sergente Lucato (154a Squadriglia) reported a combat against seven British fighters probably "Hurricanes" over the sea 200 km south-west of Cagliari. They claimed five victories with the use of 1080 rounds, one of the victories was claimed individually by Ciapetti while Lucato failed to return. In fact, unable to fight back because low on ammunitions and after having mistaken the Fiats for Sea Gladiators, Fulmar N1941 (pilot Sub Lieutenant Richard Maurice Scott Martin and TAG 23-years-old L/A Alexander Laird Milne Noble (FAA/FX 79397)) was shot down into the sea with the loss of the crew. The FAA pilots were unable to claim anything and the missing CR.42 probably run out of fuel after the combat and disappeared in the sea with its pilot.
All the SM 79s from the 32o Stormo returned to base, even if eight out of ten were damaged by the Fulmars and the AA, two of them seriously. However, during the course of the air battle, a Vichy French four-engined civil Farman 223.4 transport aircraft (F-AROA 'Le Verrier') carrying the newly-appointed Vichy High Commissioner to Lebanon and Syria, M. Jean Chiappe, strayed into the battle zone. The radio operator just had time to send out an SOS, stating that the aircraft was being machine-gunned, before it was shot down off Cape Spartivento. All on board – five crew and two passengers – were lost. It would appear that it had been shot down by one or more of the Fulmars.
Tillard's claim in this combat may have been shared with their two wingmen.
At 13:20 on 9 January, Force H plotted an incoming raid from Italian Sardinian-based aircraft. Half an hour later ten SM 79s of 32o Stormo B.T., swept in out of the sun, boms falling close to HMS Malaya and HMS Gloucester, but 808 Squadron's patrolling Fulmars were quickly amongst them. Lieutenant Tilard with Lieutenant Somerville as his observer, promptly shot down two of the bombers. The first caught fire and exploded, one member of the crew being picked up by HMS Foxhound after he had baled out, while the second crashed into the sea on fire, two of the crew being rescued by HMS Forester.
It seems that the SM 79s were misidentified and they where in fact Cant Z.1007s.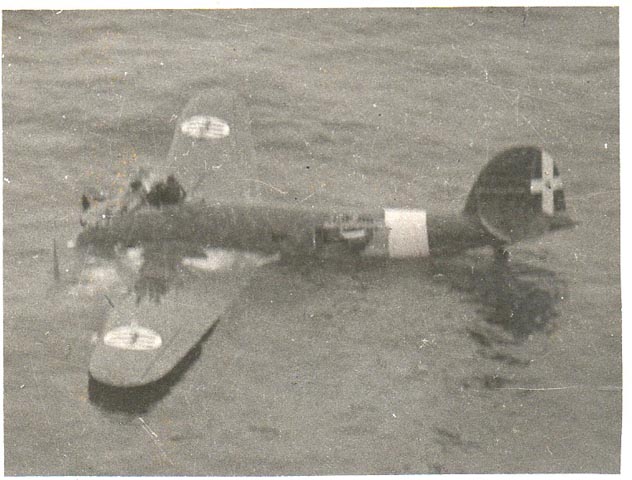 The second Italian bomber shot down by Tillard and Somerville on 9 January 1941. The aircraft is a Cant Z.1007. The white band around the fuselage is a theatre marking introduced when the Germans started to operate in the Mediterranean in January 1941.
Image kindly provided by Bruce Buchanan
On 1 April it was gazetted that Lieutenant Commander Rupert Claude Tillard and his observer, Lieutenant Somerville had both been decorated with a DSC for their courage and skill in engaging and shooting down enemy aircraft operating from HMS Ark Royal on 9 January.
On 3 April, HMS Ark Royal's fighters were active as the carrier headed back towards Gibraltar. At 08:40, patrolling Yellow Section of 808 Squadron, led by Lieutenant Tillard, was advised of a 'shadower' in the heavily clouded skies, the three Fulmars separating to carry out individual searches. The Fulmar crewed by Pilot Officer (A) D. E. Taylor/Leading Airman G. C. O'Nion intercepted a Z.506B, which made off on seeing the fighter and attempted to evade by making steep turns, but Taylor was quickly onto its tail and forced it down into the sea. The crew, with the exception of the apparently dead rear gunner, were seen inflating their dinghy and O'Nion took photographs of them and the sinking Cant as the Fulmar circled the scene. The Italians were later rescued by a Royal Navy destroyer.
20 minutes after Taylor's combat, the other two Fulmar pilots, Tillard and Royal Marine Lieutenant R. C. Hay, spotted another Z.506B as they were heading back towards the carrier, and attacked. This too made a number of steep turns and made for nearby cloud, though its port engine was believed damaged, and possibly the rear gunner killed. The Fulmars continued searching for it and came across it (or the aircraft forced down by Taylor) floating on the sea; there were no signs of life.
At least one Z.506B from the 287a Squadriglia was reported lost.
In the beginning of May 1941, a convoy of five fast freighters steamed for Alexandria (Operation Tiger) together with Force H from Gibraltar. To meet this convoy the Mediterranean Fleet left Alexandria on 6 May to rendezvous with it south of Malta. The Tiger convoy escaped discovery until 8 May due to bad weather and poor visibility but was then on to became the focus for the air battles for the next four days.
The first incoming raid was reported at about 13:45, still 32 miles from the ships. HMS Ark Royal of Force H had embarked a second squadron of Fulmars to replace the low-performance Skuas of 800 Squadron. This was 807 Squadron under Lieutenant Commander J. Sholto Douglas who was to assist the resident Fulmars of 808 Squadron under Lieutenant Commander Rupert Tillard. Only twelve aircraft were serviceable this morning but two sections (four aircraft) of 807 Squadron were scrambled to join the four Fulmars of 808 Squadron on patrol.
At 12:45, five torpedo bombers (SM 79s) of the 280o Squadriglia (led by Capitano Dante Magagnoli) attacked the convoy, escorted by 15 CR.42s of 3o Gruppo C.T. The four Fulmars of 808 Squadron intercepted them, but as Lieutenant Commander Tillard led the attack they were themselves attacked by the dozen escorting CR.42s of the 3o Gruppo. Almost immediately Tillard's Fulmar was shoot down after having ignored the advice he had been given to not get involved in a turning 'dogfight' with the CR.42s. He and his observer, Lieutenant Somerville, were killed. The three other Fulmars were also hit, the aircraft of both Lieutenant G. C. McE. Guthrie and Pilot Officer (A) R. E. Dubber sustaining damage to their tail units, while in Lieutenant Taylour's aircraft the TAG, Pilot Officer (A) L. G. J. Howard received a severe leg wound, an explosive bullet shattering both tibia and fibula. One CR.42 overshot their aircraft and Taylour managed to score hits on it, forcing it into a spin from which he considered it would not be able to recover. Having evaded the other CR.42s, Taylour headed for the carrier with his wounded TAG, where only prompt and skilful action by HMS Ark Royal's surgeon prevented the loss of Howard's leg.
The 280o Squadriglia reported that Sottotenente Marini's aircraft was hit and crashed near La Galite (a French flying boat took the crew to Tunisia, which later was repatriated). Sottotenente Cappa, hit by cannon fire, launched a torpedo against a large ship from close range, and then disappeared into the water with the loss of all the crew. He was awarded a posthumous Medaglia d'oro al valor militare. Both 278o and 281o Squadriglie were also involved in this attack.
The Italian pilots claimed five Fulmars shot down, one of these being credited to Capitano Giorgio Tugnoli. This was the only combat with biplane fighters over the convoy during the day but the battle continued all day (16 SM 79s of 38o Gruppo from Sardinia, attacked the Tiger convoy in small groups from 15:20 to 17:00). The protecting Fulmars nevertheless managed to protect the fleet and no ships were sunk.
34-year-old Lieutenant Commander Rupert Tillard was credited with 6 and 1 shared destroyed enemy aircraft at the time of his death.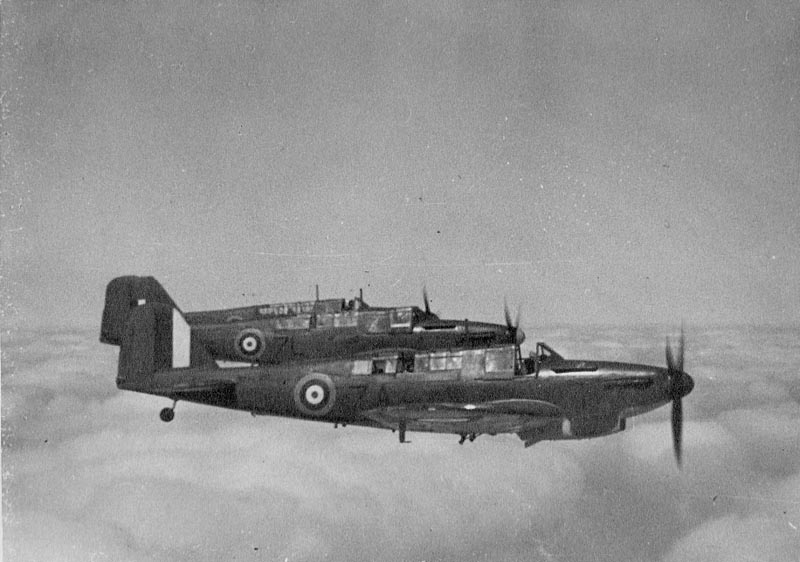 Rupert Tillard and Mark Somerville in their Fulmar (closest).
Image kindly provided by Bruce Buchanan
Sources:
Aces High - Christopher Shores and Clive Williams, 1994 Grub Street, London, ISBN 1-898697-00-0
Malta: The Hurricane Years 1940-41 - Christopher Shores and Brian Cull with Nicola Malizia, 1987 Grub Street, London, ISBN 0-89747-207-1
Additional information kindly provided by Bruce Buchanan, Antonio Maraziti and Ludovico Slongo.



Last modified 30 July 2013