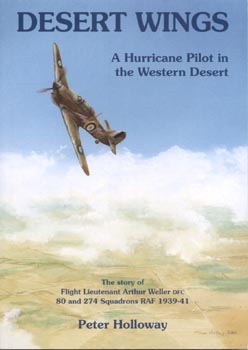 Desert Wings
ISBN: 0-9541884-0-3
Flight Lieutenant Arthur Weller was one of the pilots who took part in the early combats over the Western Desert and the desperate actions over Crete before being killed in a tragic flying accident on 13 December 1941.
Peter Holloway, one of the contributors to this site, has now written a very interesting book about Weller, which I can highly recommend.
From the back leaf:
Desert Wings is the story of Artur Weller, a young fighter pilot caught up in the maelstrom of events in North Africa in 1940. Peter Holloway, a nephew of Weller, draws a vivid social portrait of a Watford boy growing up in the uncertain years between the wars. We follow his career through the Hussars to the RAF and his posting to Egypt where he served in both 80 and 274 Squadrons and fought alongside some of the most successful and legendary RAF pilots of the war
Through meticulous research and many first-hand testimonials, Peter Holloway gives us a unique insight into the lives of these pilots in the Western Desert. From the remorseless heat and sand of the desert to the cosmopolitan centre of Alexandria, he paints a compelling and poignant picture of these young men, on whom so much depended.
Desert Wings tells of Weller's daring lone attack on enemy aircraft at Benina, Libya, for which he was awarded an immediate DFC, his ordeal by evacuation from Crete and the brief haven of his courtship and marriage. The story culminates in his tragic death at the age of just 23. The book has 304 pages and lots of pictures.
The book costs £15 plus £1.50 postage UK and plus £4 airmail postage for the rest of the world.
Content:
Foreword by Patrick Dunn
Acknowledgements
Introduction
Map, The Western Desert 1940
Prologue
An Adventurous Child
Virtue Through Praise
Trooping with the Hussars
Pupil Pilot
Above the Pyramids
Alexandria and the Isotta Fraschini
At War with the Regia Aeronautica
Flying Through Sand
"The Desert was our Headquarters"
Haifa Honeymoon
The Attack of Benina
"Heraklion is Serviceable and in our Hands"
Instruction at Ismailia
Gordon's Tree
Postscript
Notes
The Distinguished Flying Cross
Biographical Summary
Aircraft Flown by Flight Lieutenant Weller
Bibliography and Sources
Index

The book can be ordered direct from the author Peter Holloway.


Last modified 26 July 2002