J11 Fiat CR 42

ISBN 91-631-1669-3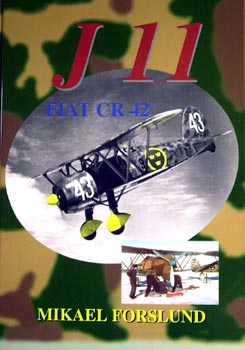 Fiat CR 42, or in the Swedish Air Force more commonly known as J11, was regarded as a emergency buy. During two periods in 1940 the Swedish Air Force bought totally 72 aircraft from Italy. The first twelve aircraft were planned to be used by the voluntary Swedish wing F19 in Finland but the aircraft weren't delivered before the cease-fire of the "Winter War" on 13 March 1940. The aircraft was instead transferred to F3 (Wing no. 3) at Malmslätt, Linköping.
Another 60 Fiat CR 42s were bought in October 1940. These aircraft and the remaining from F3 were from the autumn 1940 until the summer of 1944 delivered/transferred to F9, which at this time was based at F7s airfield. During the summer of 1941 F9 moved to their own airfield at Säve, Gothenburg.
The aircraft did good service during the war even if they were hopelessly obsolete. Many crashed, unfortunately with causalities.
During 1944 a squadron of J11s were borrowed by the newly established F13 at Norrköping.
Early in 1945 the J11 was passed out from the Swedish Air Force. 13 were sold as target tugs to Svensk Flygtjänst AB and six additional were sold for cannibalization. The aircraft was used here for approximately one year.
One J11 is today preserved at the Air Force Museum in Linköping.
The text in the book is in Swedish with an English summary. All captions are both in Swedish and English.
The book can be ordered from:
MIKAEL FORSLUND PRODUKTION
HERRHAGSVÄGEN 33
791 75 FALUN
Tel: 070-663 26 14



Last modified 9 February 2002