Biplane fighter pilots

Hungary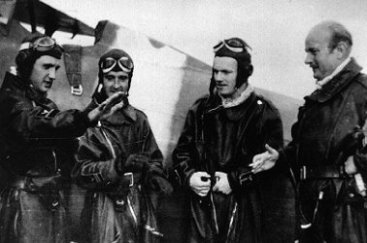 Hungarian fighter pilots in front of a CR.42 on the Eastern Front in 1941.
The pilot to the far left is Mátyás Pirity and the pilot to the far right is the Commanding Officer of the 1/3. "Kőr ász" vadászszázad, Százados (Captain) László Tomor.
Image kindly via by Dénes Bernád.
During the Second World War at least two Hungarian aces claimed victories while flying the Fiat CR.42.
Fighter aces with biplane claims:
A number of other Hungarian pilots also claimed victories with the Fiat CR.32 and the Fiat CR.42.
Fighter pilots with biplane claims:
The Fiat CR.32 in the Hungarian Air Force
The Fiat CR.42 in the Hungarian Air Force