Biplane fighter aces

Belgium

Lieutenant Prince Werner de Mérode, RAF no. 116473
25 March 1914 – 22 December 1995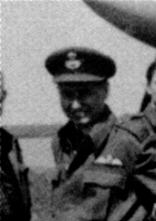 Image kindly provided by World War 2: 350 (Belgian) Squadron RAF - Serge Bonge
Prince Werner de Mérode was born on 25 March 1914 at St-Gilles.
After his degree in Philosophy, he joined the 1 Rgt Guides of the Belgian Army. At the wish of his father, de Mérode passed examination for Active Officer and got a 15-month instruction at the Military School of Brasschaat. He was then posted to 2 Rgt Chasseurs à Cheval.
Later he asked for a transfer to the Aéronautique Militaire. He was instructed at the Flying School of Wevelghem and his instructor was Manu Geerts. De Mérode made his solo flight on 27 February 1939 and once graduated he was posted to 3/II/2Aé.
At the time of the German invasion of Belgium in May 1940, the 3/II/2 Aé was equipped with Fiat CR.42.
In the early morning on 10 May the IIème Group was ordered to evacuated from Nivelles to Landing Field No 22 at Brustem.
At 12:50, Lieutenant de Mérode of 3/II/2, off from Brustem accompanied by two other pilots to protect a reconnaissance flight over the Albert Canal bridges.
At 14:15 a German reconnaissance plane flew directly over Brustem. It was a sign that worse was to come. Straight away, Major Lamarche ordered the aircraft to be dispersed in the adjacent undergrowth but there was not enough time to camouflage all of them. Twenty-five minutes later, at 14:40, two hedgehopping Bf 109s strafed the field and scored strikes on two Fiat CR.42s.
De Mérode returning from his escort mission, spotted a Do 17 (probably the plane that flew over the field) and he claimed it shot down in flames near Waremme at 14:40. This aircraft was a Do 17P flown by Oberleutnant V. Schaezler from 2(F)/123 that made a belly landing at Mönchengladbach
He followed his unit to France and was at Chastres when Leopold III capitulated.
He returned to Belgium but regretted not having followed the few who escaped to Great Britain. He evaded on 5 June 1941 and reached Gibraltar after several months. He enlisted the RAFVR on 15 January 1942 and after a short refresh training which started 9 March at OUT of Aston, he was posted to 501 Squadron on 12 March 1942.
From 4 September 1942, he served in the 350 (Belgian) Squadron.
On 1 October, he was promoted to Flying Officer.
On 12 December, the 350 Squadron took part in Circus 242 and clashed with Fw190s of I and II/JG 26 in the vicinity of St. Omer. During the combat two damaged were claimed by Flying Officer A. Plisnier (Spitfire Mk.Vb AR515) while Y. Du Monceau de Bergendael and L. Collignon claimed one damaged each. Plisnier was hit during the combat and crash-landed in the vicinity of Dover. Pilot Officer De Mérode (Spitfire Mk.Vb AD550/MN-N) was also hit and forced to parachute over enemy territory.
He successfully evaded capture in France and arrived back in the UK on 28 March 1943.
He was sent to Receiving Center 1 the same day. Further operational postings saw him joining 91 Squadron on 12 May and to 501 Squadron on 7 July.
His further RAF career saw him as Flight Lieutenant, joining the administration of the Belgian Section of the RAF on 1 February 1944 and the Air Ministry Unit on 26 February 1944.
De Mérode ended the war with one biplane victory.
After the war, he served in the Belgian Diplomatic Corps and was ambassador in several countries.
De Mérode passed away in Brussels on 22 December 1995
Claims:

| | | | | | | | | | |
| --- | --- | --- | --- | --- | --- | --- | --- | --- | --- |
| Kill no. | Date | Time | Number | Type | Result | Plane type | Serial no. | Locality | Unit |
| | 1940 | | | | | | | | |
| 1 | 10/05/40 | 14:40 | 1 | Do 17P (a) | Destroyed | Fiat CR.42 | | near Waremme | 3/II/2 Aé |
Biplane victories: 1 destroyed.
TOTAL: 1 destroyed.
(a) Do 17P flown by Oberleutnant V. Schaezler from 2(F)/123 claimed near Waremme at 14.40. The aircraft made a belly landing at Mönchengladbach. Confirmed in Décision Aé. M. No 24-07.02.47.
Sources:
Désastre à Schaffen - Christian-Jacques Ehrengardt, 2000, Aéro Journal No. 12
RAF Fighter Command losses: Volume 2 - Norman L. R. Franks, 1998 Midland Publishing Limited, ISBN 1-85780-075-3
World War 2: 350 (Belgian) Squadron RAF - Serge Bonge
Additional information kindly provided by Lars Larsson, Peter Taghon and Michel Terlinden.




Last modified 16 August 2007