Biplane fighter aces

Belgium

1er Sergent Marcel Michotte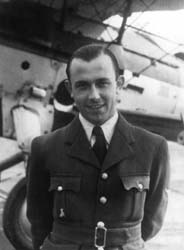 Image kindly via Peter Taghon.
In September 1939 Marcel Michotte served with the 4/II/2 Aé, which was equipped with Fairey Fireflies.
During the night of 8/9 September 1939, six Whitleys of 77 Squadron and six from 102 Sqadron took off from England to undertake leaflet dropping operations over Germany. Two Whitleys from 77 Squadron strayed over Belgium on their return. Duty pilots at Nivelles fighter base were alerted when the incursions were first reported, and shortly afterwards Captain Lucien Boussa of the 5e Escadrille of Flight Regiment 2 took off in a Fairey Fox, joined by two Fairey Fireflies of the 4e Escadrille, piloted by Daniel Leroy du Vivier and Michotte. The trio intercepted one Whitley and Boussa fired a burst in front of its nose in an effort to force it to land. Instead the Whitley's gunner returns fire, hitting Leroy du Vivier's Firefly obliging him to make a forced landing forthwith at 06:00.
Another Fairey Fox flown by Boussa's No 2, Adjutant Albert Genot with Corporal Roger Alaffe as his gunner, had now also got off the ground and pursued another bomber signalling, its position by radio. A white Verey light was fired at the bomber which replied with a red and continued on its way. Genot drew off and like Boussa fired a burst across the Whitley's bows. This aircraft too returned fire, hitting the Fox in the tail and rear fuselage and setting it on fire. The crew baled out as the stricken aircraft went down to crash on the estate of Count Gaston d'Oultrement at Nouvelles at 06:00. Genot was wounded in the hand, and Alaffe broke his right shoulder on landing.
It would seem that their opponent was Whitley K8951 (Flight Lieutenant Connell), the crew of which reported shooting down a fighter. The bomber was itself damaged in this encounter and went on to crash-land at Lognes, France, the pilot having suffered a slight head wound (the aircraft was later repaired).
Meanwhile on the ground the news of the interceptions was out and two more pilots (this time from the 4e Escadrille), Alexis Jottard and Sous-Lieutenant Jean Offenberg pulled on flying suits over their pyjamas, taking off in their Fireflies to join in. They soon spotted Whitley DY-J (K8985) flown by Flight Lieutenant W. V. G. Cognan, on its way back from Kiel and Hamburg. They fired a green flare and forced the bomber down to land on their own airfield, where the crew was interned.
The crew was released a short time later but the Whitley was still at the airfield on 10 May and presumed destroyed during the German invasion.
Early in 1940 his unit was re-equipped with Fiat CR.42.
During the evacuation from Nivelles in the early morning of 10 May he nosed over with Fiat CR.42 R-30 while landing on the, for him unknown, Landing Field No 22 at Brustem. The aircraft was written-off.
On 14 May, the IIème Group took into action its remaining serviceable aircraft to cover the retreat of the French 7th Armée from Fleurus. The two-hour sortie saw a bitter clash with the 8./JG3 in the Flerus area at 13.55 and one Bf 109E was claimed destroyed by Capitaine Jean de Callatay and another was damaged by 1er Sergent Michotte. Also during this sortie Sergent E. de Moerlose claimed a damaged enemy Do 17. 8./JG3 claimed five of the Fiats during this combat. Claiming Luftwaffe pilots were Oberleutnant Wilhelm Gäth (victory no. 1 of 14), Oberfeldwebel Willi Bauer, Unteroffizier Rudolf Saborowski (victory no. 1 of 39), Unteroffizier Karl Flebbe and Unteroffizier Josef Keil (victory no. 1 of 16).
It seems that the Belgian unit didn't suffer any losses and it has not been possible to verify if 8./JG3 sustained any losses in this combat.
Michotte ended the war with one damaged enemy aircraft. This was claimed while flying Fiat CR.42s.
Claims:

| | | | | | | | | |
| --- | --- | --- | --- | --- | --- | --- | --- | --- |
| Kill no. | Date | Number | Type | Result | Plane type | Serial no. | Locality | Unit |
| | 1940 | | | | | | | |
| | 14/05/40 | 1 | Bf 109E (a) | Damaged | Fiat CR.42 | "23" | Fleurus area | 4/II/2 Aé |
Biplane victories: 1 damaged.
TOTAL: 1 damaged.
(a) Claimed in combat with 8/JG3. It has not been possible to verify if 8/JG3 sustained any losses in this combat.

Sources:
Désastre à Schaffen - Christian-Jacques Ehrengardt, 2000, Aéro Journal No. 12
Fledgling Eagles - Christopher Shores with John Foreman, Christian-Jaques Ehrengardt, Heinrich Weiss and Bjørn Olsen, 1991 Grub Street, London, ISBN 0-948817-42-9
Luftwaffe Claims Lists - Tony Wood
The Battle of France Then and Now – Peter D. Cornwell, 2008 After the Battle, ISBN 9-781870-067652
Twelve Days In May - Brian Cull and Bruce Lander with Heinrich Weiss, 1999 Grub Street, London, ISBN 1-902304-12-8
Additional information kindly provided by Lars Larsson, Ivan Martens, Peter Taghon and Michel Terlinden.




Last modified 01 July 2008