Bristol Bulldog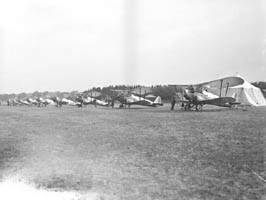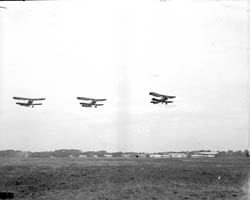 Two images on Swedish Bristol Bulldogs captured on 7 September 1932.
Left: Swedish J6s (Jaktfalken) and J7s (Bristol Bulldog Mk.II).
Right: Swedish J7s (Bristol Bulldog Mk.II) in the air.
Click on the images to see them in full size.
The Bristol Bulldog was one of RAF's famous pre-war biplane fighters but was withdrawn from RAF service in 1937. However it was used by the Finnish Air Force during the Winter War and claimed several victories against more modern opponents.
Total production: 449
Prototype (1)
Mk.I (2) - equipped with a Bristol Jupiter VII with 440 hp.
Mk.II (92) - modified Mk.I with lengthened fuselage and Jupiter VII.
Mk.IIA (268) - re-designed oil system, strengthened structure for additional load and Jupiter VIIF.
Mk.III (4) - Danish order as Mk.II but with 450 hp Jupiter VIFH and 2x8 mm Madsens machine-guns.
Mk.IIIA (2) - Mk.II with improved performance.
Mk.IVA (18) - Finnish order with alternative ski-wheeled undercarriage plus armament heating system.
H.A. (1) - as Mk.II but with increased ruder area.
T.M. (59) - two-seat trainer version.
J.S.S.F. (2) - Japanese licence-built by Nakajima

The Bulldog saw service in: Australia (8), Denmark (4 Mk.III), Estonia (12 Mk.II), Finland (2 Mk.II (ex-Swedish Air Force) and 17 Mk.IVA), Great Britain, Japan (2 J.S.S.F), Latvia (12 Mk.II), Sweden (3 Mk.II, 8 Mk.IIA).
Technical details
Type:_____________Fighter
Span:_____________10.26 m
Lenght:___________7.72 m
Engine:___________Bristol Mercury VIS. / 640 hsp.
Max speed:________360 km/h
Service ceiling:__10180 m
Armament:_________2 Vickers machine guns + four 9 kg bombs

Bristol Bulldog IVA in Finnish Service

Sources:
Combat Aircraft of World War Two - Elke C. Weale, 1985




Last modified 12 September 2000