Biplane fighter aces

Finland

Vänrikki Johannes Eduard Niemeier
4 January 1921 – 18 May 1982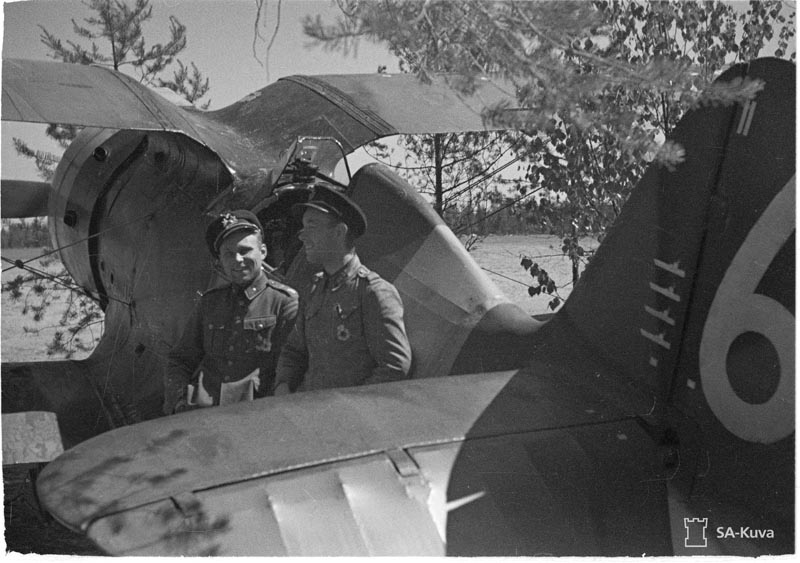 Kapteeni Per-Erik Ahonius and vänrikki Johannes Niemeier (left) in front of IT-16 at Römpöti on 9 July 1942.
Source SA-Kuva.
Hans Niemeier was born in Viipuri on 4 January 1921.
He received flying training in 1940-41 at SOK 4.
On 4 December 1941, he was assigned to the 3rd Flight of LLv 6 as a vänrikki.
On 25 March, he ran out of fuel while flying in Polikarpov I-153 IT-15 and made a forced landing at Kotka Harbour. Niemeier was uninjured and the aircraft was damaged but later repaired.
On 5 April, he overturned with IT-17 on landing due to ski failure. Once again, Niemeier was uninjured and the aircraft was damaged but later repaired.
On 3 May 1942, there was a reorganisation of the Finnish Air Force and at the same time, there was a redesign of the names of the units and thus LLv 6 became LeLv 6.
Between 01:05 and 01:15 on 5 July, he claimed a damaged I-16 east of Seiskari while flying Polikarpov I-153 IT-12.
He was posted to LeLv 30 on 16 November 1942.
On 17 May 1943, a 2/LeLv 30 reconnaissance mission started at 19:00:
"Planes and pilots: IT-30 luutnantti Hämäläinen, IT-17 vänrikki Hujanen, IT-15 vänrikki Niemeier and IT-19 kersantti Durchmann.
Task: In addition to usual recce to check if there is a spot of oil between squares 142 B 52 – 142 B 65 and if there is a life belt in square 143 B 75.
Observations: 13 patrol motor boats and 4 motor boats in Lavansaari harbour. About 3 km to east-north-east of Seiskari's north tip about 100 m wide spot of oil. No oil spots in the given squares. No life belt in the given square. 40 mm flak from the northernmost vessels in Lavansaari harbour. On the north side of Lavansaari two friendly MT planes attacked IT-19 gaining several hits in it, of which one 20 mm hit in the fuselage and several smaller hits.
Weather: Overcast 5/10, clouds in various altitudes, visibility 20-30 km."
The Bf 109s pairs of vänrikki Yrjö Pallasvuo and vääpeli were alos in the Lavansaari direction. Kersantti Klaus Alakoski wrote in his combat report:
"At 19:10-20:15 hours.
On an interception mission I saw between Lavansaari and Peninsaari one I-153 plane going in a shallow glide towards Lavansaari. I was coming from Seiskari at 1,000 m altitude towards Lavansaari. I pressed into a dive and got to open fire from about 300 m distance. The cannon shells hit the fuselage, tearing off large pieces. After this the plane flipped over and went vertically in the sea about 8 km east of Lavansaari. At the shooting the altitude was 300 m. Soon after this the ground station radioed that two I-153s were approaching Lavansaari from the north. I climbed to meet these and saw them over the north tip of Lavansaari. I gave a small burst, after which I pulled up and got behind them. The planes were heading to Seiskari. I opened fire from a long distance, but in themiddle of the shooting I observed that they were friendly. I quit firing instantly after which they broke off. When Russian I-153s are in the air at the same time, it is difficult to separate them from friendly aircraft, especially over Lavansaari . Besides, the friendly plane message had stated that four IT planes were around.
My plane MT-213."
On 18 June 1943, kapteeni Lauri Karjalainen leading a 2/LeLv 30 swarm reported a routine mission:
"Planes and pilots: IT-27 kapteeni Karjalainen, IT-30 luutnantti Himmanen, IT-26 vänrikki Niemeier and IT-11 kersantti Krohn.
Task: Reconnaissance over eastern Gulf of Finland.
Observations: In Lavansaari harbour 1 Moskva class gun boat, 2 Fugas sweepers, 13 patrol motor boats and 2 patrol motor boats at the pier. 2 patrol motor boats arriving the harbour. Nothing at Peninsaari. No vessels at Seiskari. On the sand on the beach of Seiskari three plane tracks, two were towed into the forest, so one track old.
Weather: clear. Wind W 4 beauf, visibility 50 km."
On 30 June 1943, he was transferred to LeLv 32.
On 14 February 1944, the frontline squadrons received a task prefix into their name and LeLv 32 thus became HLeLv 32.
Between 13:55 and 15:00 on 13 July, he claimed a LaGG-3 over Koirinoja. At the time, he was flying Curtiss CU-575.
He was transferred to HLeLv 26 on 23 July(?) 1944.
On 24 November 1944, he was demobilized.
Niemeier ended the war with one damaged biplane victory and a total of 1.
During his career, he was awarded with the Vapauden Risti of the 4th Class and the German Eisernes Kreutz 2nd Class.
After the war, he worked as a senior engineer.
Niemeier died on 18 May 1982.
Claims:

| | | | | | | | | | |
| --- | --- | --- | --- | --- | --- | --- | --- | --- | --- |
| Kill no. | Date | Time | Number | Type | Result | Plane type | Serial no. | Locality | Unit |
| | 1942 | | | | | | | | |
| | 05/07/42 | 01:05-01:15 | 1 | I-16 | Damaged | I-153 | IT-12 | E Seiskari | 3/LeLv 6 |
| | 1944 | | | | | | | | |
| 1 | 13/07/44 | 13:55-15:00 | 1 | LaGG-3 | Destroyed | Curtiss 75A | CU-575 | Koirinoja | HLeLv 32 |
Biplane victories:1 damaged.
TOTAL: 1 destroyed, 1 damaged.
(a) Claimed in combat with SBs from 24 SBAP.

Sources:
Ilmavoitot, osa 2 - Kalevi Keskinen and Kari Stenman, ISBN 952-99432-8-8
Suomen Ilmavoimat part V – 1943 – Kalevi Keskinen and Kari Stenman, 2007, ISBN 978-952-99743-3-7
Venäläiset Hävittäjät - Kalevi Keskinen, Kari Stenman and Klaus Niska, ISBN 951-9035-25-7




Last modified 01 May 2014