Hawker Fury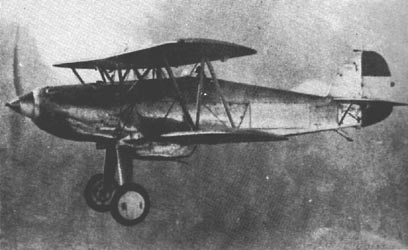 Yugoslavian pre-war Hawker Fury in an all silver finish with a blue, white and red tricolor on the tail.
Image kindly provided by Goran Polovina.
The Hawker Fury was one of the great and famous fighters from the period between the two world wars. It saw service in six RAF squadrons between 1931 and January 1939. It also equipped three SAAF squadrons in East Africa. Both the Republican and Nationalist Air Forces employed Spanish Furies during the Spanish Civil War (in which at least one Portuguese machine also were destroyed). Yugoslav Furies saw combat against Axis forces during the German invasion in April 1941. The last use of the Fury was Persian Furies who were employed on border patrol duties in 1942.
The Hawker Fury saw service in: Great Britain, Persia (22), Portugal (3), South Africa (30+), Spain (3), Yugoslavia (30+).
Total production: 262
Technical details Hawker Fury Mk.II
Type:____________Fighter
Span:____________9.14 m
Lenght:__________8.15 m
Engine:__________Rolls-Royce Kestrel VI / 640 hsp.
Max speed:_______359 km/h at 5, 029 m
Service ceiling:_8,992 m
Range:___________434 km
Armament:________2x0.303in Vickers Mk.V machine guns + provision for underwing light bombs

Known claims with the Hawker Fury in the Second World War
South African Air Force use of the Hawker Fury during the Second World War
Yugoslavian Air Force use of the Hawker Fury during the Second World War
Sources:
Combat Aircraft of World War Two - Elke C. Weale, John A. Weale and Richard F. Barker, 1977 Lionel Leventhal Limited, ISBN 0-946495-43-2




Last modified 12 November 2001