Latvian Air Force use of the Gloster Gladiator during the Second World War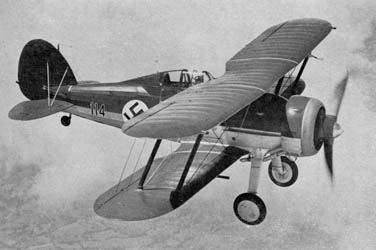 Gloster's first export contract for the Gladiator was an order for 26 Mk.I aircraft from the Baltic state of Latvia which had sold its 11 surviving Bristol Bulldogs via a Czech agent to the Spanish Nationalists in early 1937. The Latvian Government then placed their order for Gladiators in May 1937, which were specified to be armed with four 7.7mm Vickers Mk.VM machine guns (modified 0.303 inch guns). At the same time they also ordered three Hawker Hind bombers. Interestingly, the aircraft were purchased (the total cost was £120,000) from the proceeds of a public lottery and, perhaps, the funds from the Spanish Bulldog sale.
Bearing the Latvian Air Force red swastika markings and serial numbers 114 to 126 and 163 to 175, the Gladiators were delivered by ship to Riga between August and November 1937. After testing and assembly they were formed into two squadrons for the defence of Riga and based nearby. The first, No 123 Fighter Squadron was formed in April 1938 and was commanded by Kapt Nikolajs Baloids while the second, No 124 Fighter Squadron was formed in October 1938 under the command of Kapt Janis Balodis.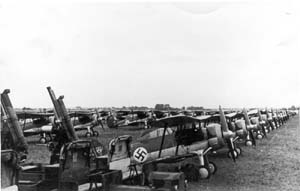 Image kindly via Patrick Righart van Gelder.
Click on the image to see it in full size.
At least three Gladiators (123, 171 and 175) were lost in accidents.
The survivors, numbering around 20 aircraft, must have been taken over by the Soviets when they annexed the Baltic States of Latvia, Lithuania and Estonia in July 1940. Some at least it seems were used in the area by the Soviet Red Air Force (VVS) and thus bore the red star of the Soviet Union!
When Hitler unleashed Operation Barbarossa against the Soviet Union in June 1941 the Baltic States were quickly overrun by the Germans and amongst the various war booty captured were, it appears, a number of Gladiators.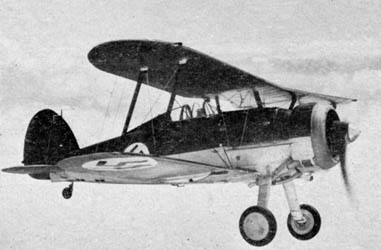 Source:
Gloster Gladiator Home Page - Alexander Crawford.
Iron Cross Gladiators: The Story of the Gloster's Luftwaffe Service - Andrew Thomas & Peter Green kindly provided by Andrew Thomas.
The Gloster Gladiator - Francis K. Mason, 1964 Macdonald & Co. Ltd. London


Last modified 16 September 2001