Mitsubishi F1M2 'Pete' (Naval Type 0 Observation Seaplane)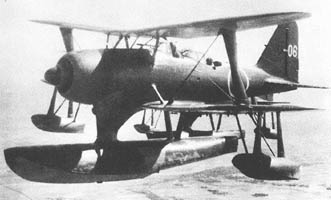 The Mitsubishi F1M2 was designed as an observation/general purpose floatplane and was the last biplane to be approved by the Imperial Japanese Navy. The 'Pete' had excellent performance and was employed both as ship- and shore-based extensively throughout the Pacific War. It was originally designed as a catapult-launched observation seaplane but saw service in many other roles including convoy escorts, coastal patrols and even as interceptor fighter and dive-bomber in support of amphibious operations.
The Indonesian Air Force used at least one F1M2 during their war against Dutch army after 1945.
Versions (with no. built):
F1M1 Prototype (4) – Prototypes with a 820 hp Nakajima Hikari 1 engine.
F1M2 (542) – Production model. Re-engined and with a re-designed wing and engine cowling. Mitsubishi built.
F1M2 (590) – Sasebo Naval Air Aresenal-built production model.
F1M2-K – Conversion of the F1M2 to a advanced trainer version.
The Mitsubishi F1M2 saw service in: Japan (IJNAF), Indonesia (IAF).
Total production: 1118
Technical details Mitsubishi F1M2
Type:____________Observation/general purpose floatplane
Crew:____________2
Span:____________11.0 m
Lenght:__________9.5 m
Engine:__________Mitsubishi MK2 Zusei 13 / 875 hp.
Max speed:_______370 km/h
Service ceiling:_9440 m
Range:___________740 km
Armament:________2x7.7 mm Type 97 fixed forward firing machine guns,
_________________1x7.7 mm Type 97 flexible machine gun in rear cockpit,
_________________max bomb-load 120 kg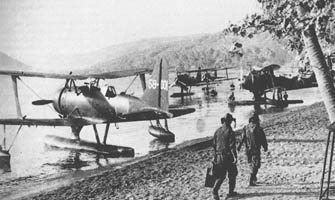 Sources:
Combat Aircraft of World War Two - Elke C. Weale, 1985
Imperial Japanese Navy Aces 1937-45 - Henry Sakaida, 1998
Additional info kindly provided by Tomáš Kolín.




Last modified 16 August 2001