Biplane fighter pilots

Slovakia




Lieutenant František 'Fero' Cyprich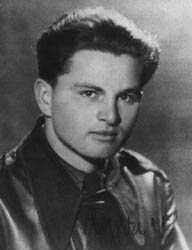 1 October 1917 – 31 January 2009
František Cyprich was born on 1 October 1917 in Svrcinovec.
After pilot training he served in the Czechoslovak Air Force and took part in the Slovak-Hungarian Border Conflict in March 1939 flying Avia B-534 biplanes for the Slovak Air Arm.
In the summer of 1941, he took part in fights over Russia as a member of the 13th letka (fighter squadron).
When the unit returned home, he stayed in Russia with the 12th letka.
In 1942, he trained on German Bf 109 fighters and returned to the Eastern front in October 1942.
He claimed his first (unconfirmed) victory on 18 January 1943.
On a sortie over Kropotkin on 31 January, 13./JG 52 claimed two Il-2s, one of them by Cyprich at 11:30 and the other by J. Svejdik at 11.35.
He claimed an unconfirmed victory on 3 February.
He claimed an I-153 at 10:10 on 10 February south-west of Neberdzajevka.
At 11:27 on 26 March, he claimed an Il-2 east of Jerivanska.
He claimed a LaGG-3 at 16:54 on 29 March west of Petrovska.
On a sortie over the Black Sea south-west of Anapa on 19 April 13./JG 52 claimed two LaGG-3s, one of them by J. Gerthofer (16:52) and the other by Cyprich (16:53).
This was Cyprich fifth confirmed victory.
He claimed an unconfirmed LaGG-3 on 21 April.
On 27 April, 13./JG 52 clashed with Lavochkin fighters over Krymska. V. Krisko claimed on La-5 (16:17) and a LaGG-3 (16:22) while Cyprich claimed one La-5 (16:20).
At 16:20 on 30 April, he claimed LaGG-3 south-east of Krymska.
On 4 May, 13./JG 52 again clashed with Lavochkin fighters. V. Krisko ('White 7') claimed on LaGG-3 (at 08:57 north-west of Gendzik) while Cyprich claimed two more LaGG-3s; one at 09:02 south of Krymska and the second at 09:10 north-west of Gendzik.
In the afternoon on 20 June, 13./JG 52 was involved in combat with Yakolev fighters south-east of Abinska. Cyprich claimed two Yak-1s (16:45 and 16:54) while J. Reznak (Bf 109G-4 WNr. 14975) claimed a third (16:47).
His last victory was claimed in the morning on 30 June when 13./JG 52 clashed with Lavochkin fighters north of Slavyanska. He claimed one at 08:02 while a second was claimed by J. Reznak (Bf 109G-4 WNr. 14975) at 08:03.
He scored totally 12 confirmed kills (and 3 unconfirmed) on the Eastern front and was decorated with high German and Slovak awards.
After returning home, he served as instructor in the Military Flying School.
In the summer and autumn of 1944, he fought in the Slovak National Uprising (which started on 1 August) as a member of the Combined Squadron.
On 31 August, Cyprich made the Combined Squadron's first sortie flying a Bf 109E-4 (W.Nr. 5244) when he was ordered to do a reconnaissance of the Zilina – Povazska Bystrica area. During the mission he attacked the German command near Zilina.
On 2 September 1944, Stábni rotmistr (Master Sergeant) František Cyprich was asked to perform a test flight of Avia B-534.217, which had been repaired and armed by the Maintenance Unit at Tri Duby airfield, which was the base for the Combined Squadron.
He made a short test flight but on returning to the airfield, he saw all the personnel on the field running into shelter and he understood that an enemy aircraft was approaching. This was nothing new since German aircraft attacked the airfield daily. Harmless Ju 52 transports also daily overflow the airfield but since the personnel on the ground didn't know which kind aircraft that was approaching it was better to be safe than sorry and seek shelter.
Since Cyprich's aircraft wasn't equipped with a radio he tried to find the enemy by himself but saw only empty skies. He thought that he had missed it and landed at the airfield boundaries where there were personnel sheltered in trenches.
When he landed, he saw that everybody pointed towards a small dot in the sky - the enemy aircraft! He took off again and overhauled it. He later reported:
"I had overtaken the Ju 52 over Radvana. I made the first attack from behind - it filled my aim cross - it was in front of me, big as a barn. I was sure that all my bullets would go into the Ju 52 but I realised that I must do another type of attack. When I made the second attack, I aimed at one engine and opened fire until I saw smoke coming from the engine. Then I made the same attack against the second engine and after that I saw the Ju 52 coming down. I was very happy that I shot down the first enemy plane during SNP and I was very proud when I landed on our own airfield."
He landed back on base and went to report to Colonel Singlovic. He was however surprised, when he saw instead of his smile only his strict sight. The colonel only had one question:
"Why you didn't force them to land on our base?"
Cyprich realised that the colonel was right. An undamaged Junkers could have been very useful for the Combined Squadron but now it was only a heap of metal near Banska Bystrica. Cyprich was sorry that he didn't remembered this possibility, but other people on the base was happy that he had shot it down!


Ju 52/3m after the crash-landing at Banska Bystrica.
Pilot on the Junkers that Cyprich shot down was föhadnagy (Lieutenant) György Gách, who had taken off on 1 September 1944 in a Hungarian Junker Ju 52/3m from Magyar Légiforgalmi Rt. (MALERT). Gách (who lived in New York until he passed away) later reported:
"On 1 September 1944 I flew with a Ju 52 from Kolozsvar [today Cluj in Romania] to Budapest. When we were over Big Hungarian lowlands our plane flew into dense clouds and then into a strong thunderstorm. We had to make an emergency landing. When the thunderstorm finished we took off again and landed on the Budaörs airport without problems.
Next day, on 2 September 1944, I was woken up at 8.00 AM by the wireless operator of MALERT company, Imre Maszlagi, who told me, that I had to immediately go to the airport. We took a motorcycle and after short time we arrived at the airport. Already waiting there was százados [Captain] Ferenc Gelencsér, századparancsnok [Flight Leader] of 102/1. futárszállító század [transport flight]. He pointed at the runway where Ju 52/3m marked S.2 + 07 was standing with running engines [this aircraft was produced at the PIRT factory]. Százados Gelencsér told me that the százados of this plane, Zoltan Oszlányi, had gone down with probably food poisoning and he was not fit to fly. In the plane were two high Staff Officers and five other passengers, who were waiting for start. Destination airport was the Polish town of Krakow."
Despite having as free day Gách boarded the plane and sat down on the left captain seat. Both the Staff Officers and the rest of the passengers were already seated. In the aircraft were also mailbags and three barrels with 100oktan air-petrol C4. The rest the crew was members of Oszlányi's crew and consisted of the co-pilot föhadnagy Nándor Vermes, the wireless operator Imre Maszlagi and the flight engineer örm. László Széky. Vermes gave a sign and the unarmed Junkers took off with course towards Krakow in excellent weather.
Approximately halfway to their destination, over the Kremnicke Mountains when the Junkers flew over low fog it was intercepted by a biplane Avia B-534 marked with yellow ribbon on its fuselage. The crews of 102/1. futárszállító század had many times before met Slovak aircraft marked with this yellow ribbon, which symbolized that it belonged to Luftwaffe, over this territory. However, this time the Slovak fighter made a tight left turn and opened fire from a short distance from behind, hitting the fuselage of the Junkers. This come as a total surprise since that the Hungarian crew wasn't aware of the Slovak National Uprising.
The starboard engine immediately caught fire and dense smoke poured from it. László Széky, who was sitting near Gách was hit in his back and killed. Maszlagi was wounded in his shoulder and Vermes, who had been reading a book, was slightly wounded in a leg while one of the Staff Officers was hit in the head and also killed. Gách turned around and saw the dead officer. Fortunately weren't the barrels with petrol hit.
Gách didn't hesitate and he switched off the remaining two BMW 132 engines. The Junkers began descending and the pilot was preparing for crash-landing. Ahead of the aircraft, there was a rugged meadow in the size of a soccer field. Gách tried to trim the descending plane, he quickly turned the trim wheel and he tried to use the flaps. The aircraft flew over low pen on the meadows boundary and rapidly sat down. The starboard undercarriage leg sank in high speed into deep pit and the leg was torn off. The aircraft settled down on the starboard wing and stopped. The fire in the starboard engine went out. The fuel tanks were ruptured but fortunately, the aircraft didn't caught fire. The crash landing was without further casualties thanks to the cold-blooded and experienced pilot.
Cyprich broke of his attack after that the starboard engine caught fire and this probably saved most of the crewmembers and passengers.
A couple of inhabitants from the nearby village of Radvan came quickly to the downed plane and helped the crew and passengers. Later soldiers arrived and the Hungarians became prisoners of war of the SNP army.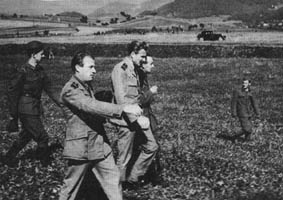 Three of the Hungarian crew after their capture. In the foreground the pilot föhadnagy György Gách, at his left is the co-pilot föhadnagy Nándor Vermes and behind them is most likely wireless operator Imre Maszlagi.
After they were captured, a Lieutenant who spoke Hungarian guarded them in quarters at Banska Bystrica. After some time they were transported to a prisoner's camp. During this transport a German Fw 189 attacked them and they ran into a forest. Here they changed their clothes for Slovak uniforms and they went towards the Hungarian frontier. At the border, Hungarian soldiers captured them and after the check of their identity, they were transported to Budapest.
This was the first victory of the Slovak National Uprising and the last confirmed air to air kill by a biplane fighter in the Second World War.
In 1991 after 47 years, František Cyprich and the Hungarian co-pilot Nándor Vermes meet and shook hands.
At 18:10 on 6 September 1944 Stábni rotmistr František Cyprich shot down one Fw 189 from 2./NAGr. 16 together with Stábni rotmistr Rudolf Bozik (both flying Me 109 G-6s) over Kremnicka.
At 08:30 on 12 September 1944, he shot down one Ju 88 south of Brezno n Hronom.

Avia B-534 of the Combined Squadron during readiness on the airfield at Tri Duby.
He was evacuated to the Soviet Union after the fall of the Uprising and became a member of the Czechoslovak Army in the USSR. He served as an instructor and at the end of the war he was commissioned to Lieutenant.
Cyprich's ended the Second World War with 1 biplane victory and a total of 14 victories (and 3 unconfirmed).
František Cyprich passed away on 31 January 2009.
Claims:

| | | | | | | | | | |
| --- | --- | --- | --- | --- | --- | --- | --- | --- | --- |
| Kill no. | Date | Time | Number | Type | Result | Plane type | Serial no. | Locality | Unit |
| | 1943 | | | | | | | | |
| | 18/01/43 | | 1 | Enemy aircraft | Unconfirmed | Bf 109 | | | 13./JG 52 |
| 1 | 31/01/43 | 11:30 | 1 | Il-2 | Destroyed | Bf 109 | | Kropotkin | 13./JG 52 |
| | 03/02/43 | | 1 | I-?? | Unconfirmed | Bf 109F | | | 13./JG 52 |
| 2 | 10/02/43 | 10:10 | 1 | I-153 | Destroyed | Bf 109F | | SW Neberdzajevka | 13./JG 52 |
| 3 | 26/03/43 | 11:27 | 1 | Il-2 | Destroyed | Bf 109 | | E Jerivanska | 13./JG 52 |
| 4 | 29/03/43 | 16:54 | 1 | LaGG-3 | Destroyed | Bf 109 | | W Petrovska | 13./JG 52 |
| 5 | 19/04/43 | 16:53 | 1 | LaGG-3 | Destroyed | Bf 109G | | SW Anapa, Black Sea | 13./JG 52 |
| | 21/04/43 | | 1 | LaGG-3 | Unconfirmed | Bf 109G | | | 13./JG 52 |
| 6 | 27/04/43 | 16:20 | 1 | La-5 | Destroyed | Bf 109G | | Krymska | 13./JG 52 |
| 7 | 30/04/43 | 16:20 | 1 | LaGG-3 | Destroyed | Bf 109G | | SE Krymska | 13./JG 52 |
| 8 | 04/05/43 | 09:02 | 1 | LaGG-3 | Destroyed | Bf 109G | | S Krymska | 13./JG 52 |
| 9 | 04/05/43 | 09:10 | 1 | LaGG-3 | Destroyed | Bf 109G | | NW Gendzik | 13./JG 52 |
| 10 | 20/06/43 | 16:45 | 1 | Yak-1 | Destroyed | Bf 109G-4 | | SE Abinska | 13./JG 52 |
| 11 | 20/06/43 | 16:54 | 1 | Yak-1 | Destroyed | Bf 109G-4 | | SE Abinska | 13./JG 52 |
| 12 | 30/06/43 | 08:02 | 1 | LaGG-3 | Destroyed | Bf 109G-4 | | N Slavyanska | 13./JG 52 |
| | 1944 | | | | | | | | |
| 13 | 02/09/44 | | 1 | Ju 52/3m (a) | Destroyed | Avia B-534 | S-12 '217' | Radvan | Combined Squadron |
Biplane victories: 1 destroyed.
TOTAL: 14 and 1 shared destroyed plus 3 unconfirmed destroyed.
(a) Hungarian Ju 52/3m S.2 + 07 of 102/1. futárszállító század shot down at Banska Bystrica and the crew and passengers became POW's. The pilot föhadnagy György Gách was uninjured, the co-pilot föhadnagy Nándor Vermes was wounded in one leg, the wireless operator Imre Maszlagi was wounded in one shoulder and the flight engineer örm. László Széky was killed. Of the passengers was one Staff Officer killed but the six other was uninjured.
(b) Fw189A from 2./NAGr. 16

Sources:
Air Aces Home Page - Jan Safarik
Nieco o clenoch 13.letky, from the magazine Historie a plastikove moedarstvi - S.Bursa, 1&2/1997
Avia B-534 - Jirí Vraný, 1994
Captured Me 109s – Jacek Jackiewicz and Miroslaw Wawrzynski, Atelier Kecay, ISBN 978-83-924914-0-8
Poslední let S.2+07 - Martin Fekets, 1999 Revi no. 28 1999 kindly provided and translated by Pavel Vancata
Sestrely stíhacu Slovenských vzdušných zbraní za 2. svetové Války - Jirí Rajlich, 2001 Letectví + Kosmonautika, No. 15-16/2001 kindly provided by Jan Safarik
Slovak Airmen 1939-1945 - J.Rajlich, J.Sehnal, 1991
Slovenske letectvo 1939-1944 - J.Rajninec, 1997
Slovenské letectvo 1939-1944, 2. Svazok - Peter Šumichrast and Viliam Klabník, 2000 Magnet-Press kindly provided by Jan Safarik
Stíhací letka 13 Slovenských vzdušných zbraní na východní fronte v letech 1942-1943 - Jirí Rajlich, 2001 Historie a vojenství, No. 02/2001 kindly provided by Jan Safarik
Tatranští orli na Kubání (Historie slovenské stíhací letky 13)- Jirí Rajlich, 2002 Ares/Deus kindly provided by Jan Safarik
S.Bursa - personal archive and dates from a prepared book about the 13th fighter flight.
Additional information is prepared by Ondrej Repka with kindly permission of Mr. Stano Bursa.
Additional information kindly provided by Csabs Becze and Pavel Vancata.




Last modified 07 January 2014