Voluntary Swedish aviators in the RAF

Ulf 'Chris' Christiernsson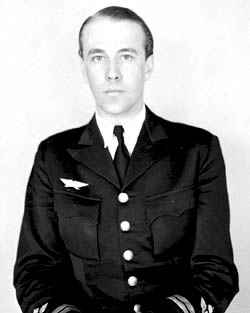 Löjtnant Ulf 'Chris' Christiernsson. The photo is taken at Ljungbyhed on 9 March 1940.
Ulf Christiernsson was one of the few Swedish pilots who volunteered to allied service during the Second World War.
Before the war he was a successful pilot in the Swedish Air Force.
He volunteered for service in Finland during the Finnish/Soviet Winter War but his request was denied.
Instead, he worked as a testpilot for the twelve Morane Saulnier MS.406 fighters that was delivered in great secrecy to Bulltofta airfield in Sweden and that was to be delivered to Finland after assembly.
He remembered that the aircraft were painted white and with Finnish swastikas. He also remembered that since they were French the throttle was reversed.
Christiernsson worked as a test pilot at SAAB in 1940-41. It seems that he was the second test pilot employed after Claes Smith.
In 1942, he asked the commander of the Swedish Air Force for permission to volunteer for Allied service. He went to the English embassy in Stockholm and signed up. RAF transported Ulf in a British Airlines Dakota to England for training.
He joined RAF Voluntary Reserve and joined 14 AFU in Scotland on 1 November 1942. From here he was later sent to 84 DTU to train on Vickers Wellington.
On 1 May 1943 he was transferred to Costal Command for convoy-escort duties. He flew Wellingtons here for four months.
In September 1943 he was sent for retraining on Avro Lancasters but this was changed to De Havilland Mosquitoes after only one week.
After his Mosquito training was finished RAF wanted to station him in the Far East but he said that he wanted to fight in Europe against the Axis powers. RAF instead changed his station to the 680 Squadron outside of Cairo. The 680 Squadron was a "Photo-reconnaissance and Pathfinder unit" and their aircraft were equipped with cameras instead of guns.
During a mission over the Messerschmitt factory in Weiner Neustadt his aircraft was hit by German anti-aircraft fire but he managed to fly the damaged aircraft to Belgrade were he landed.
He is reputedly the first Allied pilot that met the German Me262 in the air when he encountered one at 30,000ft over Lechfeld during the summer of 1944. He was attacked but managed to escape with damage to the left wing-tip.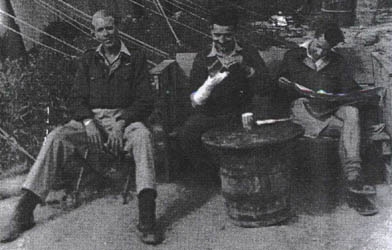 Ulf Christiernsson to the left while serving in Italy sometimes in 1944-45. In the middle his navigator Wilf.
In August 1944 he was transferred to 130 Squadron in Belgium. This unit was equipped with Spitfire Mk.IX.
He was only stationed at this unit for three months before he was sent back to his old unit 680 Squadron, which at this time operated in Italy.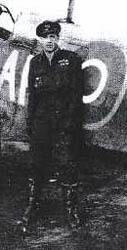 Ulf Christiernsson in front of a Spitfire.
During the spring of 1945 he was persuaded by some American fighter pilots to fly a captured Heinkel He111 to Brindisi. The Heinkel were to be transported from Brindisi to an aviation museum in USA. He received a Heinkel He111 handbook and an escort of six P-51 Mustangs. The flight went well but after the landing the German aircraft lost all it hydraulic pressure.
By the end of the war in Europe he was stationed in Norway as a Spitfire pilot (possibly in 332 (Norwegian) Squadron).
After the German had surrender he volunteered as a De Havilland Hornet pilot in the "TIGER FORCE", which was to be sent to the Far East. However the war ended before he was finished with his training.
During his last time in RAF he flew Mosquitoes in 162 Squadron of Transport Command. This unit was the only in Transport Command equipped with Mosquitoes.
After the war he went home to Sweden and began to work as a pilot for Scandinavian Aero flying Douglas DC-3s.
Among the crews of this company he was known as "Chris med käppen" (Chris with the stick) due to his habit of wearing a stick under his left arm in the same manner as British officers.
When SAS bought Scandinavia Aero most of the pilots and crews were fired (four complete crews). But Jewish Agency offered them 1000 dollar every month if they flew guns from Europe to Israel. He did 16 "missions" of this type.
"Chris" and Rune Elghorn (nom de guerre "Eljas") arrived in Israel flying an aircraft presented by a European millionaire (probably Dutch).
During the liberation-war he took part in the Operation Dust ("Yoav"?) where he flew at least one bombing mission with a C-46 with Swedish crew (Eljas and Åke Liljeberg) against targets in the Gaza region (probably in October 1948).
The mission was to attack the Egyptian fighter-base at Al Arish and targets in the Majdal area together with other C-46s and C-47s.
Since the transport aircraft wasn't equipped for bomber missions the bombs was armed by hand and thrown out of the cargo doors!
After completed mission they returned to their base at Ekron.
When Israel had won the liberation-war "Chris" and the other pilots were awarded the "Israel Liberation Medal" for their work. Israel also offered the pilots to serve in their Air Force. He volunteered and first became Captain and later Major in Israel's Air Force. During his time here he flew several plane types but mostly Bristol Beaufighter.
1950 he became a civil pilot and worked in El Al for a year. After this he worked for a couple of different airlines such as Transair and Sterling Airways.
On 17 December 1953 he flew one of Transairs DC3's from Bulltofta airfield, Malmö, to Bromma airfield, Stockholm. With him in the plane was his flight mechanic Olof Johansson. When the plane was about 5 km east of the town Hässleholm and the time were about 14.37 Ulf sighted a strange object straight ahead. He couldn't identify it and called for Olof who came forward, but he couldn't identify it either. When their plane landed they wrote a report to Försvarstaben (the Staff of the Armed Forces). Försvarstaben was interested and called Ulf and Olof to ask some questions about the incident. What was it they saw? Försvarstabén said it could have been a balloon but Ulf and Olof didn't believe that it was a balloon.
When he not was flying anymore he became an instructor and adviser for some flying corporations in USA.
Service records:
Swedish Airforce: 1932-36
ABA: 1937-39
Swedish Airforce: 1939-41
Royal Air Force (RAF): 1942-45
Scandinavian Aero AB: 1946-47
Israel's Airforce: 1948-49
El Al: 1950
Different Airlines such as Fred Olsen, Transair, and Balair: 1951-62
Sterling Airways: 1963-78
Counsellor and adviser: 1978-80

Sources:
Aftonbladet 17 December 1953
Expressen 3 February 1954
Flyg No. 24, 1947
Försvarsstabens flyg- och luftförsvarsavdelning.
Försvarets forskningsanstalts arkiv
Jag tyckte så jävligt illa om Hitler - Kurt Karlsson, 1985 Mach 21, ISSN 0280-8498
Morgon-Tidningen 19 December 1953
Ulf Christiernsson "Chris" - Benny Jørgensen, 1972 Hale Hjulet no. 3, kindly provided by Tomas Polak
Över alla gränser - Åke Liljeberg, 2000 Svensk Flyghistorisk Förening, ISSN 0345-3413
Additional information kindly provided by Stein Meum and Lars Sundin.




Last modified 05 May 2008