Voluntary Swedish aviators in the RAF

Pilot Officer Ralph Otto Gustaf Häggberg, RAF No. 120677
14 March 1922 – 12 February 1942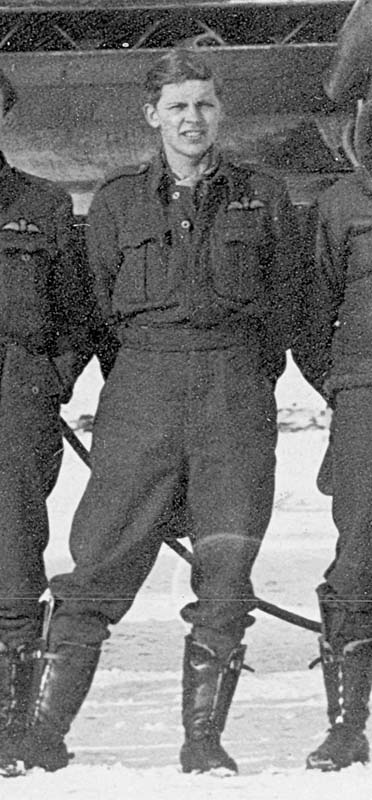 Pilot Officer Ralph Häggberg at RAF Matlaske sometime between 1-10 February 1942.
Image kindly provided by Rob Bowater
Ralph Häggberg was born on 14 March 1922 in Stockholm.
His father worked for Gestetners and Häggberg was sent to school in England in 1935.
When the Second World War started he was in Sweden on school leave but decided to return to England in October 1939.
He joined the RAF in December 1940 and was posted to 263 Squadron (Westland Whirlwinds) on 15 September 1941 as a Sergeant Pilot.
The 137 Squadron was officially reformed on 12 September on Charmy Down and was to be equipped with Westland Whirlwinds. Squadron Leader John Sample reported to duty as C.O. on 20 September.
Two days later three pilots (Flight Lieutenant Joseph S. Hughes, Flying Officer C. A. G. Clark and Sergeant Douglas St.J. Jowitt) from 263 Squadron was transferred to the new unit to provided experience.
On 1 October ten more pilots from 263 Squadron (Pilot Officer Michael Bryan, Pilot Officer J. C. Lawton, Pilot Officer George William Martin, Sergeant Häggberg, Sergeant J. F. Luing, Sergeant J. Maddocks, Sergeant Michael Peskett, Sergeant H. L. O'Neill, Sergeant Basil Lionel Robertson and Sergeant John Anthony William Sandy) reported for duty. At the same time four more pilots (Flying Officer A. Torrance, Pilot Officer J. L. DeHoux, Flight Sergeant C. E. Mercer and Sergeant J. R. Rebbetoy) arrived from No. 56 OTU.
On 24 October 137 Squadron flew its first operation, a 'Mandolin'. The target, several trains carrying fuel containers in railway sidings at Landernau, near Brest, were not found, but Squadron Leader John Sample (Whirlwind P7053) attacked several wagons and Flying Officer Clark (Whirlwind P7050) destroyed a locomotive.
On 28 October the C.O. Squadron Leader John Sample was killed in a training sortie. Squadron Leader Humphrey St. John Coghlan DFC from 263 Squadron replaced him on 2 November.
Häggberg flew his first operational sortie on 15 November together with Pilot Officer Bryan, Sergeant Luing, Sergeant Maddocks and Sergeant Sandy.
On 21 November Pilot Officer Lawton (Whirlwind P7035) and Sergeant Häggberg (P7036) flew an uneventful sweep out over the North Sea.
On 24 November Squadron Leader Coghlan (Whirlwind P7096), Pilot Officer Lawton (P7105?), Pilot Officer Martin (P7105?), Flight Sergeant Robertson (P7007), Sergeant Häggberg (P7050) and Sergeant McClure (P7106) unsuccessfully searched for several E-Boats, which had attacked a convoy.
Uneventful patrols were flown on 25 November by Pilot Officer Bryan (Whirlwind P7107), Flight Sergeant Robertson (P7105), Sergeant Häggberg (P7092) and Sergeant McClure (P7062).
Totally during November Häggberg flew two convoy patrols of 3.25 hours and one Yarmouth patrol of 1.35 hours.
On 1 December the squadron moved to RAF Matlaske.
Flight Lieutenant Hughes (Whirlwind P7096), Pilot Officer Martin (P7107), Sergeant Häggberg (P7037) and Sergeant Maddocks (P7092) flew an uneventful shipping reconnaissance on 9 December.
On 29 December Pilot Officer Martin (Whirlwind P7092), Flight Sergeant Robertson (P7107), Sergeant Brennan (P7035), Sergeant Häggberg (P7105) and Sergeant McClure (P7050) were put on patrol over Yarmouth at 20,000 feet, but they saw nothing.
Totally during December Häggberg flew one convoy patrol of 1.40 hours and six Yarmouth patrols of 8.30 hours and two scrambles of 2.10 hours.
On 25 January 1942 he was commissioned and promoted to Pilot Officer.
Totally during January Häggberg flew one convoy patrol of 1.35 hours and one Yarmouth patrol of 1.20 hours and four scrambles of 2.30 hours.
On 12 February Warrant Officer Robertson (Whirlwind P7107) with Flight Sergeant Mercer (P7055), Red Section, and Pilot Officer Häggberg (P7093) with Pilot Officer DeHoux (P7012), Blue Section were recalled from a training flight and briefed to escort the 16th and 21st Destroyer Flotilla. They took off at 13:10.
Unfortunately they were unaware of the Channel Dash by the German battle cruisers "Scharnhorst", "Gneisenau" and "Prinz Eugen", which took place during the day. While looking for their destroyers they saw several ships through a hole in the clouds twenty miles off the Belgian Coast and dived down to investigate. Around 20 Bf109s immediately bounced them. Flight Sergeant Mercer got a Bf109 in his sights, but his cannon would not fire, Pilot Officer DeHoux fired all of his ammunition 'without apparent result' whilst Häggberg and Warrant Officer Basil Lionel Robertson (RAF No. 748333) failed to return.
Totally 137 Squadron lost four Whirlwinds to German Bf109s during the day (the other two were Pilot Officer Martin (7106) and Pilot Officer Sandy (P7050) who were lost after attacking "Gneisenau" and being shot down by Bf109s). Known German claims against Whirlwinds during this day is Oberleutnant Egon Mayer of 7./JG 2 (totally 102 victories), who claimed a Whirlwind north of Ostende at 13:38 (14:38 German time), Feldwebel Hans Stolz of 9./JG 2, who claimed a Whirlwind at 14:12 (15:12 German time) and Unteroffizier Willi Reuschling of 7./JG 2, who claimed one north of Ostende on 14:24 (15:24 German time).
German records also states that German fighters and five Whirlwinds clashed during an attack on "Gneisenau" at 13:55.
At 14:20 two Whirlwinds attacked "Gneisenau" from the port side and one of them was shot down by German fighters.
At 14:24 one Whirlwind was shot down over "Scharnhorst" by German fighters. Other Whirlwinds became involved in combat with other German fighters. One Whirlwind was seen leaving with heavy smoke coming from one of the engines. There was also heavy combat over "Gneisenau" at the same time.
It is possible that Mayer shot down Häggberg.
Häggbergs body was never found and he is commemorated on Panel 69 of the Air Force Memorial, Runnymede.
Totally during February Häggberg flew two convoy patrols of 2.35 hours and four Yarmouth patrols of 4.05 hours and four scrambles of 4.35 hours.
At the time of his death he had flown 37 sorties.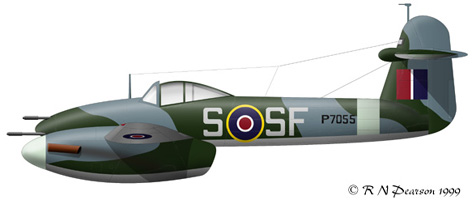 Westland Whirlwind Mk.I P7116 from 137 Squadron, May 1942 - June 1943.
© 1999 Bob Pearson
Image kindly provided by Bob Pearson
(This image first appeared at The Aviation Profiles of Bob Pearson & Chris Banyai-Riepl and Internet Modeler).
Sources:
Die Ersten und die Letzten - Adolf Galland kindly provided by Christer Bergström.
Luftwaffe Claims Lists - Tony Wood
RAF Fighter Command losses: Volume 1 - Norman L. R. Franks, 1997 Midland Publishing Limited, ISBN 1-85780-055-9
Svenska Dagbladet onsdag 28 augusti 2002
The Commonwealth War Graves Commission
Whirlwind: The Westland Whirlwind fighter - Victor Bingham, 1987 Airlife, ISBN 1-85310-004-8 kindly provided by Simon Colverson.
Additional information kindly provided by Christer Bergström, Rob Bowater and Mary Farron.




Last modified 20 February 2008