Voluntary Swedish aviators in the RAF

Pilot Officer Lennart Sverker Kjaer RAF nos. 1370298 (NCO), 200677 (Officer)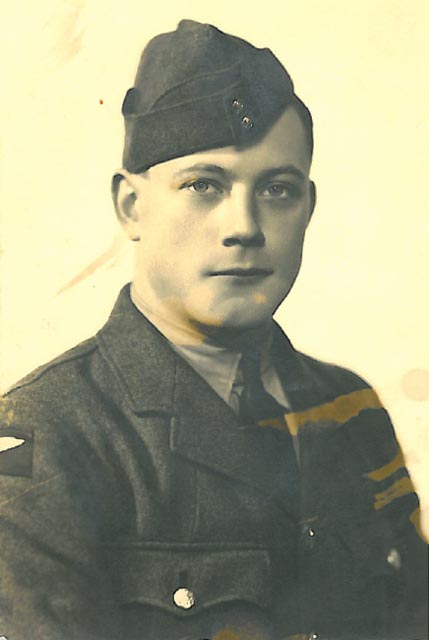 Image kindly provided by John Hardie.
1917 – 17 January 2003
Lennart Kjaer was born in 1917 in Dörarp, Sweden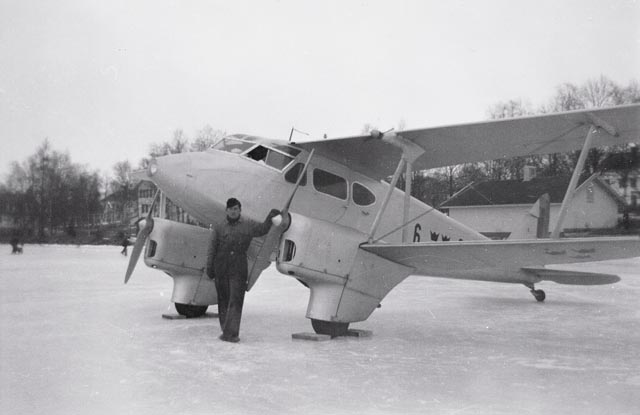 Lennart Kjaer in front of a De Havilland D.H. 90 Dragonfly (Trp 3) from the Swedish Air Force. This aircraft was ordered by the Swedish Air Force in the beginning of 1937.
Image kindly provided by the Kjaer family.
He joined the Swedish Merchant Navy 1934 and was employed by the Broströms shipping Company in Gothenburg Sweden.
His employment involved a certain time on ships as apprentice in the engine room and then in a shipyard partaking in assembling engines and repair of same. The latter never came about due to the war.
He sailed on 3 ships, two of which he lost. He sailed the Far East, China, Japan, Manchuria and Vladivostok.
When the war was declared they had entered the Red Sea homebound. The Captain called them up on deck and informed us that the company had a request from the British Government, would we be willing to join the other Swedish ships on convoy duty Glasgow - New York? They all agreed to do so.
A convoy was being assembled at Port Said and arriving in Glasgow they took on board 4000 cases of whisky!
They had a good journey across to New York.
Later they (SS Vingaland) sailed in convoy HX-84, which is better known as the Jervis Bay Convoy (HMS Jervis Bay was an auxiliary cruiser) and the sole escort for 37 merchant from Halifax, Nova Scotia to Britain.
In the afternoon on 5 November 1940, the convoy was attacked by the German Pocket Battle Ship Admiral Scheer.
On coming on deck Kjaer could see the masts of the ship just below the horizon. Flashes from the guns could be seen and a few seconds later the shells arrived. The Rawalpindi sailing next to them received a shell. Fortunately it bounced of her deck as she was carrying ammo.
HMS Jervis Bay was by now taking up a position between the convoy and the battle ship and laying a smoke screen thus saving the remaining ships. When the convoy dispersed the Jervis Bay was burning. A Swedish ship sailing last in the convoy, the M/S Stureholm picked up the survivors (the captain on HMS Jervis Bay, Edward Fegen received a posthouse Victoria Cross for this action).
The following day about 200 nautical miles from the British coast Kjaer's ship was intercepted by a German Fw 200 bomber and set on fire. The floating wreck of SS Vingaland was sunk later the same night by the Italian submarine Guglielmo Marconi.
Kjaer didn't have great deal of recollection of this incident as the concussion of the bombs exploding next to the engine room was heavy and he came to his senses in the lifeboat.
They were picked up by a British Merchantman and arrived in Glasgow.
After some time in Glasgow, Kjaer got on the train to Edinburgh and joined the RAF with ground duty to begin with, to get acquainted with the English language.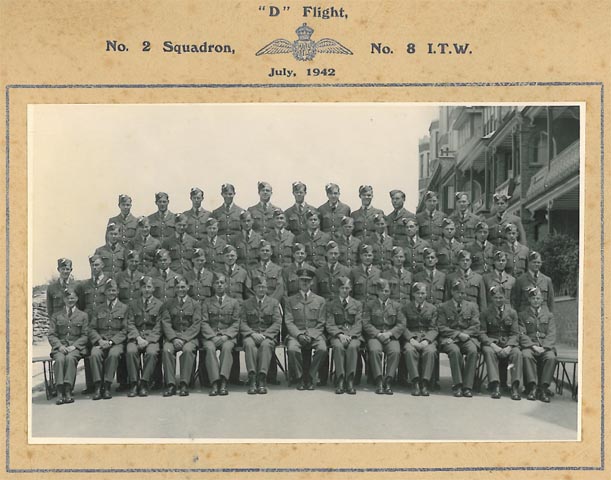 Lennart Kjaer at 2 Squadron, 8 ITW in July 1942. Kjaer is third from right in the front row.
Image kindly provided by John Hardie.
Later he passed the tests and got flying training. First at No. 6 EFTS, Northampton, flying Tiger Moths between 13 August 1942 and 7 September 1942.
He was then sent to Ponca City, Oklahoma, in the U.S. were he trained in No. 6 BFTS between 17 January 1943 and 23 March 1943, flying the PT-17 and between 1 April 1943 and 23 July 1943 in the No. 6 BFTS flying the Harvard (AT-6As).
He was sent back to the U.K. and No. 4 EFTS at Brough where he flew Tiger Moths between 1 December and 30 December 1943.
He was then posted to No. 18 (P) AFU at Snitterfield where he flew Oxford Cheetahs between 27 March 1944 and 26 May 1944.
A posting to 107 (Transport) OTU at Leicester East followed where he trained on Dakotas from 26 June 1944 to 7 August 1944.
He was posted to Transport Command and 194 Squadron at Imphal, India, where he flew Dakotas from 1 October 1944 to 30 July 1945. With this unit he flew 706:50 hours.
The flying consisted of dropping supplies to the British Troops in Burma and flying over the hump to Kun Ming, China.
When the war was over, he was posted to 353 Suqadron (Dakotas) at Palam, India, between 10 September and 29 October 1945 before being posted to 52 Squadron (Dakotas) at Dum Dum Calcutta. This was a V.I.P. Squadron. The flying was interesting and long range tanks were installed in the cabin of the aircraft. He served in this unit between 1 November 1945 and 28 February 1946.
Totally flying in the RAF was 1552:35 hours.
When his time in the RAF ended, he returned to England by ship and further home to Sweden.
On arriving home, he was refused entry as he only had his RAF pay book as document. All other papers had been lost with the ship in November 1940. One of his brothers, who lived in the town vouched for me and he got in.
He got a job with Scandinaviska Aero, a small company in Stockholm flying DC 3 around Europe.
The airline was owned by 3 shipping companies. Later the terminated the airline as shipping was more profitable and in 1948, he joined KLM instead.
Kjaer retired in 1973 when he and his family moved to Canada.
He was married to Ursula and they had 3 children (Björn, Hjalmar and Patricia)
Lennart Kjaer passed away on 17 January 2003.
His oldest son, Björn, has been with the Canadian Air Force and with the Snowbirds.
Sources:
Information kindly provided by Björn Kjaer, Ursula Kjaer and John Hardie.




Last modified 28 November 2011