Nakajima (A4N1) Type 95

A4N1 flown by PO1/c Yukiharu Ozeki of the 12th Kokutai.
With the rejection of the 7-Shi (1932) single-seat shipboard fighter contenders, Nakajima began, at the behest of the Imperial Navy, to upgrade the A2N (Type 90) as an interim measure pending the result of a 9-Shi requirement issued in February 1934. Externally, the upgraded fighter bore a close resemblance to its progenitor, but virtually the entire structure was redesigned. It was larger overall and it was powered by a Nakajima Hikari 1 rated at 730 hp for take-off. Designated A4N1, a prototype was completed in the autumn of 1934, but official adoption was delayed until January 1936 when it became the Type 95. The last Imperial Navy fighter of biplane configuration, the A4N1 appeared in service only 10 months before the 9-Shi Mitsubishi A5M1 monoplane, and, in consequence was soon relegated to the fighter training role. Nevertheless, some A4N1s saw service in China where they were employed for air base defence, tactical reconnaissance and close support with two 60 kg bombs. Production continued until 1940, by which time a total of 221 had been built.
The Nakajima A4N1 was used on the carriers Hosho, Kaga and Ryujo. It was also used by the 12th Kokutai.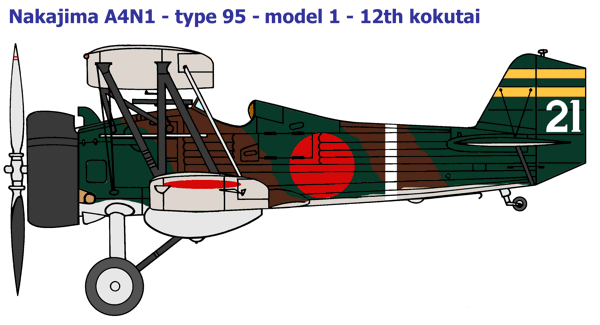 © Sidnei E. Maneta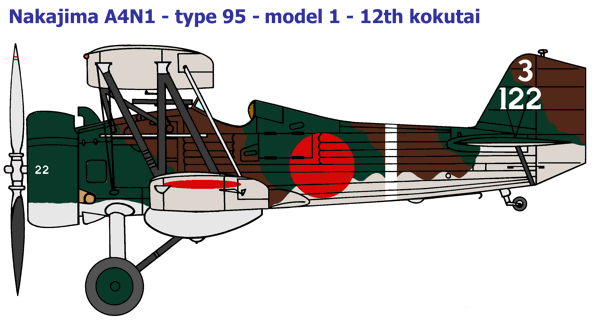 © Sidnei E. Maneta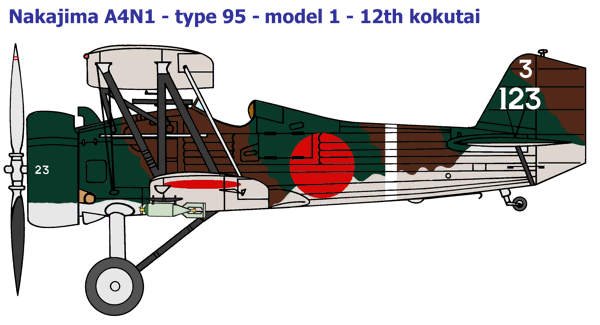 © Sidnei E. Maneta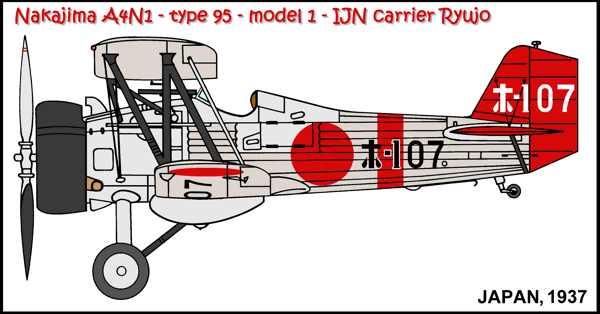 © Sidnei E. Maneta
Versions (with no. built):
A4N (1) – Prototype.
A4N1 (220) – Production model.

The Nakajima A4N1 saw service in: Japan (IJNAF).
Total production: 221

Technical details Nakajima A4N1
Type:____________Fighter
Crew:____________1
Span:____________10.00 m
Lenght:__________6.64 m
Engine:__________Nakajima Hikari 1 / 730 hp
Max speed:_______352 km/h at 3200 m
Service ceiling:_7740 m
Range____________846 km
Armament:________2x7.7 mm Type 92 fixed forward firing machine guns and two 60 kg bombs

Sources:
Combat Aircraft of World War Two - Elke C. Weale, John A. Weale and Richard F. Barker, 1977 Lionel Leventhal Limited, ISBN 0-946495-43-2
Japanese Naval Aces and Fighter Units in World War II - Ikuhiko Hata and Yasuho Izawa, translated by Don Cyril Gorham, 1989 United States Naval Institute, Annapolis, ISBN 0-87021-315-6
The Complete Book of Fighters - William Green and Gordon Swanborough, Greenwich Editions, London, ISBN 0-86288-220-6
Additional information and images kindly provided by Sidnei E. Maneta.




Last modified 06 May 2008