Biplane fighter aces

Belgium

Pilot Officer Count Rodolphe Ghislain Charles de Hemricourt de Grunne, Belgian no. 41717, RAF no. 82158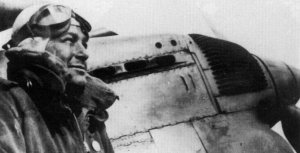 Count Rodolphe de Hemricourt de Grunne in front of his first Fiat CR.32 during the Spanish Civil War.
Rodolphe de Hemricourt was born in Etterbeck, Brussels on 18 November 1911, undertaking his military service in the cavalry. He also obtained a civil pilot's licence (no. 371).
In September 1936, he volunteered for service with the Nationalist forces in Spain, joining a unit of the Falange formed mainly of Argentinean troops. On 19 November he was wounded in the right leg, and whilst in hospital encountered a wounded pilot who was interested to learn that his neighbor in the ward was a nobleman with a flying licence.
In consequence, he attended the Escuela Tablada (Flying School) at Seville in December 1936 and on 1 February 1937 joined 3-G-11 at Saragossa, to fly He46 reconnaissance aircraft. In March he moved to 1-G-2 on He 51 fighters, seeing action over the Aragon Front. On 1 November 1937 he was moved to 4-G-12 on Meridionali Ro37 army co-operation aircraft, and then on 8 December to the forming 3-G-3 on Fiat CR.32 fighters. On 15th he moved to the similarly equipped 2-G-3 and he saw much action over the Teruel Front.
In March 1938, the Group took part in Aragón offensive
In the afternoon on 12 March, 2-G-3 encountered enemy aircraft attempting to stop the sweeping advance in the Aragon offensive. During the afternoon 18 Fiats, led by capitán Ángel Salas (CO) and capitán Joaquín García Morato, escorted Ju 52/3ms on a raid, and having completed this task made a sweep of the front as far as Híjar, where they encountered 19 Chatos that were escorting 11 SBs. In the ensuing dogfights, capitán Salas claimed one probable I-15, capitán Morato claimed two I-15s while teniente Miguel García Pardo (2-E-3) destroyed one I-15, which fell near Híjar. Teniente Miguel Guerrero García (1-E-3) set fire to another I-15, whose pilot took to his parachute from a very low height. Teniente Julio Salvador (CO 1-E-3) attacked another machine, which began to trail smoke, but he was unable to continue his attack as his Fiat was almost out of fuel; unable to return to his base at Tauste, he had to land at Saragossa. Teniente Carlos Serra Pablo-Romero, teniente Carlos Bayo (2-E-3) and teniente de Hemricourt (2-E-3) each were successful in shooting down an I-15. Teniente Manuel Vázquez Sagastizábal (1-E-3) attacked three SBs claiming one of them that crashed while attempting to land near Escatrón. No CR.32s were lost in this combat.
The I-15 shot down by teniente García Pardo was from 1a/26 and was flown by Soviet pilot starshiy leitenant Bela Arady, who bailed out badly burned and landed in Republican lines. The wreckage of this machine (I-15 CA-057) was recovered subsequently, and a piece of it was retained, on which ensuing victories of 2-G-3 were recorded, as well as the names of all those in the group who were killed.
On 4 May 1938, Commander Ángel Salas of 2-G-3 had his fuel and water tanks holed by machine-gun fire from the ground, forcing him to make an emergency landing at Aguilar aerodrome, which had been occupied only days before. During the same sortie the Fiats flown by Carlos Bayo, Jorge Muntadas Claramunt and de Hemricourt all received damage from ground fire.
Eight CR.32s from 2-G-3 and six from 3-G-3 took off in the morning on 31 May. Their task was to escort a number of Ju 52/3ms and Ro.37s over the La Puebla de Valverde sector.
On arrival, they encountered 22 Chatos and 22 Ratas. A 90-minute clash began immediately but the Nationalist crews were successful in protecting the bombers, which, their task completed, made good their escape.
Eight I-15s and two I-16s were claimed shot down without losses. The successful pilots were teniente de Hemricourt (2-E-3) (I-15), teniente Julio Salvador (CO 1-E-3) (three I-15s and one I-16), teniente Rafael Simón García (2-G-3) (I-15), teniente Manuel Vázquez Sagastizábal (1-E-3) (I-15), capitán Javier Murcia Rubio (3-E-3) (two I-15s) and Muerza (I-16).
Teniente Salvador's first I-15 was seen falling close to La Puebla, the pilot of the second escaped by parachute into Republican territory and the third, flown by teniente Juan Sayós Estivill of 1a Escuadrilla, made an emergency landing at the Republican airfield of Sarrión with a damaged engine. Estivill quickly abandoned his fighter, which was strafed by Salvador until it caught fire and burnt out. A few minutes later the Spanish ace destroyed an I-16. Teniente de Hemricourt shot down another I-15 near La Puebla, the Belgian watching his opponent take to his parachute and land in the Republican zone.
During this combat, capitán Ángel Salas was attacking a Chato when three enemy fighters in turn attacked him. His Fiat was hit several times before he managed to break away from the attack, but his machine was vibrating so badly that he had to return to base.
Bf 109s escorting Legion Condor bombers also engaged some of the I-16s.
The Republican bulletin issued the following day acknowledged the loss of five aeroplanes that crashed within its own lines, with four wounded pilots and one uninjured. The Polikarpov units had claimed the destruction of 12 Italian and German aircraft in return, although not a single Nationalist aircraft had actually been lost in combat. The Escuadra de Caza No 11 claimed ten CR.32s and it seems that Vladimir Bobrov of the 1a/21 (I-16) claimed one of the CR.32s.
During a second sortie of the day on 19 June, ten Fiats of 2-G-3 took off at 18:00 led by capitán Ángel Salas, to escort Ju 52/3ms bombing La Puebla de Valverde. They encountered a formation of 18 Chatos, which they chased as far as Alcublas, where nine Ratas joined the fray. Capitán Salas dived over the Chatos to attack, but was unable to fire his guns because a leak had emptied his compressed air bottle. Despite this, he continued to make dummy attacks, being hit five times by the Ratas, one bullet puncturing the coolant radiator. Teniente Julio Salvador (CO 1-E-3) enjoyed better luck, bouncing two Chatos from above near La Puebla, one of which exploded in the air, the other following in flames. It seems that these come from the 3a Escuadrilla and both pilots survived with wounds. Salvador then had to retire with an overheating engine. Teniente Miguel García Pardo (2-E-3) effectively removed a Rata from the tail of alférez Arístides García López Rengel's (1-E-3) Fiat by shooting it down. Teniente de Hemricourt (2-E-3) downed a Chato near Alcublas, then a Rata to the north of Villar del Arzobispo, and saw a Chato turn somersault as it attempted to land at its aerodrome. Teniente Esteban Ibarreche fired at a Chato close to the ground, and this separated from the rest of the formation and fell near to Hiruerela. Alférez Joaquín Ansaldo Vejarano (2-E-3) had to return to base when an engine cowling parted company from his Fiat.
No CR.32s were lost in this combat.
In the morning on 14 August, Grupos 2-G-3 and 3-G-3 attacked a formation of Ratas, which were pursuing some He 111s over Gandesa. Other Chatos and Ratas later joined in the battle. Totally the Spanish pilots reported 52 I-16s and 28 I-15s (!).This massive formation of Polikarpovs was also targeted by ten Bf 109s.
Group 2-G-3 claimed three Ratas (teniente Miguel García Pardo (2-E-3), teniente Carlos Bayo (2-E-3) and teniente de Hemricourt (2-E-3)) and 3-G-3 claimed two more (comandante Joaquín García Morato and teniente Emelio O'Connor Valdivielso (4-E-3)). 2-G-3s record of operations described the combat:
"García Pardo attacked some Ratas which were pursuing an He 111, shooting down one of the which fell near to Mora de Ebro … Teniente Bayo attacked three Ratas and succeeded in destroying one which fell on the edge of the Blanerías mountains. Later he attacked a Chato, but was unable to ascertain whether it was destroyed as damage to his engine forced him to land at Horta…
Teniente de Hemricourt fired at one Rata without any result; and then attacked some Ratas engaged with other Fiats, hitting one which fell in a wood to the north of Reus."
The Bf 109s of J/88 claimed seven I-16s. Unteroffizier Willibald Hein (3.J/88) and Unteroffizier Willhelm Szuggar (1.J/88) claimed two each while Leutnant Otto Bertram (1.J/88), Hauptmann Wolfgang Schellmann ((1.J/88) and Leutnant Wolfgang Lippert (3.J/88) claimed one each.
The Republican side reported that 1a, 3a and 4a Escuadrillas fought against 90 enemy aircraft, which included seven Bf 109s and 27 He 111s, and claimed the destruction of three Fiats and one He 111. They lost one Rata from 4a Escuadrilla and two more pilots were injured. Republican pilot Francisco Meroño also managed to get a Rata back to base with half of the elevator shot away. According to Nationalist records no bomb fell on this day, and the only Fiat to be lost was that of alférez José Mesía Lesseps (2-E-3) (3-75) which did not return to base. Teniente Bayo (3-127) had to make a forced landing at Horta de San Juan and alférez Alonso Fariña (3-139) was wounded and landed at Puig Moreno. Alférez Antonio Manrique Garrido's Fiat was hit 30 times, but he managed to get back to base at Escatrón. Johann Krug's He 51 was also badly mauled by enemy fire, but he too got back to base at Mas de las Matas.

On the morning on 1 September, seven CR.32s from Grupo 2-G-3 attacked a flight of two-seat Grumman FF-1 biplanes from Grupo No 28 over the Cabeza del Buey front. Two Delfines were shot down, their destruction being credited to teniente Miguel García Pardo (2-E-3) and teniente de Hemricourt (2-E-3).
Only one FF-1 was actually destroyed, with its pilot wounded and observer killed.

On 20 September, a series of daily battles began, culminating in fierce combats on 2 and 3 October. Groups 2-G-3 and 3-G-3 fought jointly in all these battles, achieving a total of 25 victories (17 by 2-G-3). On 22 September, de Hemricourt claimed two of these victories (one I-16 and one I-15) followed by one I-16 (flown by Sergeant Alvaro Pitarch Escorituella) on 2 October and another I-16 the next day.

During the morning on 3 October, comandante Joaquín García Morato led 24 CR.32s from Grupos 2-G-3 and 3-G-3 on an escort mission for Ro.37s on the Ebro front. They encountered 28 I-16s escorting 24 I-15s that had been undertaking strafing attacks, comandante Morato and 12 fighters from 3-G-3 attacking the biplane fighters at low level, two of which were claimed shot down by Tenientes Medizabal and Emelio O'Connor Valdivielso (4-E-3). Twelve other fighters from 2-G-3 tackled the I-16s at a higher altitude, but they soon found themselves badly outnumbered.
As the I-15 escuadrillas withdrew towards Republican lines, Morato and his pilots broke off their attacks and gained height in order to aid their compatriots in the struggle against the I-16s. Morato attacked a Rata from the rear, quickly setting it on fire, but at the same time another CR.32 pilot targeted the same I-16 from an acute angle. A 12.7 mm bullet fired by the second Fiat hit the engine of Morato's fighter, knocking it out. Still some 12 miles behind enemy lines, but at medium altitude, he used all his skills to glide the engineless CR.32 to within sight of the frontline, before he was forced to perform a dead-stick landing in a vineyard. His aircraft suffered no further damage when he landed. This was the only time that Morato was shot down in combat, albeit not through enemy action but accidentally by his wingman during the heat of battle (according to other sources, Morato was shot down by teniente Sirvent Cerrillo).
The fighter shot down by Morato (although not credited to him) was an I-16 Type 10 from 3a Escuadrilla, and it was seen to explode in mid-air. Another I-16 (CM-061), this time from 7a Escuadrilla was destroyed over Corbera by teniente de Hemricourt (2-E-3), de Hemricourt seeing its pilot bail out over Republican territory. A third I-16 Type 10 was hit in the propeller and main-wheel doors by bullets from a CR.32 and its pilot crash-landed near Reus, from where it was recovered.
Republican pilots, in return, claimed nine CR.32s shot down, although in actual fact only one had been lost. However, the pilot downed was none other than the commander of Escuadrilla 1-E-3, capitán Julio Salvador (CR.32ter NC 753/3-69), who was shot down after claiming two enemy aircraft. According to Republican witnesses, his CR.32 had been hit near Fayón early on in the engagement with the I-16s. Salvador's opponent was the second-in-command of Grupo No 21, José Maria Bravo Fernández (according to other sources, Salvador was shot down by teniente Francisco Meroño Pellicer, CO 6a/21, who claimed a CR.32 during the day). The nationalist pilot was taken prisoner by soldiers of the 46th Division of the Popular Army, commanded by the famous communist leader Valentin Gonzalez.
Salvador was eventually set free in France along with other pilot detainees held by the Republicans after four months in prison.
The I-15s of Grupo No 26 claimed four CR.32s (three by 1a/26 and one by 3a/26) during the day while the I-16s of Grupo No 21 claimed nine CR.32s (three by 4a/21, two by 7a/21, three by 1a/21 and one by 6a/21).
I-16s CM-261 and CM-263 (both from 3a/21) were destroyed during the day.

On 2 November during two missions the two Spanish fighter Groups claimed 17 enemy aircraft. De Hemricourt claimed one of these, an I-15, over Pinell.

Next day, 3 November, he claimed another I-15 over Salvatierra.

On 12 November eighteen Fiats of 2-G-3 and six from 3-G-3 took of under the leadership of Salas, to escort Ju 52s and He70s in the Segre sector. Six Katiuskas were encountered, escorted by two formations of Ratas. De Hemricourt succeeded in destroying one Rata, and one Katiuska was shot down by the combined attack of about five machines.
As the Fiats landed back at base from this sortie - one, which had been damaged in combat, collided with machine No 3-61, Salas' aircraft, damaging the lower wings. This latter machine, one of the first to serve with the group, was repaired by the middle of January and Salas finished the war in it.
This combat marked the end of air operations in support of the battle of the Ebro, which ended on 16 November with the retreat of the XV Army Corps.

He claimed his last victory in Spain when he claimed an I-15 on 2 January 1939 over Ciervoles.

De Hemricourt ended the Spanish Civil War with 14 victories. These were claimed during 425 combat sorties (and 27 aerial engagements) totalling 749 hours.

With the end of the war in Spain, he returned to Belgium in June, where in September 1939 he was mobilised - but into the infantry! After making strong representations, he gained a transfer to the Aviation Militaire Belge as a 2nd Lieutenant in 1940. He was sent to a pilot school, and rapidly received his military licence, being posted to 2/I/2 Groupe at Schaffen on Hurricanes.

He engaged an intruding Do 17 on 12 March 1940, but had to break off due to mechanical failure. Following the destruction on the ground of all the unit's aircraft at the start of the German attack in May 1940, he withdrew to France with many other pilots, leaving for England on 20 June on the SS Apapa, reaching Liverpool on 7 July.
Back in Belgium he was officially listed as a 'deserter'.

He was commissioned in the RAF on 19 July as a Pilot Officer.

After training at 7 OTU, Hawarden, he was posted to 32 Squadron at Biggin Hill on 9 August.

On 16 August, he claimed a Bf 109E off Dover.

The next day, he claimed another Bf 109 as a damaged.

On 18 August he claimed a shared Do 17 before being shot down by escorting Bf 109s, baling out of Hurricane V6535 near Herne Bay, seriously burned at 17.35.

On release from hospital in February 1941, he went to Portugal to recuperate. It was reported that he was involved in some espionage here, but while he may well have met some of his Civil War acquaintances, this is nonetheless unlikely.

Returning to the UK, he joined 609 Squadron on 28 April 1941, but on 21 May, whilst involved in 'Circus 10', which involved escort of Blenheims raiding Bethune, he was shot down over the Channel in Spitfire P7521, again the victim of a Bf 109. He baled out over the Goodwin Sands, but was not found.

Twenty-five days later in Spain, without knowledge of this incident, de Hemricourt was awarded the Medalla Militar (Individual Military Medal) in recognition of his distinguished service during the civil war. In Belgium, he remained listed as a 'deserter' seven years after his death in action.

On 21 July, Belgium National Day, War Minister Gutt presented Croix de Guerre at Wellington Barracks, de Hemricourt's being received by his sister. During the same year in Spain a number of awards of the Cruz Militar were made on the day of Our Lady of Lareto; one of these was for de Hemricourt.

De Hemricourt was credited with 14 biplane victories and a total of 15 and 1 shared destroyed at the time of his death. All of the biplane victories were claimed during the Spanish Civil War.

Claims:

| | | | | | | | | | |
| --- | --- | --- | --- | --- | --- | --- | --- | --- | --- |
| Kill no. | Date | Time | Number | Type | Result | Plane type | Serial no. | Locality | Unit |
| | 1938 | | | | | | | | |
| 1 | 12/03/38 | afternoon | 1 | I-15 (a) | Destroyed | Fiat CR.32 | | Híjar | 2-E-3 |
| 2 | 31/05/38 | morning | 1 | I-15 (b) | Destroyed | Fiat CR.32 | | La Puebla de Valverde area | 2-E-3 |
| 3 | 19/06/38 | 18:00- | 1 | I-15 (c) | Destroyed | Fiat CR.32 | | Alcublas | 2-E-3 |
| 4 | 19/06/38 | 18:00- | 1 | I-16 (c) | Destroyed | Fiat CR.32 | | N Villar del Arzobispo | 2-E-3 |
| 5 | 14/08/38 | morning | 1 | I-16 (d) | Destroyed | Fiat CR.32 | | N Reus | 2-E-3 |
| 6 | 01/09/38 | morning | 1 | Grumman FF-1 (e) | Destroyed | Fiat CR.32 | | Cabeza del Buey | 2-E-3 |
| 7 | 22/09/38 | | 1 | I-15 | Destroyed | Fiat CR.32 | | Corbera (f) | 2-E-3 |
| 8 | 22/09/38 | | 1 | I-16 | Destroyed | Fiat CR.32 | | Corbera (e) | 2-E-3 |
| 9 | 02/10/38 | | 1 | I-16 (g) | Destroyed | Fiat CR.32 | | Corbera (h) | 2-E-3 |
| 10 | 03/10/38 | morning | 1 | I-16 (i) | Destroyed | Fiat CR.32 | | Corbera | 2-E-3 |
| 11 | 02/11/38 | | 1 | I-15 | Destroyed | Fiat CR.32 | | Pinell | 2-E-3 |
| 12 | 03/11/38 | | 1 | I-15 | Destroyed | Fiat CR.32 | | Salvatierra | 2-E-3 |
| 13 | 12/11/38 | | 1 | I-16 | Destroyed | Fiat CR.32 | | Mequinenza | 2-E-3 |
| | 1939 | | | | | | | | |
| 14 | 02/01/39 | | 1 | I-15 | Destroyed | Fiat CR.32 | | Ciervoles | 2-E-3 |
| | 1940 | | | | | | | | |
| 15 | 16/08/40 | | 1 | Bf 109E | Destroyed | Hurricane I | P3481 | off Dover | 32 Squadron |
| | 17/08/40 | | 1 | Bf 109E | Damaged | Hurricane I | R4081 | Biggin Hill | 32 Squadron |
| | 18/08/40 | | ½ | Do 17 (j) | Shared destroyed | Hurricane I | P4081 | Biggin Hill | 32 Squadron |
Biplane victories: 14 destroyed.
TOTAL: 15 and 1 shared destroyed, 1 damaged.
(a) In some sources this claim is recorded as a probable. 2-G-3 claimed 7 I-15s, 1 probable and 1 damaged and 1 SB destroyed without losses. Republican losses is not known.
(b) 2-G-3 and 3-G-3 claimed 8 I-15s and 2 I-16 without losses. The Legion Condor didn't claim nor lost anything. The Republicans claimed 12 Italian and German aircraft for the loss of 5 aircraft (4 wounded pilots).
(c) In some sources these claims is recorded as probables. (d) Claimed in combat with I-16 from 1a, 3a and 4a Escuadrillas which lost at least one I-16 and got three more damaged while claiming 3 CR.32s and 1 He 111. 2-G-3 claimed three I-16s and 3-G-3 claimed two more while losing one CR.32 and getting 3 more damaged.
(e) Claimed in combat with Grumman FF-1s from Grupo No 28, which lost 1 aircraft for claims of 2 by 2-G-3.
(f) In some sources this claim is recorded to have claimed over the Ebro area.
(g) Sergeant Alvaro Pitarch Escorituella.
(h) In some sources this claim is recorded to have claimed over Gandesa.
(i) I-16 (CM-061) from 7a Escuadrilla shot down.
(j) This may have been credited as a probable.

Sources:
Aces High - Christopher Shores, 1994, Grub Street, London, ISBN 1-898697-00-0
Aces High Volume 2 - Christopher Shores, 1999, Grub Street, London, ISBN 1-902304-03-9
Air War over Spain - Jesus Salas Larrazabal, 1974 Ian Allan Ltd, Shepperton, Surrey, ISBN 0-7110-0521-4
Fiat CR.32 Aces of the Spanish Civil War - Alfredo Logoluso, 2010 Osprey Publishing, Oxford, ISBN 978-1-84603-983-6
Men of the Battle of Britain - Kenneth G. Wynn, 1999 CCB Associates, ISBN 1-902074-10-6
Några leva än - F. G. Tinker, 1939 T. V. Scheutz Bokförlag AB, Stockholm
RAF Fighter Command losses: Volume 1 - Norman L. R. Franks, 1997 Midland Publishing Limited, ISBN 1-85780-055-9
The Facile Fiat...Rosatelli's "Italian Fighter" - Air Enthusiast/Twenty-Two
The Legion Condor - Karl Ries and Hans Ring, 1992 Schiffer Publishing, ISBN 0-88740-339-5
Additional information kindly provided by Alfredo Logoluso and Ondrej Repka.




Last modified 02 May 2022