Biplane fighter aces

Spain

Teniente Esteban Ibarreche Arriaga
Ibarreche took part in the Spanish Civil War and he joined the Nationalist Army at the end of the Biscay campaign.
He completed his pilot training in January 1938 from where he was posted direct to Group 2-G-3. This unit was equipped with the Fiat CR.32.
During a second sortie of the day on 19 June, ten Fiats of 2-G-3 took off at 18:00 led by capitán Ángel Salas, to escort Ju 52/3ms bombing La Puebla de Valverde. They encountered a formation of 18 Chatos, which they chased as far as Alcublas, where nine Ratas joined the fray. Capitán Salas dived over the Chatos to attack, but was unable to fire his guns because a leak had emptied his compressed air bottle. Despite this, he continued to make dummy attacks, being hit five times by the Ratas, one bullet puncturing the coolant radiator. Teniente Julio Salvador (CO 1-E-3) enjoyed better luck, bouncing two Chatos from above near La Puebla, one of which exploded in the air, the other following in flames. It seems that these come from the 3a Escuadrilla and both pilots survived with wounds. Salvador then had to retire with an overheating engine. Teniente Miguel García Pardo (2-E-3) effectively removed a Rata from the tail of alférez Arístides García López Rengel's (1-E-3) Fiat by shooting it down. Teniente de Hemricourt (2-E-3) downed a Chato near Alcublas, then a Rata to the north of Villar del Arzobispo, and saw a Chato turn somersault as it attempted to land at its aerodrome. Teniente Ibarreche fired at a Chato close to the ground, and this separated from the rest of the formation and fell near to Hiruerela. Alférez Joaquin Ansaldo Vejarano (2-E-3) had to return to base when an engine cowling parted company from his Fiat.
No CR.32s were lost in this combat.
In a single attack on 2 September, capitán Ángel Salas destroyed three Katiuskas, and then capped this by damaging the aircraft flown by the leader of the 1a Escuadrilla de Moscas squadron that was escorting them. This pilot, José Redondo Martín (the son of the mayor of Madrid), took to his parachute and was guarded by Salas until he had almost reached the ground. Salas, before flying away, raised an arm in salute, and Redondo responded in a similar manner.
This event must have been well known in the Government zone, as it was reported from several sources.
In this combat 2-G-3 also claimed four more Ratas (Manuel Vázquez Sagastizábal, Luis Alcocer, Carlos Bayo and Ibarreche) and one more Katiuska (Salvador Serra Alorda).
The Katiuskas flown by Blas, Monzónis and Pavía were shot down. These were all from the 4a Escuadrilla of Grupo No 24 led by Ricote.
When Salas landed at Mérida he received news that his brother, Ignacio, had just been killed in the Ebro sector, during an attack on Bot by another Katiuska escuadrilla.
The coronel in Charge of the 1st Air Brigade sent the following congratulations to Salas:
"The part played by the group under your command in today's operation has filled me with pride and it gives me great satisfaction to have people under my command who know how to make the best use of prevailing circumstances. It gives me great pleasure to congratulate you personally, and the whole of your unit, to whom I hope you will convey this message."
On 20 September, a series of daily battles began, culminating in fierce combats on 2 and 3 October. Groups 2-G-3 and 3-G-3 fought jointly in all these battles, achieving a total of twenty-five victories (17 by 2-G-3). Of these Ibarreche claimed two.
After the end of the war, he was decorated with the Cruz Militar (the Military Medal) and promoted for his services during the war. The medal was however not presented to him until the day of Our Lady of Lareto in 1941, by which time he was involved in a new war!
Ibarreche ended the Civil War with 7 biplane victories of which three were I-16s and four were I-15s.
He later volunteered for combat in Russia and was part of the 1a Escuadrilla Azul, (Escuadrilla Expedicionaria) which was formed with 17 pilots with Salas as the Commander. Some of them were veterans of the Spanish Civil War and had a combined score of 79 aerial victories.
The unit crossed into France on 24 July 1941, later arriving in Germany in late part of the month.
They were assigned to training at the Jagdfliegerrschule 1 at Werneuchen near Berlin.
After completing their training on Bf 109E's, the 1a Escuadrilla left for Russia on 26 September.
At first, the Spanish pilots were worried that they would arrive late to see any action, since they were kept informed of the progress of the German advance towards Moscow.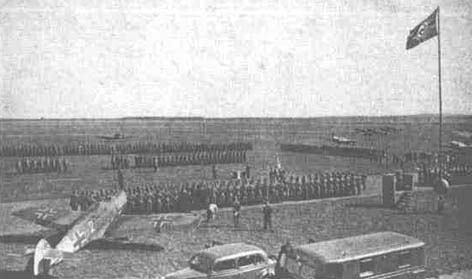 Azul Escuadrilla is welcomed on the East Front at Moschna airfield in September 1941.
The 1a Escuadrilla received a total of 12 Bf 109E-4s and –7s and they were assigned to JG27, VIII FliegerKorps of LuftFlotte 2. They were known as the "15 Spanische Staffel", and they started to fly their first combat operations on 2 October and suffered its first pilot causality in that same day, when Luis Alcocer was killed in the first mission. Escorting German bombers and reconnaissance aircraft, they operated from 12 different airfields.
On 13 October, Captain Carlos Bayo Alessandri claimed an I-18 while Lieutenant Ibarreche claimed a biplane.
Ibarreche claimed and SB-3 on 14 October.
The 1a Escuadrilla Azul received the orders to return to Spain on 6 January 1942.
During their time in Russia the unit flew a total of 460 missions, were engaged in 94 aerial combats and destroyed 10 enemy aircraft plus four on the ground, for the loss of 5 pilots (one KIFA, three MIA and one KIA) plus one wounded in action.
Ibarreche claimed 1 victory during his time in Russia.
Esteban Ibarreche ended the war with 7 biplane victories and a total of 9. All of the biplane victories were claimed during the Spanish Civil War.
Claims:

| | | | | | | | | | |
| --- | --- | --- | --- | --- | --- | --- | --- | --- | --- |
| Kill no. | Number | Date | Time | Type | Result | Plane type | Serial no. | Locality | Unit |
| | 1938 | | | | | | | | |
| 1 | 19/06/38 | 18:00- | 1 | I-15 | Destroyed | Fiat CR.32 | | Hiruerela area | 2-G-3 |
| 2 | 02/09/38 | | 1 | I-16 | Destroyed | Fiat CR.32 | | Zújar area | 2-G-3 |
| 3 | ??/??/38 | | 1 | I-16 | Destroyed | Fiat CR.32 | | | 2-G-3 |
| 4 | ??/??/38 | | 1 | I-16 | Destroyed | Fiat CR.32 | | | 2-G-3 |
| 5 | ??/??/38 | | 1 | I-15 | Destroyed | Fiat CR.32 | | | 2-G-3 |
| 6 | ??/??/38 | | 1 | I-15 | Destroyed | Fiat CR.32 | | | 2-G-3 |
| 7 | ??/??/38 | | 1 | I-15 | Destroyed | Fiat CR.32 | | | 2-G-3 |
| | 1941 | | | | | | | | |
| 8 | 13/10/41 | | 1 | Biplane | Destroyed | Bf 109E | | Russia | 1a Escuadrilla Azul |
| 9 | 14/10/41 | | 1 | SB-3 | Destroyed | Bf 109E | | Russia | 1a Escuadrilla Azul |
Biplane victories: 7 destroyed.
TOTAL: 9 destroyed.

Sources:
Air War over Spain - Jesus Salas Larrazabal, 1974 Ian Allan Ltd, Shepperton, Surrey, ISBN 0-7110-0521-4
Angel Salas Larrazabal - A Fighter Ace in Two Wars (WWII Ace Stories) - Santiago A. Flores, 2001
Några leva än - F. G. Tinker, 1939 T. V. Scheutz Bokförlag AB, Stockholm
The Facile Fiat...Rosatelli's "Italian Fighter" - Air Enthusiast/Twenty-Two
The Legion Condor - Karl Ries and Hans Ring, 1992 Schiffer Publishing, ISBN 0-88740-339-5
Additional information kindly provided by Christer Bergström and Tom Semenza.




Last modified 02 April 2014