Biplane fighter aces

The Commonwealth

Sergeant Ron Walter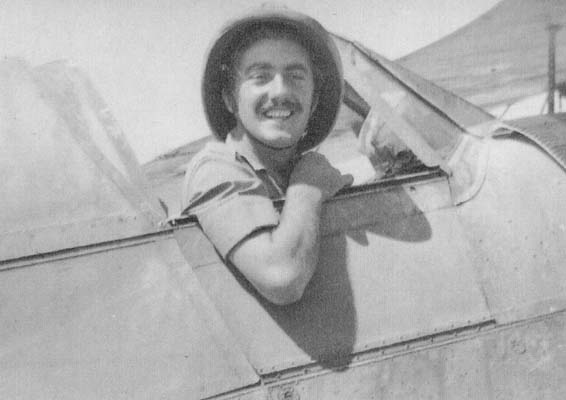 Image kindly provided by Andrew Thomas.
In August 1941, Sergeant Ron Walter served in 'C' Flight of 6 Squadron.
This squadron was primarily a tactical reconnaissance squadron. In August 1941 'C' flight took on strength a number of Gladiators due to general shortage of aircraft.
On 28 August, in company of four Lysanders, 'C' Flight were detached from the squadron's base at Wadi Halfa to the oasis at Kufra deep in the Egyptian desert for local reconnaissance tasks and for the defence of this small, but vital location.
On 21 September, a He 111 approached and bombed British positions at Kufra. Immediately Flight Lieutenant Lee (Gladiator N5851) and Flight Lieutenant Hillier (Gladiator N5821) scrambled to intercept the intruder, but unfortunately made no contact.
On 26 September, an Italian S.81 attacked and Sergeant Walter (Gladiator N5851) scrambled after it. He soon spotted the bomber but his overtaking speed was slight, but Walter nonetheless persevered and pursued it as far as Rodani, gradually forcing it down from 7,000ft to 1,500ft but never getting closer than 400 yards. He fired intermittently some 1,400 rounds and the bomber was thought to have come down and was credited as destroyed.
The Italian aircraft was possibly a S.79 from the 174a Squadriglia R.S.T. flown by the unit commander, Capitano Ronzi, which made a long reconnaissance flight from Gialo, flying Cufra-Robiaia-Bir Zighen. The Italian aircraft reported a short combat with two intercepting Gladiators over Cufra, claiming one of the Gladiators shot down, but no damage to the S.79 is mentioned.
This was the last claim to be made by a RAF Gladiator pilot during WWII.
This was also Waller's only air combat claim during the war.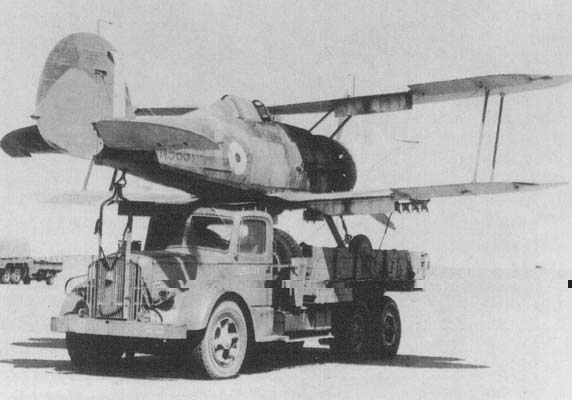 N5851, flown by Walter on 26 September 1941.
Image kindly provided by Andrew Thomas.
Walter ended the war with 1 biplane victory.
Claims:

| | | | | | | | | |
| --- | --- | --- | --- | --- | --- | --- | --- | --- |
| Kill no. | Date | Number | Type | Result | Plane type | Serial no. | Locality | Unit |
| | 1941 | | | | | | | |
| 1 | 26/09/41 | 1 | S.81 (a) | Destroyed | Gladiator | N5851 | Kufra Oasis area | 6 Squadron |
Biplane victories: 1 destroyed.
TOTAL: 1 destroyed.
(a) Possibly a S.79 from the 174a Squadriglia R.S.T., which didn't suffer any damage.

Sources:
A History of the Mediterranean Air War 1940-1945: Volume One – Christopher Shores and Giovanni Massimello with Russell Guest, 2012 Grub Street, London, ISBN 978-1908117076
Fighters over the Desert - Christopher Shores and Hans Ring, 1969 Neville Spearman Limited, London
Gloster Gladiator Aces - Andrew Thomas, 2002 Osprey Publishing, London, ISBN 1-84176-289-X
Gloster Gladiator Home Page - Alexander Crawford.
Il Savoia Marchetti S.M. 79 nel Secondo Conflitto Mondiale - Bombardamento Terrestre - Ricognizione Strategica - Aviazione Sahariana – Cesare Gori, 2003 USSMA, Rome
Additional information kindly provided by Andrew Thomas.




Last modified 17 August 2014