Biplane fighter aces

The Commonwealth
The Commonwealth produced 13 biplane fighter aces during the Second World War.
Biplane fighter aces: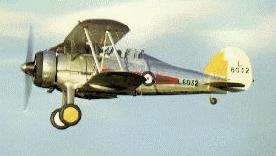 The Shuttleworth Collection's Gloster Gladiator in the pre-war markings of 72 Squadron.
Click on the image to see it in full size.
The Commonwealth also produced 33 other aces with biplane victories.
Fighter aces with biplane claims:
Fighter pilots with biplane claims:
Gloster Gladiator in Commonwealth squadron service
Gloster Gladiator claims in the Norwegian Campaign 1940
Gloster Gladiators and Fiat CR.42s over Malta 1940-42