Biplane fighter aces

The Commonwealth

Squadron Leader William Hubert Rigby 'Nits' Whitty DFC, RAF no. 90288

27 March 1914 – 17 November 2003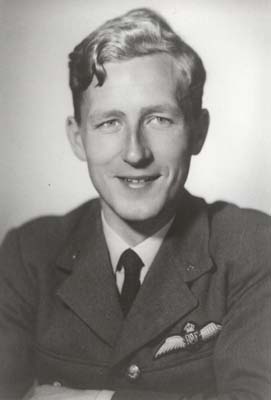 Image kindly provided by Rigby Whitty.

William Whitty was born on 27 March 1914 in Litherland, Lancashire.
He went to Liverpool College and was at Liverpool University from 1931 to 1935, studying to become and electrical engineer.
He was commissioned in 607 Squadron (County of Durham), AuxAF on 7 March 1938 and was called to full-time service on 7 September 1939 and at the same time promoted to Flying Officer.
On 10 September, 607 Squadron moved to Acklington, Northumberland, so that runways could be laid at Usworth.
At 12:45 on 17 October 'Blue' section from 'B' Flight of 607 Squadron was scrambled to seek German seaplanes that had been reported off the coast. Flight Lieutenant John Sample (Gladiator K7995/AF-O), Flying Officer Dudley Craig and Pilot Officer Whitty (Gladiator K8026/AF-L) headed out to sea, where at 13:30 they intercepted a Do 18 flyingboat at 1,500 feet some 25 miles of the coast. Sample led the flight in a diving attack from 8,000 feet and each of the Gladiators carried out three individual attacks from astern. Bits were seen flying off the Do 18 but it continued to fly, trailing smoke and descending out to sea. With ammunition expended and fuel getting low, Sample led his section back to Acklington.
The German aircraft was M7+YK from KüFlGr. 806, which struggled eastwards for about 35 miles before force-landing into the sea alongside the destroyer HMS Juno. The crew were rescued and made prisoner while the aircraft was destroyed with gunfire.
This was 607 Squadron's first victory.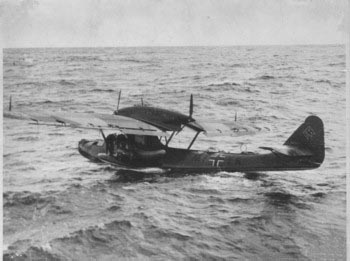 Dornier Do 18 M7+YK of KüFLGr. 806 after being forced down.
Image kindly provided by Robert Dixon at NORAV Home Page.

The squadron flew from Acklington to Croydon on 13 November and two days later flew to Merville in France.
During a night flying practice on 26 March, he was forced to bale out of Gladiator K7996 near Courcelles-les-Lens since he was unable to land due to fog.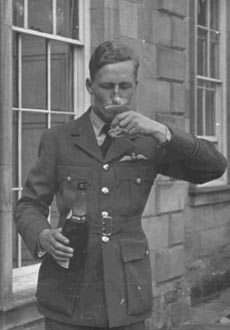 Image kindly provided by Robert Dixon at NORAV Home Page.

The Squadron started to re-equipped with Hurricanes in April 1940.
During this time, Flying Officer Whitty served in B Flight.
Early in the morning on 10 May, Flying Officer Whitty (from B Flight) reported:
"I had just arrived [at dispersal] when my Flight Sergeant pointed out aircraft bombing Cambrai. I took off and caught two flying together and got one He 111 – which crashed near Mons – and got a burst at the second on his port motor before he got into cloud."
The shot down Heinkel was probably He 111P 1G+DL of 3./KG 27, which was badly damaged by Sous-Lieutenant Abrioux of GC 6/I during a sortie to attack Lille-Seclin and also probably attacked by Whitty. The Heinkel belly-landed at Cambron-Casteau, south-east of Ath at 05:15. Unteroffizier M. Kisker was killed. Unteroffizier O. Wehmeier was captured badly wounded. His leg was amputated but he died on 30 May. Unteroffizier A. Voigt was captured wounded and admitted to hospital in Mons. Unteroffizier O. Miklitz was captured unhurt. The aircraft was a write-off.

On 15 May Squadron Leader Lance Smith (Hurricane P2870) of 607 Squadron led five Hurricanes of 607 Squadron's B Flight and six Hurricanes of 615 Squadron's A Flight in a escort of a dozen Blenheims (three of 15 Squadron and nine of 40 Squadron), which were to bomb the bridges over the Meuse.
Before reaching the target they encountered Bf 110Cs plus Bf 109s from Stab III/JG 53 at 11,000 feet. In the ensuing combat Squadron Leader J. R. Kayall of 615 Squadron claimed two Bf 110s while Flying Officer H. N. Fowler (Hurricane P2622) from the same squadron claimed a probable Bf 109 before being shot down himself (he parachuted safely but was later taken PoW). 607 Squadron claimed two Bf 109s shot down, one by Whitty, who reported seeing the pilot bale out of the aircraft he attacked, and the other by newly attached Pilot Officer Bob Grassick of 242 Squadron's B Flight. Squadron Leader Smith was shot down and killed in this combat.
Three Hurricanes were claimed by III/JG 53 and were credited to Hauptmann Werner Mölders, Oberleutnant Heinz Wittenberg and Leutnant Georg Claus, while two of the Blenheims were shot down by Bf 109s of 1/JG 3 encountered when north-west of Charleroi.

Whitty was in France with 607 until it was withdrawn to Croydon on 20 May 1940.

He served with the squadron throughout the Battle of Britain.

On 15 August the Luftwaffe launched its one and only massed attack on the North East of England. At 13:15 the 607 Squadron was airborne and after some flying made contact in the area of Whitley Bay.
Flying Officer Craig, flying in 'Green Section' in Hurricane 'L' managed to attack two He 111s, which he claimed shot down into the sea. He then attacked a third, which he chased out to sea for some 50 miles before being forced to return due to oil pressure problems.
It seems that Craig was credited with two probably destroyed (one of them being credited as a 'Bf 110').
In the same combat was Flying Officer Whitty credited with two damaged Bf 110s off Newcastle.

On 7 September 1940 he was promoted to Flight Lieutenant.

On 8 September 607 Squadron moved to Tangmere, Sussex.

He was posted away to 56 OTU, Sutton Bridge in November, instructing there on Hurricanes until March 1942.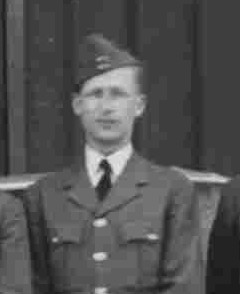 Image kindly provided by Robert Dixon at NORAV Home Page.

He was promoted to Squadron Leader on 1 December 1941.
Whitty then instructed at 24 EFTS until February 1944, when he was posted to Bomber Command.
He joined 76 Squadron in July 1944, flying Halifaxes and went to 640 Squadron at Leconfield in February 1945, again on Halifaxes.
On 26 October 1945 he was awarded the DFC.
Whitty ended the war with 1 shared biplane victory and a total of 2.
He went to Transport Command in 1945, was posted to 158 Squadron at Lissett on 25 May, and was with it until November serving as Squadron Commander between 10 and 30 July pending the arrival of Hank Iveson.
On 14 June 1946, he was awarded the DFC (US).
Whitty was released from the RAF in 1946, as a Squadron Leader.
He later went to live in Canada where he passed away on 17 November 2003. He is buried in Troy, New York.
Claims:

| | | | | | | | | | |
| --- | --- | --- | --- | --- | --- | --- | --- | --- | --- |
| Kill no. | Date | Time | Number | Type | Result | Plane type | Serial no. | Locality | Unit |
| | 1939 | | | | | | | | |
| | 17/10/39 | 13:30 | 1/3 | Do 18 (a) | Shared destroyed | Gladiator | K8026/AF-L | off coast | 607 Squadron |
| | 1940 | | | | | | | | |
| 1 | 10/05/40 | 05:15 | 1 | He 111 (b) | Destroyed | Hurricane | | ENE Douai | 607 Squadron |
| | 10/05/40 | | 1 | He 111 (b) | Damaged | Hurricane | | ENE Douai | 607 Squadron |
| 2 | 15/05/40 | | 1 | Bf 109 (c) | Destroyed | Hurricane | | France | 607 Squadron |
| | 15/08/40 | | 1 | Bf 110 | Damaged | Hurricane | | off Newcastle | 607 Squadron |
| | 15/08/40 | | 1 | Bf 110 | Damaged | Hurricane | | off Newcastle | 607 Squadron |
Biplane victories: 1 shared destroyed.
TOTAL: 2 and 1 shared destroyed, 3 damaged.
(a) Do 18 M7+YK of KüFlGr. 806. The crew became POWs.
(b) Probably He 111P 1G+DL of 3./KG 27.
(c) Claimed n combat with Bf 109s from III/JG 53. This claim can't be verified with German sources.

Sources:
Braced Wire To Barbed Wire – Robert Dixon, 2003 Flypast August 2003
Fledgling Eagles - Christopher Shores with John Foreman, Christian-Jaques Ehrengardt, Heinrich Weiss and Bjørn Olsen, 1991 Grub Street, London, ISBN 0-948817-42-9
Gloster Gladiator Aces - Andrew Thomas, 2002 Osprey Publishing, London, ISBN 1-84176-289-X
Men of the Battle of Britain - Kenneth G. Wynn, 1999 CCB Associates, ISBN 1-902074-10-6
One of the forgotten 'few' - Robert Dixon, 2002 Flypast September 2002.
RAF Fighter Command Victory Claims Of World War Two: Part One 1939-1940 - John Foreman, 2003 Red Kite, ISBN 0-9538061-8-9
The Battle of France Then and Now – Peter D. Cornwell, 2008 After the Battle, ISBN 9-781870-067652
The K File - The Royal Air Force of the 1930s - James J. Halley MBE, 1995 Air-Britain (Historians) Ltd, Kent, ISBN 0-85130-224-6
Twelve Days In May - Brian Cull and Bruce Lander with Heinrich Weiss, 1999 Grub Street, London, ISBN 1-902304-12-8
Additional information kindly provided by Robert Dixon, Eddie Fell, Paul McMillan, Andrew Thomas and Rigby Whitty.




Last modified 05 April 2019