Gloster Gauntlet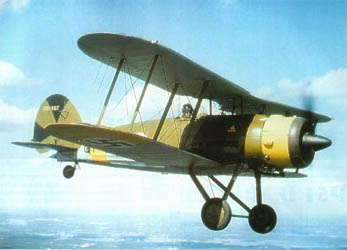 Lieutenant General (FAF ret) Heikki Nikunen flying the Finnish Air Force Museum's preserved Gloster Gauntlet.
Photo by Lieutenant Colonel (eng) Jyrki Laukkanen kindly via Jarmo Lindberg.
The Gloster Gauntlet entered RAF service in 1935 and still equipped one RAF UK squadron (616 Sq.) in the early weeks of the Second World War. The last use of Gauntlets in UK was for meteorological observations and the last such flight made by a Gauntlet were carried out on 6 December 1939 by K5280 of the Aldergrove Meteorological Flight.
Three RAF and one RAAF squadrons employed Gauntlets in the Middle East during 1940. 6 Squadron used their Gauntlets in policing operations in co-operation with the Army, the Transjordan Frontier Force and the Palestine Police in their efforts to curb the activities of renegade nomadic Arab gangs during the early months of the Second World War. However the unit was re-equipped with Lysanders and the last Gauntlet was handed over to 112 Squadron on 7 June 1940 at Helwan. 33 and 112 Squadrons took over most of the available Gauntlets during 1940 as useful means to pursue training techniques while conserving Gladiator flying hours. 33 Squadron took on charge six Gauntlets (K5273, K5286, K5299, K5316, K7793 and K7884) at Mersa Matruh during February 1940, and these machines were still listed at reserve strength when Italy declared war on 10/11 June that year. 112 Squadron also possessed five Gauntlets at Helwan on this date.
Six remaining Gauntlets from 33 and 112 Squadrons were transferred to 3 RAAF Squadron in the middle of October 1940 to be used for ground-attack missions. On 2 November the squadron had four operational Gauntlets at Gerawla. Two Gauntlets had been left at 208 Squadron, Quasaba, being unserviceable and awaiting spares).
On 8 December personnel from 3 RAAF Squadron started to move to ALG 74 following a decision made by HQ 202 Group for one flight of Gladiators and one flight of Gauntlets to operate from this ALG for approximately 10 days as an Advanced Detached Flight.
Five Gladiators and Five Gauntlets were flown from Gerawla to ALG 74 in the morning on 9 December thus completing the movement of the two flights to the ALG.
On the same day took five Gauntlets from 3 RAAF Squadron off from ALG 74 at 12:35 to carry out a dive bombing attack on enemy motor transports on the escarpment north-west of Sofafi. One aircraft returned to base at 12:48 but the remained completed their task and returned to base at 13:45.
On 11 December five Gauntlets from 3 RAAF Squadron took off from ALG 74 at 06:20 to dive bomb enemy troops reported to be retiring along a track north-west of Halfway House (half-way between Sofafi and Halfaya pass). These aircraft returned to base at 07:50 no targets having been located in the area reported.
The same day four Gauntlets from 3 RAAF Squadron took off from ALG 74 at 11:05 to dive bomb enemy troops reported to be retiring from Sofafi. The Gauntlets located the target, which consisted of approximately 300 troops and 200 motor transports in the vicinity of Halfway House and carried out dive bombing and machine gun attacks. The aircraft returned to base at 12:00.
Finally four Gauntlets from 3 RAAF Squadron took off from ALG 74 at 14:00 to repeat the dive bombing and machine gun attacks on the enemy troops in the vicinity of Halfway House. The aircraft returned to base at 15:10.
On 12 December five Gauntlets from 3 RAAF Squadron took off from ALG 74 at 08:15 to dive bomb a concentration of enemy troops in the vicinity of Halfaya, which 7th Armoured Division had cut off. The aircraft located the target and carried out dive bombing attacks, returning to base at 09:45.
The Gauntlets was withdrawn at the end of the day after four day in action. They had suffered no losses, but due to their venerable age it was becoming difficult to keep them serviceable.
Three Gauntlets piloted by Flying Officers Alan Rawlinson, Peter Turnbull and J. M. Davidson returned to Gerawla on 14 December.
On 15 December all the Gauntlets had returned to Gerawla from ALG 74; the last two were ferried by Flight Lieutenant Blake Pelly and Flying Officer John Perrin.
Two Gauntlets from 3 RAAF Squadron flown by Flying Officers Peter Turnbull (K7843) and John Perrin (K7825) took off for Maaten Bagush at 07:45 at 16 December. At 08:00 they arrived at Bagush and took off again at 08:30 to escort three Lysanders conveying General Wavell and staff bound for ALG 75. They landed at 09:40. They took off again at 14:20 to escort one Lysander back to Bagush were the Lysander landed at 15:30. The Gauntlets (which didn't land at Bagush) returned to Gerawla and landed at 15:40.
430 Flight emerged in August 1940 as a re-designation of 'D' Flight of 47 Squadron, then based in the Sudan for army co-operation duties and equipped with Vickers Vincent biplanes (the other three Flights of the squadron having Vickers Wellesleys). At the time of its re-designation, 430 Flight received a few Gauntlets, which arrived on 30 July, being flown down from Egypt by three RAF pilots who remained with the Flight, and two SAAF pilots who returned to Egypt. A sixth Gauntlet had force-landed en route with a burnt-out exhaust ring. These aircraft were some of those that the pilots of 1 SAAF Squadron had been training on at Abu Sueir, pending the issue of Gladiators.
The flight's aircraft were divided into two sections, 'A' section with Gauntlets and 'B' section with Vincents on 16 August.
During the night on 20/21 August the night high winds in the Sudan played havoc with the Flight's aircraft, one Gauntlet and three Vincents being damaged.
On 21 August, three Gauntlets and six Vincents moved forward to Gedaref airfield for operations in support of the Army, who had been driven out of a number of frontier positions by numerically superior Italians.
The first operation was a bombing attack on Galabat fort by two Gauntlets and two Vincents on 24 August.
On 2 September, the detachment moved to the forward landing ground at Azzoza with three Vincents and four Gauntlets.
On 7 September two Gauntlets and two Vincents took off from Azzoza at 11.20 to attack Metema airfield. The Gauntlets each carried eight 11-kg incendiaries for this operation. As they left the ground one Vincent hit some trees and was damaged, landing again. As the other Vincent just had begun dive-bombing the target at 13.05, a Caproni Ca133 high-wing three-engined transport came in low, oblivious of their presence, and began dropping supplies by parachute. Flight Lieutenant A. B. Mitchell in Gauntlet K5355 dived and attacked from head on, reporting that the Ca133 at once went into the ground and stood on its nose with the central engine thrust back into the cockpit. He then climbed to 4000 feet and dived again to drop his incendiaries on it, without effect, and then made three strafing attacks. However, although his description was both detailed and vivid, the Italians did record the attack but no mention was made of any damage to the Ca133. It is uncertain if their records were just incomplete, or if the aircraft was not too badly damaged, and being at an outlying base, failed to get reported. In any case this is the only know claim made by a Gauntlet pilot during the Second World War.
On 20 September, Mitchell in a Gauntlet made a strafing attack on Tessenei landing ground.
On 25 September (alternatively on 28 September), Mitchell was in action again, when he during the morning scrambled after five unidentified aircraft reported over the lines, but they turned out to be Wellesleys. He then saw three Ca133s on Metema airfield and strafed one. This Ca133 had just landed and suffered some damage from his attack. Just after midday two Gauntlets and two Vincents repeated the attack.
On 5 October, Mitchell (in K5355) and Pilot Officer A. N. Johnstone (in K4295) escorted three Wellesleys of 47 Squadron to bomb Galabat fort. The Gauntlets were also carrying 9-kg bombs (Coopers) themselves with which they also took part in the bombing of the target.
There are no further records of the Flight's Gauntlets being in operation but they were still reported on strength at the end on 1940. Early in 1941 the Flight was renumbered to 1430 Flight, continuing to use Vincents.
The Gauntlet was also used by the 1 and 2 SAAF Squadrons against the Italians in East Africa in 1940-41. In the beginning of 1941 2 SAAF Squadron still had three Gauntlets on strength, one of which was in such bad shape that it was cannibalised for spares. It is believed that these aircraft had previously served with 430 Flight, since the records of this latter unit ceased after the autumn of 1940.
25 Gauntlets were supplied to Finland from Great Britain in February 1940 in the purpose to be used against the invading forces of the Soviet Union. Only 24 was assembled and flown with the Ilmavomien serials GT-395 to GT-488. The donor of these aircraft was the South African government. The Finnish Gauntlets were not used as front-line fighters, instead being used as fighter-trainers.
5 of the 18 Danish Gauntlets been destroyed in pre-war in accidents but the rest were still in operational use by the 1. Eskadrille at Vaerlose when Germany invaded the country on 9 April 1940. However most of them were destroyed on the ground and no combat is reported with this fighter.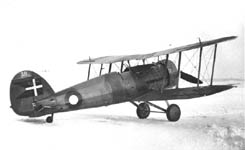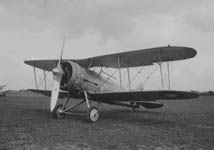 (left) Danish Gloster Gauntlet in 1939 and (right) Danish Gloster Gauntlet in 1938.
Photos kindly via Alf Blume.
Click on the images to see them in full size.
Total production: 246
Prototyp (1)
Mk.I (24) - Initial production model.
Mk.II (204) - Modified Mk.I with different (Hawker) rear fuselage and wing-spar structure.
Danish licence-production (17).
The Gauntlet saw service in: Australia, Denmark (1 pattern aircraft (K4081) and 17 licence-built for the Haerens Flyvertropper), Finland (25), Great Britain (RAF), South Africa (4) and Southern Rhodesia (3 Mk.IIs).
Technical details
Type:_____________Fighter
Crew:_____________1
Span:_____________9.99 m
Lenght:___________8.05 m
Engine:___________Bristol Mercury VIS2 / 640 hsp.
Max speed:________370 km/h at 4,800 m
Service ceiling:__10,200 m
Armament:_________Two Vickers Mk.V machine-guns and optional underwing bomb racks.

Sources:
Air Enthusiast Quarterly/Two, kindly provided by Börje Henningsson
Combat Aircraft of World War Two - Elke C. Weale, 1985
Dust Clouds in the Middle East - Christopher Shores, 1996
National Archives of Australia
The Gloster Gauntlet (Profile Publications) - Francis K. Mason, 1965, kindly provided by Börje Henningsson
The Gloster Gladiator - Francis K. Mason, 1964




Last modified 13 January 2005