The sinking of HMS Glorious and loss of 263 Squadron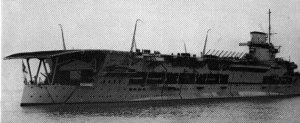 HMS Glorious
In the early hours on 8 June 1940, five Swordfishs led the Gladiators of 263 Squadron and the Hurricanes of 46 Squadron to the carrier HMS Glorious. The ten Gladiators landed first, followed by the Swordfishes and were stowed below with the other aircraft, the six Sea Gladiators of 802 Squadron and the balance of 823 Squadron Swordfish. Then at last the remaining seven Hurricanes made their approaches and every one was landed without undue difficulty.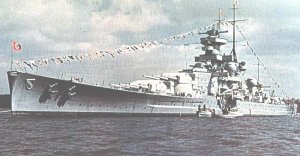 Scharnhorst
At 03:00 Glorious was detached with the destroyers Ardent and Acasta to head for Scapa Flow at all speed, while the other carrier HMS Ark Royal and the rest of the fleet remained behind to escort the slower main convoy.
Two days earlier a force of German warships had put to sea and they spotted the carrier at 15:45 only escorted by the pair of destroyers. The powerful battlecruisers Scharnhorst and Gneisenau opened fire at 16:30 at a range of 20,000 yards, gaining direct hits on the bridge of the carrier with the third and subsequent salvoes. The carrier replied with her own gun armament, but was hopelessly outranged. By 17:20 the carrier was dead on the water, little more than a hulk, and sinking fast.
The two destroyers did their brave and suicidal best to protect their charge, but were both sunk during the next 45 minutes - but not before Acasta had launched a torpedo strike which gained a hit abreast Scharnhorst's after turret, inflicting serious damage.

Gneisenau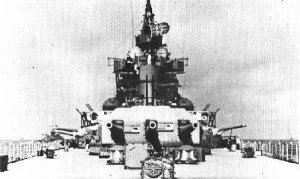 Scharnhorst's main armament.
From the three British vessels 1,519 lost their lives, including 1,207 from the carrier alone; 41 of the latter were RAF ground personnel, and 18 were pilots.
Squadron Leader Cross and Flight Lieutenant Jameson from 46 Squadron managed to get aboard a Carley float with 61 seamen, but 25 of the latter died of exposure and exhaustion before the 38 survivors, the two RAF men amongst them, were finally picked up by a passing fishing vessel.
Petty Officer Richard T. 'Dick' Leggot, 802 Squadron FAA was also one of the survivors.
After the attack Scharnhorst made it for Trondheim to undertake emergency repairs.


Gneisenau in 1939.
263 Squadron (Gladiators Mk.IIs)
Following pilots were lost:
Squadron Leader John William Donaldson DSO DFC
Flight Lieutenant Alvin Williams DFC
Flying Officer Herman Francis Grant Ede DFC
Flying Officer Harold Edward Vickery (RAF no. 39143)
Flying Officer Louis Jacobsen DFC
Pilot Officer Sidney Robert McNamara DFC
Pilot Officer Jack Falkson
Pilot Officer Phillip Hannah Purdy DFC
Pilot Officer Michael Amor Bentley
Sergeant Ernest Frederick William Russell MM (RAF no. 565278)

46 Squadron (Hurricane Mk.Is)
Following pilots were lost:
Flight Lieutenant Charles Robert David Stewart (RAF no. 37512)
Flying Officer Robert Melland John Cowles (RAF no. 39783)
Flying Officer Philip John Frost (RAF no. 39978)
Flying Officer Herbert Harold Knight (RAF no. 70374)
Flying Officer Michael Courtney Franklin Mee (RAF no. 37414)
Pilot Officer Lancelot Gordon Bew Bunker (RAF no. 70845)
Sergeant Edward Shackley (RAF no. 513599)
Sergeant Bernard Lester Taylor (RAF no. 564769)

802 Squadron FAA (Gloster Sea Gladiators)
Following pilots were lost:
Lieutenant John Filmer Marmont, RN
Lieutenant Guy Desmond D'Esterre Lyver, RN
Lieutenant David Neil Hamilton Ogilvie, RN
Lieutenant Nicholas Edward Ward, RN
Captain Richard John Williams Nott, RM
Captain John Richard Owens, RM
Lieutenant (A) George Hermann Joseph Feeny, RN
Lieutenant (A) Reginald Joseph Braithwaite Miles, RN

Gladiators lost:
N5681, N5695, N5699, N5723, N5725, N5906, N5907

Sea Gladiators lost:
N5518, N5521, N5525, N5526, N5527, N5530

Hurricanes lost:
L1793, L1804, L1805, L1806, L1815, L1853, L1961, L1980, P2632, P2633

The remaining pilots and ground crews of the two squadrons went aboard the MV Arandora Star and managed to make it back home. Pilots here included:
263 Squadron
Flight Lieutenant Caesar Hull DFC
Flight Lieutenant Randolph Stuart Mills DFC
Pilot Officer Hughes
Sergeant George Stanley Milligan
Sergeant Herbert Horatio Kitchener
Sergeant Basil Whall
46 Squadron
Pilot Officer J. F. Drummond
Pilot Officer P. W. Lefevre
Sergeant E. Tyrer

After the return to Great Britain the 263 Squadron was reorganised and started to re-equip with the Westland Whirlwind (a little bit of out of the ashes and into the fire...).
Sources:
Fledgling Eagles - Christopher Shores with John Foreman, Christian-Jaques Ehrengardt, Heinrich Weiss and Bjørn Olsen, 1991 Grub Street, London, ISBN 0-948817-42-9
Fleet Air Arm Aircraft, 1939-1945 - Ray Sturtivant kindly provided by Mark E. Horan
Gloster Gladiator Home Page - Alexander Crawford.
RAF Fighter Command losses: Volume 1 - Norman L. R. Franks, 1997 Midland Publishing Limited, ISBN 1-85780-055-9
The Commonwealth War Graves Commission
Additional information kindly provided by Mark E. Horan and Birger Larsen.
Pictures kindly provided via Mitchell Holman

Gloster Gladiator in the Norwegian Campaign 1940
History and development of the Gloster Gladiator




Last modified 17 January 2011