Biplane fighter aces

The Commonwealth

Flying Officer Louis Reginald 'Lou' Jacobsen DFC, RAF no. 41423
5 March 1915 – 8 June 1940
Louis Jacobsen was born on 5 March 1915 and was from Karaka Bay, Wellington, New Zealand.
He travelled to the UK to join the RAF in October 1938, being awarded a short service commission on 27 December of that year as Acting Pilot Officer on probation.
He was graded as Pilot Officer on probation with effect from 23 September 1939 and confirmed in his appointment with effect from 6 October 1939.
In October, he was also posted from SFTS to 263 Squadron.
By 1940 he had become a Flying Officer.
263 Squadron was the first British fighter squadron to arrive in Norway during the German invasion. They took off in their Gladiators from the carrier HMS Glorious on the afternoon on 24 April 1940. This first attempt to operated British fighters in Norway failed quickly and by the evening on 27 April the three last Gladiators were destroyed by the ground personnel of the unit when the evacuated Lake Lesjaskog. The squadron then returned to Britain aboard the French freighter Cap Blanc.
The unit returned on 21 May, this time flying of their Gladiators from the carrier HMS Furious. Due to bad weather it took the unit three days to transfer from the carrier to their new landing ground at Bardufoss.
This was the start of hectic combat by the Gladiators and on 30 May, Jacobsen single-handed attacked a convoy of six lorries on a road north of Beisfjord, destroying two and inflicting many causalities.

At 14:30 on 2 June 1940, Jacobsen (in N5681) and Pilot Officer J. L. Wilkie (in N5914) took off from Bardufoss in order to patrol between Narvik and the Swedish border. Here they met two aircraft, which were identified as Ju 88s, and a co-ordinated attack was made on one of these. Jacobsen employed a high-diving bean pass climbing above the enemy then diving on them amidships and got in a good four second burst with four machine guns. Wilkie followed up Jacobsen's initial attack with a stern chase but was shot down and did not return (the remains of the wreckage of Wilkies Gladiator remained on Lille Haugefjellet near Björnfjell Station until the end of 1998 when the wreckage was recovered and brought to Great Britain for restoration). Their opponents were in fact Bf 110s of I/ZG76, and had proved too much for the Gladiators, Wilkie being shot down and killed east of Rombaksfjorden by Leutnant Helmut Lent of this unit. Jacobsen meanwhile had chased Lent's Rottenflieger into clouds, then turning his attack on the other aircraft, which went down vertically into more clouds. Just missing a mountaintop, Jacobsen passed over the border into Swedish airspace, then spotted several He 111s circling in a line astern over Björnfjell. He at once attacked one aircraft from 250 yards, at which point his wing guns ran out of ammunition. The bomber pulled up sharply, stalled and crashed. There seems little doubt that his victim was a Do215B reconnaissance bomber of 4(F)/ObdL. Attacked by the fighter and with the engines shot out, this aircraft force-landed on the eastern side of the frontier where Franz Reichardt and his crew were interned, although all returned later. Reichardt reported that they had also been fired on and hit by Swedish frontier AA defence. Single-handed Jacobsen then made a head-on attack on four aircraft identified as a Ju 88 and three Heinkels. He pulled over these and pressed home an attack on one Heinkel closing from 250 to 50 yards and firing a three seconds burst from his nose guns. The bomber dived towards the ground apparently out of control. He then found himself surrounded by two 'Ju 88s' and six He 111s, which attacked him with cannon and heavy machine guns. He had in fact become engaged with elements of the second Schwarme of Bf 110s. The Gladiator's oil cooler was hit, the windscreen coated in oil and a flying wire shot away. To avoid colliding with any of these attackers he turned sharply onto the tail of one Heinkel and fired almost blindly. His victim rocked violently and both engines stopped just as his last remaining bullets left his guns. With fuel almost gone, he evaded the remaining aircraft at low level and flew back to base. Feldwebel Neureiter of I/ZG76 and his gunner, Stabsingenieur Thönes, claimed the Gladiator shot down over Lakselvdal at 14:50. Later it was reported that three He 111s had been found crashed near the Swedish border, and these were credited to Jacobsen, while it was felt that he might well have accounted for two further aircraft.
One of the He 111s shot down was from 2./KG26. This was He 111H-31 1H+CK (WNr 5607) which had tried to limber back to its base in Stavanger on one engine. At 19.30 the aircraft is sighted on the Swedish side of the border by the Swedish air defence warning service at the Swedish side of Lake Grövelsjön. The aircraft is low on fuel and the crew decided to make an emergency landing on the Norwegian ice-free side of the lake. After a few hundred meters of bouncing on the water the aircraft came to rest close at the western shores of the lake, 300 meters in on Norwegian ground. The crew survived the landing unhurt and mange to take themselves to the small Norwegian village of Sylen where they were able to get in contact with their forces by telephone. The next day they were collected by a He115, which landed on the lake. The Heinkel was left in the lake were it still rests today.
There is a probability that the He 111 that is still visible at Sitasjaure also was shot down by Jacobsen.


Image of the He 111 in Lake Grövelsjön the day after the emergency landing.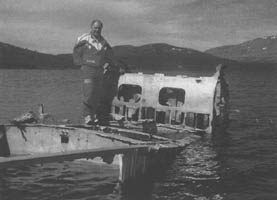 The remains of the He 111 in Lake Grövelsjön today.
It also seems that one of the aircraft attacked by Jacobsen during the later hectic stages of his sortie may have been a Ju 52/3m of KGrzbV 107. Six of these had appeared over Björnfjell to drop 45 troops of I/FJR1, but a British fighter chased one over the Swedish border. Here the Swedish defence also fired it on. The two-man crew was killed, but six of the ten paratroopers were able to bale out. The Germans believed that, despite the fighter attack, the Swedes had in fact shot down the aircraft, and a sharp note of protest was delivered in Stockholm. The strong possibility exists, nonetheless, that Jacobsen played at least a contributory part in the Junkers' demise. Research after the war has credited Jacobsen with four victories in the combats during this day.
Jacobsen took part in the successful evacuation of fighters from Narvik on 8 June 1940 when he and nine other pilots from 263 Squadron landed their Gladiators aboard HMS Glorious. However this successful evacuation was avail when the carrier was sunk by German warship later in the day with the loss of almost all aboard, Jacobsen being one of them. For more info on the sinking of HMS Glorious please see: The sinking of HMS Glorious and loss of 263 Squadron.
Jacobsen was decorated with DFC for the action on 2 June. The decoration was gazetted posthumously on 6 August 1940.
At the time of his death Jacobsen was officially credited with 4 victories, all of the claimed while flying Gloster Gladiators.
Claims:

| | | | | | | | | |
| --- | --- | --- | --- | --- | --- | --- | --- | --- |
| Kill no. | Date | Number | Type | Result | Plane type | Serial no. | Locality | Unit |
| | 1940 | | | | | | | |
| | 30/05/40 | 1 | Lorry | Destroyed on the ground | Gladiator II | | N Beisfjord | 263 Squadron |
| | 30/05/40 | 1 | Lorry | Destroyed on the ground | Gladiator II | | N Beisfjord | 263 Squadron |
| 1 | 02/06/40 | 1 | Heinkel (a) | Destroyed | Gladiator II | N5681 | Björnfjell | 263 Squadron |
| 2 | 02/06/40 | 1 | Heinkel (b) | Destroyed | Gladiator II | N5681 | Björnfjell | 263 Squadron |
| 3 | 02/06/40 | 1 | Heinkel (b) | Destroyed | Gladiator II | N5681 | Björnfjell | 263 Squadron |
| 4 | 02/06/40 | 1 | Heinkel (b) | Destroyed | Gladiator II | N5681 | Björnfjell | 263 Squadron |
Biplane victories: 4 destroyed, 2 lorries destroyed on the ground.
TOTAL: 4 destroyed, 2 lorries destroyed on the ground.
(a) Actually a Do215B of 4(F)/ObdL. The aircraft force-landed on the Swedish side of the border and the pilot Franz Reichardt and his crew were interned.
(b) Confirmed later by ground troops but only one confirmed with German sources. This was He 111H-31 1H+CK (WNr 5607) of 2./KG26, which made an emergency landing on Lake Grövelsjön with the crew unhurt.


Sources:
Aces High - Christopher Shores and Clive Williams, 1994 Grub Street, London, ISBN 1-898697-00-0
Aeroplane Monthly, December 1998
Då och Nu; Några nödlandare V (ÖFS nr. 2 November 1976) - Hans Hansson and Bernt Andersson, 1976
Fledgling Eagles - Christopher Shores with John Foreman, Christian-Jaques Ehrengardt, Heinrich Weiss and Bjørn Olsen, 1991 Grub Street, London, ISBN 0-948817-42-9
Grövelsjö-flygplanet (Svensk Flyghistorisk Tidskrift 1/99) - Mikael Forslund, 1999
Museum om Grövelsjö-planet (Svensk Flyghistorisk Tidskrift 5/96) - Bengt Hermansson, 1996
The Commonwealth War Graves Commission
The London Gazette
Those Other Eagles – Christopher Shores, 2004 Grub Street, London, ISBN 1-904010-88-1
Additional information kindly provided by Birger Larsen and Rune Rautio.




Last modified 09 April 2008