Curtiss Hawks in the Chinese Air Force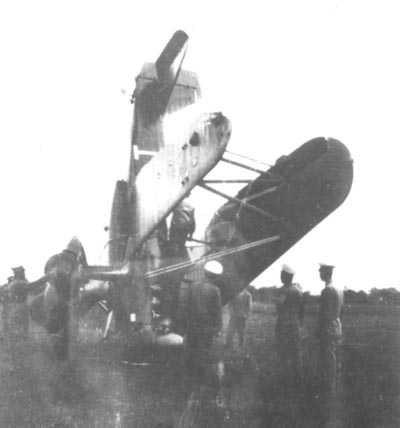 Chinese Hawk II after a landing accident.
In the beginning of the 1930s under the condition of permanent civil war, the Chinese Kuomintang government gave great attention to the development of military aviation and constructed several aviation factories in Shanghai, Hangzhou, Shaoguang and Nanchang. The actual results fell far short of those desired. Aviation advisors, invited from European countries and the USA for rendering technical assistance, for the most part lobbied for the commercial interests of their countries. This led to a chaotic purchase of various types of aircraft, many of which by that time were more or less obsolete.

On 7 March 1933 the Curtiss Hawk II Demo was delivered to China for a cost of $12,471.72.
Between 15 March and 8 May 1933 18 Hawk IIs were delivered for a cost of $12,650 each aircraft (without engines).
17 more Hawk IIs (c/n H-47 to H-63) were delivered between 19 June and 19 July 1933 for a cost of $11,850 each aircraft (without engines).
The last 14 Hawk IIs (c/n H-66 to H-79) were delivered between 14 August and 1 September 1933 for a cost of $11,850 each aircraft (without engines).
Totally 50 Hawk IIs were delivered to China.
The first Hawk III (c/n 12095) was delivered on 19 March 1936 for a cost of $15,841 (without engine).
11 Hawk IIIs (c/n 12175 to 12185) were delivered between 1 May and 17 July 1936 for a cost of $16,400 each aircraft (without engines).
60 more Hawk IIIs (c/n 12096 to 12155) were delivered between 16 May and 7 August 1936 for a cost of $15,301 each aircraft (without engines).
Between 12 April and 7 June 1938 the last 30 Hawk IIIs were delivered to China. These were c/n 12726 through 12755, which cost $13,602.70 each (without engine).
These Hawks were the last of a total of 102 Hawk IIIs delivered to China.
90 of the Hawk IIIs were assembled by the Central Aircraft Manufacturing Company (CAMCO) at Hangzhou.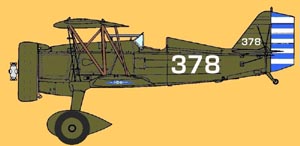 Chinese Curtiss Hawk II.
© Sidnei E. Maneta
Click on the image to see it in full size
At the beginning of the Sino-Japanese War in July 1937 the Hawks were the primary fighter in the Chinese Air Force.
After the reorganisation of the Chinese Air Force in 1935-1936, independent aviation squadrons, consisting of flights from the various provinces of China were combined into several air groups, each of 3 squadrons (of 10 aircraft each). At the beginning of the war with Japan there were about 600 combat aircraft, of which 305 were fighters and the remainder light bombers and reconnaissance aircraft. Medium bombers were not more than 20 machines. Fighters were the 3rd, 4th and 5th PG (Pursuit Group), and the independent 29th PS (Pursuit Squadron). "New Hawks" (as the Chinese called the Hawk III) equipped the 4th and 5th PG and also the 7th and 29th squadrons (before the war the 7th PS still retained a few Italian Breda Ba.27s). The other squadrons of the 3rd PG, the 8th PS and 17th PS were equipped respectively with approximately 15 Italian Fiat CR.32 and the American Boeing 281 (P-26). The 5th PG and the Flight schools had less than 50 obsolete Hawk IIs.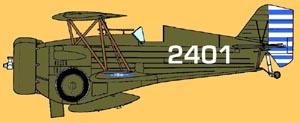 Chinese Curtiss Hawk III.
© Sidnei E. Maneta
Click on the image to see it in full size
The Chinese suffered great attrition and combat losses and on 10 October 1937 only 130 combat aircraft remained in service. By the beginning of November there remained not more than three dozen combat worthy aircraft. The Chinese aircraft factories could not make up for the combat losses. By the end of 1937 "1 Air Force Aviation Factory" in Shaoguang had assembled 12 Hawks partially from parts salvaged from destroyed aircraft. Not solving the problem was the purchase of three dozen English Gloster Gladiator Mark Is with which the 28th PS of the 5th PG began to replace their destroyed Hawk II and III from the beginning of October 1937.
The problems were temporarily solved by buying large numbers of Soviet aircraft (I-15s, I-16s and SBs) and receiving help from Soviet volunteers.
By February 1938 the Chinese had practically no combat worthy Hawk IIIs remaining and with the arrival of the Soviet aircraft the Hawks were soon relegated second line duties.
The last combat were Hawk IIIs played a major part was on 26 May 1940 when Captain Yuan Chin-Han of 22nd PS claimed a shared enemy bomber in the Chungking area together with two I-15bis from 21st PS flown by Captain Chen Sheng-Hsing and Lieutenant Kao You-Hsin.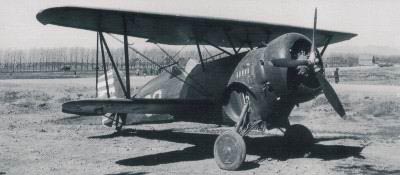 Chinese Hawk III in 1944. By this time the remaining Hawks were used as advanced trainers.
Sources:
Combat Aircraft of World War Two - Elke C. Weale, John A. Weale and Richard F. Barker, 1977 Lionel Leventhal Limited, ISBN 0-946495-43-2
Curtiss Navy Hawks in action – Peter Bowers, Squadron/Signal Publications, Carrollton, ISBN 0-89747-342-6
Soviet Fighters in the sky of China, Part I - Anatolii Demin, 2000 Aviatsiia Kosmonavtika 9 (translated by George M. Mellinger)
The Complete Book of Fighters - William Green and Gordon Swanborough, Greenwich Editions, London, ISBN 0-86288-220-6
The Curtiss Hawks – Page Shamburger and Joe Christy, Wolverine Press, kindly provided by Börje Henningsson.




Last modified 02 June 2004