Biplane fighter aces

Italy

Sergente Maggiore Domenico Facchini
Facchini served in 78a and 76a Squadriglie before being posted to 365a Squadriglia, 150o Gruppo C.T. He was serving with this unit when Italy declared war on Greece on 28 October 1940.
On 4 November, Greek Breguet XIXs from the 2 Mira attacked Italian Alpini troops in a ravine near Distraton.
Three of them were intercepted by a pair of 365a Squadriglia CR42s flown by Sottotenente Lorenzo Clerici and Sergente Facchini. The two Italian aircraft concentrated their fire on the leading Breguet. The observer in this aircraft was unable to return fire due to a stoppage. The aircraft was hit and the observer wounded, but by skilful flying the pilot managed to evade the attackers and force-landed at Xyrolimni. The second aircraft, flown by the unit commander, Epismingos (Major) Fridericos Katassos, was shot down in flames, Katassos and Anthyposminagos (Second Lieutenant) Alexandros Sarvanis, the observer, being killed. The third aircraft escaped, unseen by the Italian pilots.
Facchini was later posted to 76a Squadriglia, 7o Gruppo, 54o Stormo C.T. flying Macchi MC.200s. During the summer of 1941 the unit operated over Malta.
In the early morning on 11 June, 17 fighters from 7o Gruppo escorted a reconnaissance S.79 from the 194a Squadriglia, 90o Gruppo, 30o Stormo on a sortie over Malta. They were intercepted and a Hurricane managed to avoid the escorting fighters and shot down the S.79 and the pilot Tenente Giorgio Pozzolini and his crew (Sergente Maggiore Pilota Marinelli Marino, 1o Aviere Armiere Massotti Mario, 1o Aviere Motorista Zanella Tiziano, 1o Aviere Marconista. Di Giacomo Michele and 1o Aviere Fotografo Tozzi Giuseppe) all perished. Sergente Facchini shot down a Hurricane during this combat and thus claimed the 76a Squadriglia's first victory. Tenente Armando Cibin from the 86a Squadriglia claimed a second Hurricane.
This was newly arrived 46 Squadrons first clash with the Regia Aeronautica over Malta. They scrambled seven Hurricanes towards the Italian aircraft, which was reported approaching at 8,000 feet. Sergeant Norman Walker, who was acting as 'weaver' above and behind the other Hurricanes, was the first to spot the S.79 when it was 2,000 feet above him:
"I was first to attack. I opened fire at 250 yards giving three-second bursts and then closed to 100-50 yards, firing all the time. I observed pieces fall from starboard wing and white smoke started pouring from port engine. I then broke away, at the same time observing five enemy fighters in front. These aircraft did not attack."
By now, three other Hurricanes had arrived on the scene, Squadron Leader Rabagliati (Z2680), Flying Officer Peter McGregor and Pilot Officer Jack Grant all attacking the reconnaissance machine and setting its port wing on fire, following which it plunged into the sea. Four members of the crew were seen to bale out, but it seems that they all perished. Flight Lieutenant Norman Whitmore Burnett (RAF No. 70101) in Hurricane Z2480 was shot down and killed. Burnett had claimed a probable CR.42 on 11 November 1940 in the raids made by Regia Aeronautica in the late part of Battle of Britain. 26-year-old Burnett was from Sussex and he is commemorated on the Malta Memorial. His brother Walter Henry also died on service.
The rescue vessel Jade, a former Hull fishing trawler captained by Mr. William Fellowes, searched to within sight of the Sicilian coast but was unable to find any trace of wreckage or pilot. Two E-boats came out to challenge Jade and gunfire was exchanged, one crewman being mortally wounded but a hit was also registered on the larger of the two E-boats, which then broke off the action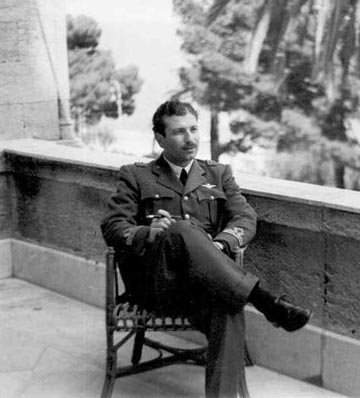 Tenente Giorgio Pozzolini, pilot of the SM 79 of the 194a Squadriglia, who was shot down and killed by Hurricanes from 46 Squadron on 11 June 1941.
Tenente Pozzolini had been decorated with two Medaglie d'argento al valor militare.
Imager kindly provided by Massimiliano Casanova.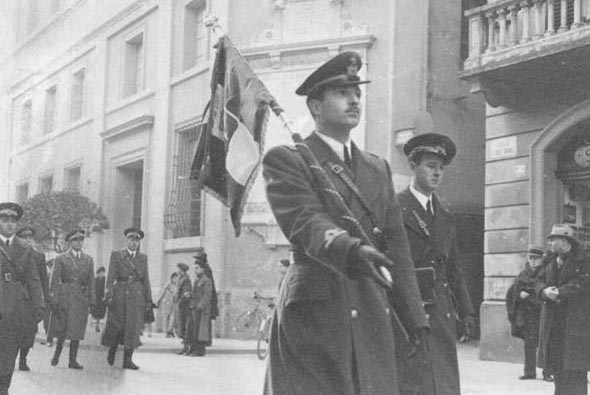 Tenente Giorgio Pozzolini, pilot of the SM 79 of the 194a Squadriglia, who was shot down and killed by Hurricanes from 46 Squadron on 11 June 1941.
Tenente Pozzolini is seen here as the flag bearer of the 30o Stormo.
Imager kindly provided by Massimiliano Casanova.
In the early hours of 26 July 1941, the Italians attempted a seaborne strike against Grand Harbour. The Italian Navy's 1,568-ton sloop 'Diana' approached the Malta area before midnight. On board were nine explosive MTM motor boats and their one-man pilots. The sloop also towed a smaller electric-powered MTL motor boat carrying two SLC human torpedoes and their four crewmen. Accompanying the vessels were two 60-foot motor torpedo-boats (MAS451 and 452), the latter towing a MTSM motor boat. 'Diana' hove-to 20 miles north of Malta, from where the attack was to be launched. This was to coincide with a diversionary raid by BR20Ms.
The boats set off at 02:00, reaching the kilometre mark at 03:00 - behind schedule. Here it was found that SLC No.2 was defective, and Maggiore Tesei ordered it back. He was due to blow the net at 04:30, and pressed on. The diverting air raid came in 15 minutes early, and when an explosion was heard at 04:25 it was assumed to be Tesei's SLC - it was in fact not, being caused by the bombing; Tesei was never seen again and his fate remains unknown. At once however, the barchini approached, and finding the net intact, Sottotenente di Vascello Carlo Bosio charged his explosive and leapt out. The boat, MTM No.1 hit the net and failed to explode. MTM No.2 was aimed at the net but hit the pier and blew up with the pilot still aboard, the force of the explosion bringing down the left-hand span of a steel bridge across the entrance to the harbour, which effectively blocked it. The defences now opened up and brought searchlights to bear; swiftly all the remaining MTMs were sunk by gunfire from the twin six-pounders of the Royal Malta Artillery, or deliberately by their pilots. Bosio climbed aboard MTM No.l again and set the destruct mechanism, but this blew up before he could get clear.
Dawn was now breaking and Hurricanes were scrambled by 126 and 185 Squadrons, passing over the fight at the harbour entrance to attack the four motor boats offshore. The sloop 'Diana' (which had brought the small attack boats within striking distance to Malta) was already well away on the way home; MAS 451 and 452, the latter towing the MTMS, were heading after her when the Hurricanes caught them. Flight Lieutenant Lefevre (Z3498) of 126 Squadron attacked one with cannon fire, reporting that the crew signalled surrender, while other pilots from this unit shot up the other vessels with machine gun fire. Pilot Officer Gay Bailey (Z3522/GL-A) of 185 Squadron claimed one vessel sunk, while eight others from the same squadron attacked three vessels, all of which were claimed destroyed.
In fact, MAS 451 was hit hard, the crew leaping overboard as she blew up and killed four seamen. The survivors were later picked up by a British vessel, claiming that they had shot down one Hurricane. MAS 452 was also hit (probably by Flight Lieutenant Lefevre), Capitano de Fregata Moccagatta, Capitano di Corvetta Giobbe and six other members of the crew being killed. The eleven survivors transferred to the MTSM and escaped, subsequently re-joining the 'Diana'. It seems that the MTL was also sunk by the Hurricanes.
MC.200s of the 7o Gruppo had been ordered off from Comiso at dawn to escort the flotilla back, but arrived overhead to find the vessels already under attack by the Hurricanes. 'Bouncing' the latter, the Macchi pilots put in seven claims, which were apparently later reduced to three confirmed and two probables. Claiming pilots were Capitano Saverio Gostini (one destroyed), Sottotenente Giannoccarso (two destroyed), Sergente Maggiore Facchini (76a Squadriglia) and Sergente Walter Omiccioli (86a Squadriglia); other claims were reduced to damaged.
Pilot Officer Denis Winton (Z4946/GL-E) of 185 Squadron was shot down and baled out into the sea. but his aircraft was the only one lost.
As the Macchis attacked, Sergeant Alan Haley of 126 Squadron, an Australian from Sydney, broke away and dived to about 500 feet above the sea, getting behind one Italian fighter and putting four or five bursts into it before it dived into the sea ten miles from Sicily. At that point, his own aircraft was hit several times, and he found that another Macchi was on his tail. Turning south, he was pursued for some five minutes, but at that point Pilot Officer Peter Thompson (Z3456/GL-X) of 185 Squadron saw Haley under attack and fired at the Macchi, believing that he had shot it down into the sea. Sergeant Haley saw the second Hurricane put a burst across the nose of his pursuer which caused it to turn away, and swinging about, was able to get a short burst into the Macchi, which then crashed into the sea about 15 miles from Sicily. Whether both pilots hit the MC.200 or not is not certain, but each claimed its destruction so that total RAF claims were for three Macchis shot down. Two Macchi pilots were indeed shot down during this combat, Maresciallo Avellino De Mattia (98a Squadriglia) baling out and being rescued later, while Sergente Maggiore Ruggero Gallina (76a Squadriglia) was killed. Two more MC.200s from 76a Squadriglia returned with battle damage.
Pilot Officer Winton, after several hours in his dinghy, spotted the stationary MAS 452 nearby and swam to it, getting aboard to find it occupied only by the eight dead Italians. An Army rescue boat approached, but unsure of who was still aboard, contended itself to circle around; it was by then six hours since Winton had been shot down. Finally, a Swordfish floatplane landed alongside, flying Winton and the flag from the vessel back to Malta. MAS 452 was taken in tow by the rescue vessel 'Jade' and brought into the harbour.
The raid had cost the Italians 15 dead and 18 captured (three officers and 15 ratings) - brave men all. The second SLC had finally limped ashore after five hours in the water, the crew of two being included amongst those captured. It had been a gallant effort, but it had achieved nothing.
On 24 June 1942, Mussolini flew in at the controls of his personal S.81, from Elmas, Sardinia, to San Pietro, Sicily, to decorated aviators. In the presence of the Chief of general staff of the Aeronautics, Generale S. A. Rino Corso Fougier (commander of the C.A.I. during the Battle of Britain), Capitano Pietro Calistri and Sergente Facchini, both from 76a Squadriglia, were decorated by the "Duce".
After the Italian capitulation in September 1943 Facchini joined the Italiana Aeronautica Nazionale Repubblicana (ANR) where he served with 1a Squadriglia, 1o Gruppo.
During the war he was decorated with one Medaglia d'argento al valor militare and three Medaglie di bronzo al valor militare.
Facchini ended the war with at least 1 shared destroyed while flying CR.42s and a total of 5 destroyed.
Claims:

| | | | | | | | | | |
| --- | --- | --- | --- | --- | --- | --- | --- | --- | --- |
| Kill no. | Date | Time | Number | Type | Result | Plane type | Serial no. | Locality | Unit |
| | 1940 | | | | | | | | |
| | 04/11/40 | | 1/2 | Breguet XIX (a) | Shared damaged | Fiat CR.42 | | near Distraton | 365a Squadriglia |
| | 04/11/40 | | 1/2 | Breguet XIX (a) | Shared destroyed | Fiat CR.42 | | near Distraton | 365a Squadriglia |
| | 1941 | | | | | | | | |
| ? | 11/06/41 | morning | 1 | Hurricane (b) | Destroyed | MC.200 | | Malta | 76a Squadriglia |
| | 26/07/41 | dawn | 1 | Hurricane (c) | Probable | MC.200 | | off Malta coast | 7o Gruppo CT |
Biplane victories: At least 1 shared destroyed, 1 shared damaged.
TOTAL: 5 and 1 shared destroyed, 1 probable destroyed, 1 shared damaged.
(a) Breguet XIXs of 2 Mira Elleniki Vassiliki Aeroporia (Royal Hellenic Air Force). One aircraft was damaged and a second aircraft flown by the unit commander Epismingos Fridericos Katassos was shot down in flames. Katassos was killed together with observer Anthyposminagos Alexandros Sarvanis.
(b) Regia Aeronautica claimed two destroyed; RAF losses was one destroyed Hurricane (Z2480) flown by Flight Lieutenant Norman Whitmore Burnett, 46 Squadron, who was killed.
(c) Claimed in combat with Hurricanes from 126 and 185 Squadrons, which claimed 3 MC.200s while losing 1 Hurricane (pilot safe). The 7o Gruppo claimed 3 Hurricanes and 2 probables while losing 2 MC.200s (1 pilot KIA) and getting 2 more damaged.

Sources:
Adriano Visconti Asso di Guerra - Giuseppe Pesce and Giovanni Massimello, 1997 kindly provided by Jean Michel Cala.
Air war for Yugoslavia, Greece and Crete - Christopher Shores, Brian Cull and Nicola Malizia, 1987 Grub Street, London, ISBN 0-948817-07-0
Assi Italiani Della Caccia 1936-1945 - 1999 Aerofan no. 69 apr.-giu. 1999
Hurricanes over Malta - Brian Cull and Frederick Galea, 2001 Grub Street, London, ISBN 1-902304-91-8
Malta: The Hurricane Years 1940-41 - Christopher Shores and Brian Cull with Nicola Malizia, 1987 Grub Street, London, ISBN 0-89747-207-1
The Commonwealth War Graves Commission
Additional information kindly provided by Massimiliano Casanova




Last modified 26 March 2020