Biplane fighter aces

Italy
Biplane fighter aces:
Fighter aces with biplane claims: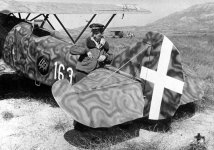 Tenente Mario D'Agostini posing beside his Fiat CR.32 in August 1940. This pilot of 163a Sq. based at Gadurra' (Rhodes) was later promoted to CO of the 162a Sq. and when on June 1942 he was killed in action in North Africa at Ain el Gazala, he was awarded posthumously of the Medaglia D'Oro al valor militare, Italy's highest military award. The camouflage of the CR.32 is extremely interesting, consisting in a sort of "wavy-mirror" application of dark green and red-brown paint over sand uppersurfaces.
© Archive D'Amico-Valentini
Picture kindly provided by Ferdinando D'Amico.
Click on the image to see it in full size.
Fighter pilots with biplane claims:
The 92a Squadriglia in North Africa

The Fiat CR.42 in Regia Aeronautica service






Last modified 26 August 2007