Biplane fighter aces

Italy

Colonello Alberto Gobbo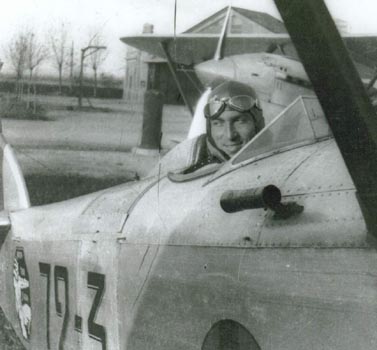 11 September 1911 – 26 November 1983
Alberto Gobbo was born in Bressa di Campoformido (Udine) on 11 September 1911.
From childhood he had a big passion for flying and aviation and in 1929 he became a glider pilot in Pavullo nel Frignano (Bologna).
From 1932 he worked as a civilian pilot for the Fiat ASI in Campoformido (Udine).
In 1933 he enlisted the Regia Aeronautica and joined as a Sergente the flying school at Grottaglie (Taranto), where he qualified as a military pilot flying with the Caproni Ca.100.
After graduation he was posted to the 72a Squadriglia of the 17o Gruppo, 1o Stormo C.T. at Campoformido. With this unit he flew with the Fiat CR.20s and CR.32s.
In 1937 he volunteered for the Spanish Civil War and served there 1937-1938.
During his time in Spain he was decorated with two Medaglie d'argento al valor militare and promoted to Maresciallo.
According to some sources he claimed six victories in Spain but these most probably includes shared claimes and has not been possible to verify.
When he returned to Italy he was transferred to the 53o Stormo at Caselle Torinese.
In 1939 he was posted to Addis Abeba, Ethiopia and the 411a Squadriglia, which was equipped with Fiat CR.32s
In the morning of 12 September three Battles from 11 SAAF Squadron raided Shashamanna, dive-bombing the airfield, hitting the headquarters building and destroying a S.81 and damaging a second. Italian fighters were already in the air when the Battles approached, and four CR.32s attacked. The aircraft of Lieutenant Edward George Armstrong DFC (SAAF no. 102765) was shot down in flames and the crew was lost. This aircraft was claimed as a shared between Sottotenente Alberto Veronese and Sergente Maggiore Athos Tieghi.
A fourth Battle, detailed to photograph the result of the bombing, then flew over the base at 2000 feet, but as it turned for home Maresciallo Gobbo of the 411a Squadriglia in one of the CR.32s suddenly appeared from the clouds below and opened fire. Air Gunner V. P. McVicar and Air Sergeant L. A. Feinberg, the photographer, were both wounded and the aircraft began to burn. Lieutenant J. E. Lindsay managed to force-land in clear ground between some trees, but while doing so the aircraft hit and killed a local villager, then burst into flames.
The Battle's crew got out swiftly, but were once attacked by armed natives. At that moment the ammunition in the burning aircraft began to explode and the natives fled. Italian troops then arrived and took the crew prisoner. The Italians did not at first realise that the Battle had been brought down by one of their fighters and thought that the crew had burned it themselves after force-landing.
Gobbo was later decorated with a third Medaglia d'argento al valor militare for the combat on 12 September and promoted to officer.
At the end of the East African campaign he was captured and spent the remaining time of the war in South Africa as a Prisoner of War.
He returned to Italy in 1946.
Gobbo ended the war with 1 biplane victory.
He continued to serve in the Aeronautica Militare after the war flying P-47s with the 51o Stormo at Treviso.
In 1957 he became deputy Commander of the NCO School in Macerata and later Liaison Officer of the Folgore Army Brigade.
He retired as a Colonello.
Gobbo passed away in Treviso on 26 November 1983.
Claims:

| | | | | | | | | |
| --- | --- | --- | --- | --- | --- | --- | --- | --- |
| Kill no. | Date | Number | Type | Result | Plane type | Serial no. | Locality | Unit |
| | 1941 | | | | | | | |
| 1 | 12/09/40 | 1 | Battle (a) | Destroyed | Fiat CR.32 | | Shashamanna | 411a Squadriglia |
Biplane victories: 1 destroyed.
TOTAL: 1 destroyed.
(a) Fairey Battle flown of 11 SAAF Squadron shot down. The crew became POWs.

Sources:
Dust Clouds in the Middle East - Christopher Shores, 1996 Grub Street, London, ISBN 1-898697-37-X
Regia Aeronautica 1935-1943 - M.Wawrzynski and Z. Lalak, 1998 kindly provided by Ondrej Repka
The Commonwealth War Graves Commission
Additional information kindly provided by Roberto Bassi.




Last modified 24 April 2003