Biplane fighter aces

Italy

Sergente Spartaco Petrignani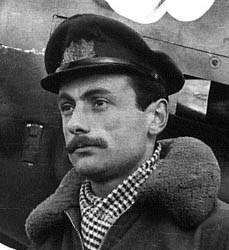 Spartaco Petrignani while serving in the 2a Squadriglia of 1o Gruppo C.T. of the ANR.
© Archive D'Amico-Valentini
Photo kindly via Ferdinando D'Amico.

Decorations

| | | |
| --- | --- | --- |
| Date | Decoration | Note |
| ??/??/41 | Medaglia di bronzo al valor militare | 1940-43 |
Spartaco Petrignani was from Ravenna.
In May 1941 Petrignani served in the 85a Squadriglia, 18o Gruppo CT in Libya. This unit was at the time equipped with the Fiat CR.42.
During the day on 29 May, the 18o Gruppo were involved in patrols when 15 CR.42s performed protective cruises over the harbour of Benghazi from 05:30 to 19:50.
At 10:15, a CR 42 discovered, east of Coefia, two Blenheims going towards Benghazi and attacked the section leader that fell in flames into the sea off Driana, the second Blenheim (which escaped) was pursued but the CR.42 had to quit because both guns jammed.
At 11:05 another CR 42 performing a protective cruise discovered two Blenheims 15 km north of Benghazi. One was shot down into the sea while the other escaped heading north.
It seems that the first mission was flown by Sergente Petrignani of the 85a Squadriglia and the second mission was flown by Sergente Luigi Gorrini from the same unit and who claimed one Blenheim shot down about 12 miles north-west of Benghazi and one more as damaged.
No corresponding RAF losses have been found.
After the Italian capitulation in 1943 he served in the Italiana Aeronautica Nazionale Repubblicana (ANR) where he served in the 2a Squadriglia of 1o Gruppo C.T. of the ANR.
Following five consecutive days of bad weather 600+ B-17s and B-24s attacked targets in northern Italy on 22 June 1944. The B-17s hit marshalling yards at Fornova di Taro, Modena and Parma while the B-24s hit six marshalling yards and two bridges in Italy, an automobile factory at Turin and an automobile depot at Chivasso. Escorting USAAF fighters flew 250+ sorties in support of the missions.
At noon, 1oand 2o Gruppi together with JG77 attacked 400 B-24s and 60 P-38s in the Bologna-Ferrara area. Four P-38s were sighted by 2a Squadriglia's MC.205s while climbing to reach the Italians. Despite Capitano Amedeo Guidi's order to wait, Sergente Petrignani, with Maresciallo Guido Fibbia close behind, dived and got on the tail of Lieutenant Tolmie (of the 97th FS, 82nd FG). At first his tracers fell between the P-38's tail booms, but he tightened his turn and was beginning to score hits when he saw another American sitting on his tail. A sharp split-S followed by a vertical dive got Petrignani out of trouble just as Fibbia was announcing over the R/T that the first P-38 had exploded.
1o Gruppo claimed two of the escort shot down (claimed at 9500 meters altitude east of Modena at 12:10 by Fibbia and Capitano Guidi) and two probables, but in fact only Tolmie was missing.
Feldwebel Ullrich from 6./JG 77 claimed one B-24 at 11:40 south of Cesana while Feldwebel Staroste of 2./JG 77 claimed a B-17.
USAAF fighters claimed one probable MC.202 by First Lieutenant Merrill Adelson of 96th FS, one damaged Bf 109 by Lieutenant Richard Willsie of 96th FS and a damaged MC.202 by Lieutenant Rosier of 82nd FG. The claims were made between 11:45-12:00 south south-west of Ferrara.
Petrignani ended the war with 1 biplane victory.

Claims:

| | | | | | | | | | |
| --- | --- | --- | --- | --- | --- | --- | --- | --- | --- |
| Kill no. | Date | Time | Number | Type | Result | Plane type | Serial no. | Locality | Unit |
| | 1941 | | | | | | | | |
| 1 | 29/05/41 | 10:15 | 1 | Blenheim (a) | Destroyed | Fiat CR.42 | | off Driana | 85a Squadriglia |
Biplane victories: 1 destroyed.
TOTAL: 1 destroyed.
(a) Not verified with RAF records.

Sources:
A History of the Mediterranean Air War 1940-1945: Volume One – Christopher Shores and Giovanni Massimello with Russell Guest, 2012 Grub Street, London, ISBN 978-1908117076
Air War Italy 1944-45 - Nick Beale, Ferdinando D'Amico and Gabriele Valentini, 1996 Airlife Publishing, Shrewbury, ISBN 1-85310-252-0
Elenco Nominativo dei Militari dell' A. M. Decorati al V. M. Durante it Periodo 1929 - 1945 2 Volume M - Z
Hurricanes over Tobruk - Brian Cull with Don Minterne, 1999 Grub Street, London, ISBN 1-902304-11-X
Quelli del Gatto Nero - I 60 anni del 51o Stormo 1939-1999 - Nicola Malizia, 1998, Rimini
USAAF (Mediterranean Theater) Credits For The Destruction Of Enemy Aircraft In Air-To-Air Combat World War 2 - Frank Olynyk, 1987 Victory List No.6
Additional information kindly provided by Ferdinando D'Amico and Ludovico Slongo.




Last modified 22 May 2022