Biplane fighter aces

Japan

Major Toyoki Eto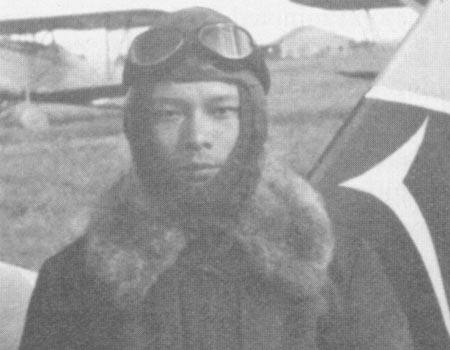 Eto was born on 26 June 1913 in Fukuoka City, attending the Ukiha Middle School.
He graduated with the 48th Class from the Army Military Academy in June 1936, and was promoted to Second Lieutenant in October on conclusion of primary flight training with the 61st Cadet intake at Tokorozawa.
He concluded fighter training at Akeno, and was posted to the 1st chutai of the 8th Daitai, which was led by Captain Shin-ichi Muraoka, in March 1938. This unit was at the time based at Nanking and equipped with Kawasaki Ki-10s.
He saw his first enemy aircraft, an SB bomber, over Bangbu on 30 April, but as he attempted to attack this, it was shot down by an aircraft of the 10th I F Chutai.
In July 1938, the 8th Daitai became the 77th Sentai.
On 21 August six of the 77th Sentai's Ki-10s led by Captain Shin-ichi Muraoka, strafed Hankou airfield. Here the top cover, Eto and Captain Hajime Kawada, engaged I-16s and Avro fighters. Joined by four more of the unit's aircraft, they claimed eight shot down, two of the by Lieutenant Eto, who was then obliged to force-land on the bank of the Yangzijiang, from where he was rescued by a flyingboat.
No further opportunities for aerial combat ensued before the Sentai moved to Longzhen, Manchuria, in autumn 1939.
He then returned to Akeno on a commander's course in January 1940, returning to the unit in June when he became leader of the 1st chutai.
From December 1941, he operated over Burma, where in four months he made 11 claims, which included five probables and several shared.
Japanese aircraft attacked Rangoon on 25 December 1941. The units of the 7th Hikodan were off first, 27 Ki-21s from the 12th Sentai and 36 more from the 60th Sentai, escorted by 25 Ki-43s from the 64th Sentai. The 10th Hikodan followed with eight Ki-21s from the 62nd Sentai and 27 Ki-30s of the 31st Sentai escorted by 32 Ki-27s of the 77th Sentai. Four Ki-44s of the 47th I F Chutai provided patrols over Don Muang in case of attack during take-off or landing. The commander of the 7th Hikodan, Wing Commander Kenji Yamamoto, flew in the leading aircraft of the 12th Sentai together with the 12th Sentai commander, Colonel Kumao Kitajima.
Before takeoff from Don Muang, the CO of 64th Sentai, Major Tateo Kato, told his pilots:
"We must drive away the enemy fighters from our bombers like a paper fan against flies."
On the way the leading Ki-21 of the 12th Sentai with Yamamoto and Kitajima, suffered an engine failure and turned back. The other bombers followed, but realized something was wrong, resumed their original course and proceeded separately from the main force, but still escorted by some of the Ki-43s (from 64th Sentai).
Due to the lack of a proper Operations Room at Mingaladon following the damage suffered after the attack on 23 December, no adequate warning was given to the Allied fighters and most were scrambled rather late. However, three P-40s of the 3rd Sq., AVG, were already up on patrol and these reported a huge bomber formation on the way. Three more went up, meeting the raiders ten miles from Mingaladon, where the Japanese force split into two, half heading for the airfield and half for the city. The AVG went off after the latter and Flight Leaders Haywood and Older (P-8157) each claimed two of these shot down, whilst Flight Leaders Hedman and McMillan claimed three apiece. Return fire hit the latter's aircraft, shattering the windscreen and damaging the engine, obliging him to carry out a forced-landing near Thongwa, south-east of Rangoon with a flesh wound in his arm. Haywood's aircraft was also hit, bullets damaging his port wing. Having broken the bombers' formation, the remaining P-40s – now joined by others – climbed again before diving on scattered pairs and trios. At that point 20 more bombers with eight fighters were seen approaching, and giving up the attack on the first formation, the Americans climbed from below to attack these.
Flight Leader R. T. Smith (in '77') claimed one that "started smoking badly and dove out heading for the ground", while Hedman, having already claimed three bombers, attacked another three as they were leaving formation and reported that one blew up in mid air. He then chased a fighter, which he identified as a 'Navy Zero', for ten miles before claiming this as his fifth victory of the action. With his canopy shot away, he then made a dead-stick landing on the satellite airstrip at Pegu. Overend claimed two bombers, reporting shooting the wing off the second, but he was then attacked by a fighter and had to make a crash-landing in a paddy field with his aircraft shot full of holes. Smith meanwhile engaged a 'Type 0' fighter head-on until "he was in flames and went down in the Gulf" – and then he reported shooting down another bomber, plus two more damaged off the Gulf of Martaban. Curtis E. Smith (making his first and only operational flight with the AVG) also claimed two bombers damaged.
The pilot of the three patrolling P-40s, which were further out, spotted 27 bombers escorted by fighters identified as 'Zeros' (obviously the 64th Sentai's Ki-43s) at 18,000 feet over Mingaladon. Flight Leader Parker Dupouy and Fred S. Hodges attacked two, Dupouy claiming one shot down, which he believed was a 'Messerschmitt 109', and Hodges the other as a probable – claimed as a 'Model 0'. Having also claimed a 'Model 0' shot down, Flight Leader William N. Reed attacked a bomber and believed he had hit the tail gunner, but this aircraft was then attacked by a Buffalo, which set the starboard engine on fire. Reed then had to dive away from the fight to clear his guns after they had jammed. Dupouy and Reed then pursued three fighters out over the Gulf of Martaban, Reed claiming one shot down in flames and Sergeant Major Shigekatsu Wakayam (Sho-4) of the 64th Sentai was killed. Dupouy, whose guns jammed, rammed a second, losing four feet off the port wing of his aircraft ('72'); he reported that his opponent lost its complete starboard wing and was seen to spin down and crash. This was 23-year-old First Lieutenant Hiroshi Okuyama (Class 52) of the 64th Sentai, who was killed. William Reed described the combat in his diary:
"I saw another P-40 who was also leaving the scrap. By now we were 140-150 miles across the gulf from Rangoon. I joined the other ship and saw that it was Dupouy. We started back across the gulf at 17,000ft, and had only gone about 30 miles out off the shore of Moulmein when we spotted three Model Os in a V-formation below us, apparently heading home. We dropped down on their tails and surprised them. Dupouy was following me as I picked out the right-hand wingman. I fired from about 50 yards, and Dupouy fired behind me. The Jap exploded right in front of my face. I pulled sharply up to the right to avoid hitting him, and Dupouy pulled up to the left. In doing so, his right wing clipped the other Jap wingman's ship right in the wing root, and the Jap spun into the gulf, too."
It seems that Reed and Dupouy had scored the first two P-40 victories over the Ki-43.
Soon after the action had begun, two pilots of Dupouy's flight – Bob Brouk and Lewis Bishop – heard over the R/T an order to "pancake immediately". Believing this to be an order from Dupouy to return to Mingaladon, they had just lowered their wheels to land when six Ki-27s appeared over the airfield and attacked. Although both P-40s were hit, they were able to get away. Bishop subsequently claiming a bomber probable and two damaged. As the Japanese force departed, Brouk claimed a Ki-27 ten miles east of Rangoon, while a few minutes later Flight Leader Ken Jernstedt claimed a 'Zero' east of Kyaikto, and Older claimed another – for his third victory – over the Gulf of Martaban, to bring AVG claims to a highly optimistic 24 destroyed, two probables and seven damaged!
The Buffaloes of 67 Squadron had also seen heavy action. Two formations were ordered to patrol in the vicinity of Mingaladon – Flight Lieutenant J. Brandt (W8213) leading six aircraft of 'B' Flight in two vics of three (Blue and Green Sections) at 12,000 feet, while Flight Lieutenant Colin Pinckney (W8144/C) patrolled ten miles east of Rangoon with six aircraft of 'A' Flight in line abreast at 17,000 feet. Two other Buffaloes flown by Flying Officer Bingham-Wallis (W8146/D) and Sergeant Gordon Williams (W8228) flew top cover to this formation, 3,000 feet higher.
Two formations of enemy bombers were spotted and the top cover attacked the first formation. Bingham-Wallis and Williams together claimed one bomber, which reportedly crashed into the sea. Bingham-Wallis then claimed one of the escorts (reported as a 'Type 0'; obviously one of the Ki-43s from the 64th Sentai) as a probable while Williams claimed one fighter as a probable. The main formation from 67 Squadron also attacked but 25-year-old Sergeant John Macpherson (RNZAF no. 41486) (AN216) was shot down by the escorting Japanese fighters and he was killed. The remaining aircraft from 'A' Flight engaged the fighters, mainly identified as 'Type 96s'. Sergeant Charles 'Ketchil' Bargh hit one during a 20 minute dogfight, and saw it trail smoke. He was then chased down to ground level by a Ki-43, which he eventually managed to evade. Three more Ki-43s bounced Sergeant K. A. Rutherford as he was attacking a bomber, but he returned safely to Mingaladon. Pilot Officer G. S. Sharp and Sergeant E. E. Pedersen dogfought a number of the Ki-27s for 15 minutes, Sharp claiming one probable before his own aircraft was hit; he force-landed at Mingaladon with some controls and electric cables cut and bullet holes in the ammunition tank. The recently fitted armour plate behind his seat had saved him from injury. Sergeant Pedersen returned safely claiming to have damaged two 'Type 96' fighters. Flight Lieutenant Pinckney also claimed a damaged enemy fighter.
The Blue Section of 'B' Flight was also engaged with the fighters and Flight Lieutenant Brandt claimed one of them. Brandt's Buffalo suffered some damage during the action when bullets pierced the petrol tank and aileron; other struck the armour plating behind his back. One of the fighters that attacked Brandt was claimed shot down by Sergeant E. H. Beable. He then made several more attacks and claimed a second fighter as a damaged. His own aircraft also suffered bullets through the airscrew, R/T, fuel tank and wing, though he was able to return to base safely. Sergeant J. G. Finn (W8240) claimed one fighter shot down in flames. His Buffalo received bullet holes in the tail and lower fuselage.
The green Section of 'B' Flight, however, suffered heavily. The leader 23-year-old Flight Lieutenant John Lambert (RAF no. 40924) (W8220/U) crashed near Rangoon; he had been shot in the back and had bled to death. The other two aircraft of the section was also shot down and 19-year-old Sergeant Edward 'Ted' Hewitt (RNZAF no. 405269) (W8248) and 19-year-old Sergeant Ronald 'Ron' McNabb (RNZAF no. 404393) (W8206) were both killed.
Totally the 67 Squadron claimed one bomber and three fighters destroyed, four fighters probably destroyed and three more damaged. Together with the AVG claims this brought the total to 16 bombers and 12 fighters destroyed, 1 bomber and 4 fighters probably destroyed, 7 bombers and 3 fighters damaged for the loss of two P-40s and four Buffaloes; four RAF pilots were killed.
The separate 12th Sentai suffered most heavily, losing three Ki-21s over the target area, while a fourth was badly hit and later force-landed. Most others in the formation were hit, and two or three crewmen were killed in these. The following 60th Sentai was also attacked, and reported that several of its bombers were damaged, but none actually lost. The bombers of the 10th Hikodan didn't suffer any losses. The escorting fighters were involved in numerous dogfights; the 64th Sentai became broken up and lost two Ki-43s to the opposing fighters (Okuyama and Wakayama), and only the commanding officer, Major Tateo Kato, was able to stay with the bombers during the return journey. The 77th Sentai lost two Ki-27s in the fight when First Lieutenant Masashi Someya (Class 52) was killed and Sergeant Major Kontetu Ri (Sho-2) was shot down and taken POW. A third damaged aircraft later force-landed.
The Japanese also heavily overclaimed. Kato and his pilots of the 64th Sentai claimed ten Allied fighters shot down (two by Kato; one possibly Edmund Overend and one Buffalo by Lieutenant Yohei Hinoki), while the 77th Sentai claimed seven more and four probables. Claiming pilots of the 77th Sentai were Lieutenant Kisaji Beppu, Sergeant Major Matsunaga, Sergeant Niino, Lieutenant Yoshihide Matsuo, Sergeant Major Akamatsu (and one probable), Sergeant Ono (who force-landed on return) and Lieutenant Tsuguo Kojima. The last three probables were claimed by Captain Mitsuhiro Matsuda, Captain Eto and Warrant Officer Kitasaka. The gunners of the 12th Sentai claimed no less than 19 fighters shot down!
Mingaladon was heavily bombed. Three Buffaloes at dispersal were destroyed or damaged beyond repair and five more, which were awaiting final assemble, were lost in one of the bombed hangars. The runways were pitted with craters and practically unserviceable, returning fighters landing with difficulty – but fortunately without accident. In Rangoon, civilian casualties were estimated to 5000 killed.

On 23 January 1942, a dozen Ki-30s of the 31st Sentai approached Rangoon alone. They were to have been escorted by 24 Ki-27s of the 77th Sentai but these failed to rendezvous with the bombers, proceeding alone to arrive over Mingaladon 15 minutes later, where they found the bombers hard-pressed by the AVG; they reported meeting about a dozen fighters identified as P-40 and one 'Spitfire'. The 2nd Squadron of the AVG had engaged the Ki-30s (identified as 'Army Type 98' bombers) and Percy Bartlet claimed three, while others were credited to Newkirk, Bright and Petach. Actual losses for the 31st Sentai were one shot down, three badly damaged and seven damaged to a lesser degree (virtually the whole force). The Americans, joined by a number of 1st Squadron pilots, were then heavily engaged by the 77th Sentai fighters.
After claiming one fighter shot down, Newkirk had his own aircraft badly shot-up and he crashed at the end of the runway whilst trying to land, escaping unhurt however. Bert Christman was shot down and baled out, but didn't survive; his body was found next day, riddled with machine gun bullets. A third P-40 was lost when Bill Bartling crash-landed his damaged aircraft in a paddy field. In return for these losses, Flight Leader Bacon claimed two 'I-97s', Flight Leader Lawlor two more (and a probable), Vice-Squadron Leader Robert Neal (1st Squadron) one and one probable, and Flight Leader Bob Little (1st Squadron) two probables. Neale then force-landed at Moulmein with a burnt out engine.
In fact the 77th Sentai suffered no losses, pilots of the unit submitting claims for eight P-40s shot down and four probables. The 1st chutai's Captain Eto claimed three and one probable, Lieutenant Beppu one and Warrant Officer Kimura one probable; for the 2nd chutai, Lieutenant Yamamoto and Warrant Officer Hagiwara each claimed one and one probable, while Warrant Officer Honma and Sergeant Major Nagashima of the 3rd chutai claimed one apiece.

Shortly before midday on 24 January, six Ki-21s of the 14th Sentai escorted by 20 Ki-27s of the 50th Sentai attacked Rangoon. All available Allied fighters were scrambled including P-40s from the AVG's 1st and 2nd Squadrons and Buffaloes (67 Squadron) and two Hurricanes (the only serviceable) from RAF. The Japanese bombers suffered heavily when five of the six bombers were lost.
At the same time a second Japanese formation, comprising three Ki-30s of the 31st Sentai escorted by 25 Ki-27s of the 77th Sentai, slipped in to strafe Mingaladon. The Ki-30 crews claimed three small aircraft destroyed on the ground and a fuel dump in flames, whilst the fighters reported engaging P-40s, Captain Eto claiming one shot down and Warrant Officer Fujinaga a probable. Lieutenant Shinjirou Nagoshi claimed one large aircraft destroyed on the airfield and other pilots three more damaged.
Eto and Fujinaga may well have been engaged with two Hurricanes flown by Squadron Leader Stone and Pilot Officer Fuge, which was scrambled an hour or so after the raid by 14th Sentai. Stone reported being attacked by a fighter as he was coming into land, although his aircraft was not hit.

On 28 January, a reconnaissance flight indicated the presence of considerable numbers of Allied aircraft at Mingaladon and the 5th Flying division despatched a fighter sweep over the area. 27 Ki-27s from the 77th Sentai and ten from the 50th Sentai arrived around midday, but the two units were unable to co-ordinate their arrival and became involved in separate dogfights. P-40s from the 1st and 2nd Squadron of the AVG were scrambled. The 1st Squadron claimed five Japanese fighters shot down and one probable (two and one probable claimed by Squadron Leader Bob Sandell and Flight Leaders Schiel, Bill Bartling and Dick Rossi one each) while the 2nd Squadron claimed one (John Petach). The AVG lost one aircraft shot down (Ray Hastey, who parachuted) and another force-landed (Sandell).
The 77th Sentai claimed seven and one probable against a force of "at least ten P-40s". The probable was credited to Captain Eto (1st chutai) while the victories were credited to Lieutenant Nakajima (1st chutai)(two), Lieutenant Beppu (1st chutai), Lieutenant Nakao (1st chutai), Lieutenant Matsuo (2nd chutai), Warrant Officer Hagiwara (2nd chutai) and Lieutenant Kuwabara (3rd chutai). The 77th Sentai lost three pilots when Warrant Officer Kitasaka was shot down and killed while Captain Mitsuhiro Matsuda, commander of the 2nd chutai, and Lieutenant Kanekicki Yamamoto from the same unit, both failed to return. It seems that Yamamoto, after receiving hits in his engine deliberately crashed his fighter into Sandell's force-landed P-40.
The 50th Sentai claimed eight and four probables without losses.

In the morning on 7 February, the 50th and 77th Sentai Ki-27s appeared in force over Burma, the 22 pilots from the latter unit reporting meeting ten P-40s near Rangoon, when Captain Eto and Lieutenant Jun-ichi Ogata each claimed one shot down, while Lieutenant Kawabara and Sergeant Niino both claimed probables. The unit suffered casualties when Lieutenant Kisaji Beppu (Class 51) was shot down and killed and Lieutenant Nakao was obliged to force land at Moulmein. The 50th Sentai pilots claimed two more victories and a third probable, again for no recorded loss.
It seems that they in fact had clashed with Hurricanes since ten Hurricanes had indeed been scrambled as the sweep approached but only four had made contact, these pilots submitting claims. Sergeant Tex Barrick of 17 Squadron claimed two Ki-27s shot down and a third damaged, while fellow American Flying Officer Lloyd Thomas from the same unit, also claimed one shot down. Two more were claimed by 136 Squadron pilots, Pilot Officer Eric Brown and Sergeant Ting Bunting.
Barrick reported that he had seen one RAF pilot shoot down a fighter which fell into a lake. However, a subsequent search failed to find anything, and this victory was not credited. No loss or serious damage was suffered by any of the British fighters on this occasion.

Constant patrols were maintained over Mingaladon all through the morning on 25 February, but it was midday when a big Japanese fighter sweep approached, comprising 21 Ki-27s from the 50th Sentai, 23 more from the 77th Sentai and three of the preproduction Ki-44s of the 47th I F Chutai, which had operated earlier over Malaya.
Three P-40s were led off by Squadron Leader Neale, together with six of 17 Squadron's Hurricanes. Sergeant Barrick had seen the oncoming mass of hostile fighters, which he accurately assessed to be 50 strong, and had excitedly yelled "Snapper! Snapper!" over the R/T, forgetting that this was the emergency code word used in the European theatre to indicate that they were being jumped. Consequently Squadron Leader Stone had not reacted, and continued heading south-west, towards the position where the enemy had been reported. "Snapper! Snapper!" was then repeated with even greater urgency, at which Stone led the Hurricanes into a circle, waiting instructions, until Operations ordered them to return, having seen nothing.
Meanwhile Barrick, believing that the rest of the squadron were following him, had sailed into 15 Japanese fighters alone:
"I attacked and shot down one 'Army 97' and was then jumped from above by a 'Zero' (presumably one of the Ki-44s). I went into a tight turn which caused one of the gun panels to fly open. This made the aircraft 'flick' and probably saved my life, because the 'Zero' was in an excellent position behind me. As it was my plane was not hit."
The AVG trio had also become engaged with the Ki-27s, claiming four shot down without loss - two by Neale and one each by Bob Prescott and Bill McGarry. Despite the five claims submitted, the Japanese fighters suffered no loses. However their own claims proved wild in the extreme, amounting to many more Allied fighters than were in the air. The Ki-44 pilots claimed two, whilst the 50th Sentai added three and two probables. No less than 11 and five probables were claimed by the 77th Sentai, one by the Headquarters flight, seven and two probables by the 1st Chutai, one and two probables by the 2nd Chutai and two, one probable and one damaged by the 3rd Chutai. Claiming pilots were: Sergeant Major Matsunaga (two), Captain Hajime Kawada (one), Captain Eto (one and one probable); Lieutenant Matsuo (one), Lieutenant Kawabara (one), Warrant Officer Fujinaga (one and one probable), Warrant Officer Kimura (one), Sergeant Niino (one), Lieutenant Nakajima (one), Lieutenant Tsuguo Kojima and Warrant Officer Honma (one shared), Lieutenant Shinjirou Nagoshi (one probable) and Sergeant Ono (one probable).

At the conclusion of the initial advance into Burma, the Sentai was awarded a unit citation and then returned to Manchuria.

14 Ki-27s of the 77th Sentai flew a patrol over Mingaladon during the morning on 6 March and, in doing so, overflew the previously undiscovered 'Highland Queen' airstrip. Several Hurricanes managed to take off and Flying Officer Lloyd Thomas was able to claim one of the Japanese fighters shot down — this was probably Warrant Officer Saburo Hagiwara's aircraft, which force-landed at Kyaito, the pilot returning to his unit next day. A second was claimed as a possible.
In return, Hagiwara claimed one Hurricane shot down, whilst Captain Eto's flight, together with Lieutenant Nakajima, jointly claimed a second.
On the ground one aircraft was claimed burnt by Lieutenant Nagoshi, and several others reported damaged; one or two Hurricanes were indeed damaged beyond repair, including WK-B of 135 Squadron. As a result of this attack, 17 Squadron was ordered to withdraw at once.

In May 1943, Captain Eto returned to Akeno to become an instructor.

In August, he was promoted to Major, whilst in June 1944 he was posted back to Burma to command the 64th Sentai, arriving there in late July.
By this stage the Allies had gained virtual air superiority and the unit flew mainly ground attack and anti-shipping sorties. On some occasions, he led attacks with 'Ta Dan' bombs (container bombs, each of which was packed with 75 small incendiaries).

Following the arrival of Allied troops and naval units at Akyab, the JAAF launched an attack on the port area on 9 January 1945. Major Koki Kawamoto led seven of the 50th Sentai's Ki-84s to make the unit's first attack on shipping. They were covered by 28 Ki-43s from the 64th Sentai led by Majors Miyabe and Eto.
Each Ki-84 was carrying a 250kg bomb, whilst some of the Ki-43s carried 100kg bombs as well. The 50th Sentai aircraft dived down to release their missiles from 1,500 feet, then leaving at low level, pursued by AA fire. Sergeant Major Ofusa returned to strafe a vessel, which he identified as a cruiser with his 20mm cannons. As the attack commenced at 13:50, five Spitfires from 67 Squadron, which had arrived only the day before, were scrambled, led by the commanding officer, Squadron Leader R. W. R. 'Bob' Day. As they were taking off, one of 292 Squadron's 'E' Flight Sea Otters, piloted by Flight Lieutenant T. P. Almack flew into the area, and spotting this, Major Eto led his section of four Ki-43s down to attack, claiming the little amphibian shot down in flames. In fact, the top mainplane was indeed set on fire, causing the pilot to force land south-west of Fakir Point. From there he taxied the severely damaged aircraft aground. The rear gunner, Warrant Officer W. J. Horam, was killed, but the rest of the crew escaped unscathed.
Meanwhile the Spitfires had gained altitude and were spotted above the 64th Sentai's aircraft by Major Miyabe, who radioed a warning to Eto. It was to late however, as Day's pilots dived on Eto's section over Myebo. They reported that one more Ki-43 joined the fight, and all five were claimed shot down, two each by Day (Spitfire JG567) and Flight Lieutenant C. M. Simpson (JG199), and one by Warrant Officer P. M. McQuarrie (JG496). In fact, all Eto's wingmen were killed – Sergeants Takashi Imajin (Sho-10), Hideo Tamazuki and Ryuzo Yamamoto (Sho-10), while Eto himself had to crash land his damaged fighter at Myebon. After burning his aircraft he made contact with Japanese ground forces and returned next day claiming to have shot down a Spitfire as well as the Sea Otter; in practice 67 Squadron suffered no loss, but there is no evidence to show that a fifth Ki-43 was lost either.
The remaining 64th Sentai pilots returned, reporting having seen 30 Spitfires in the area, 20 of which had dived on Eto's element! Before they withdrew however, they came upon and shot down a 27 Squadron Beaufighter.

He handed over command of the unit to Major Hideo Miyabe in April 1945 and returned to Japan.

He served as 1st Daitai leader of the 111th Hiko Sentai from July 1945 until the end of the war.

Eto ended the war with 2 biplane victories and a total of 12.

Claims:

| | | | | | | | | | |
| --- | --- | --- | --- | --- | --- | --- | --- | --- | --- |
| Kill no. | Date | Time | Number | Type | Result | Plane type | Serial no. | Locality | Unit |
| | 1938 | | | | | | | | |
| 1 | 21/08/38 | | 1 | Enemy fighter | Destroyed | Ki-10 | | Hankou airfield | 8th Daitai |
| 2 | 21/08/38 | | 1 | Enemy fighter | Destroyed | Ki-10 | | Hankou airfield | 8th Daitai |
| | 1941 | | | | | | | | |
| | 25/12/41 | | 1 | Enemy fighter (a) | Probable | Ki-27 | | Rangoon area | 77th Sentai |
| | 1942 | | | | | | | | |
| ? | 23/01/42 | | 1 | P-40 (b) | Destroyed | Ki-27 | | Mingaladon area | 77th Sentai |
| ? | 23/01/42 | | 1 | P-40 (b) | Destroyed | Ki-27 | | Mingaladon area | 77th Sentai |
| ? | 23/01/42 | | 1 | P-40 (b) | Destroyed | Ki-27 | | Mingaladon area | 77th Sentai |
| | 23/01/42 | | 1 | P-40 (b) | Probable | Ki-27 | | Mingaladon area | 77th Sentai |
| ? | 24/01/42 | | 1 | P-40 (c) | Destroyed | Ki-27 | | Mingaladon area | 77th Sentai |
| | 28/01/42 | | 1 | P-40 (d) | Probable | Ki-27 | | Mingaladon area | 77th Sentai |
| ? | 07/02/42 | | 1 | P-40 (e) | Destroyed | Ki-27 | | Rangoon area | 77th Sentai |
| ? | 25/02/42 | | 1 | Enemy fighter (f) | Destroyed | Ki-27 | | Mingaladon area | 77th Sentai |
| | 25/02/42 | | 1 | Enemy fighter (f) | Probable | Ki-27 | | Mingaladon area | 77th Sentai |
| | 06/03/42 | | 1 | Hurricane (g) | Shared destroyed | Ki-27 | | Mingaladon area | 77th Sentai |
| | 1945 | | | | | | | | |
| ? | 09/01/45 | | 1 | Sea Otter (h) | Destroyed | Ki-43 | | Akyab area | 64th Sentai |
| ? | 09/01/45 | | 1 | Spitfire (i) | Destroyed | Ki-43 | | Akyab area | 64th Sentai |
Biplane victories: 2 destroyed.
TOTAL: 12 and 1 shared destroyed, 4 probably destroyed.
(a) Claimed in combat with AVG and 67 Squadron. JAAF claimed 36 destroyed and four probables while losing nine aircraft. Allied fighters claimed 28 destroyed, 5 probables and 10 damaged while losing 6 aircraft (two pilots killed) and 2 damaged.
(b) Claimed in combat with P-40 from 1st and 2nd Squadrons of the AVG which claimed six enemy fighters and four probables for the loss of three P-40s and one force-landed. 77th Sentai claimed eight -40s shot down and four probables for no losses.
(c) This claim can't be verified with Allied records.
(d) Claimed in combat between 50th and 77th Sentai and 1st and 2nd Squadrons of the AVG. The 50th Sentai claimed eight and four probables without losses. The 77th Sentai claimed seven and one probable for the loss of three pilots. The AVG claimed six and one probable for the loss of two aircraft.
(e) Claimed in combat with four Hurricanes from 17 and 136 Squadrons (two from each unit) which claimed five destroyed and one damaged without losses. The 50th and 77th Sentais claimed four destroyed and three probables for the loss of two Ki-27s (both from the 77th Sentai) with one pilot killed.
(f) Claimed in combat with P-40s from the 1st AVG Squadron and Hurricanes from 17 Squadron which claimed 5 fighters shot down without losses. The 50th and 77th Sentais and the 47th I F Chutai claimed 16 destroyed and 7 probables without losses.
(g) The 77th Sentai claimed two victories but it seems that no RAF aircraft were lost in air combat on this occasion.
(h) Sea Otter from 292 Squadron, which forced landed severely damaged; the rear gunner, Warrant Officer W. J. Horam, was killed.
(i) Claimed in combat with Spitfires from 67 Squadron, which claimed five victories without losses. 64th Sentai claimed one Spitfire while losing four Ki-43s.

Sources:
Air War For Burma - Christopher Shores, 2005 Grub Street, London, ISBN 1-904010-95-4
Bloody Shambles Volume One - Christopher Shores and Brian Cull with Yasuho Izawa, 1992 Grub Street, London, ISBN 0-948817-50-X
Bloody Shambles Volume Two - Christopher Shores and Brian Cull with Yasuho Izawa, 1993 Grub Street, London, ISBN 0-948817-67-4
Flying Tigers - Daniel Ford, 1991 Smithsonian Institution Press, Washington, ISBN 1-56098-541-0
Japanese Army Air Force fighter units and their aces 1931-1945 - Ikuhiko Hata, Yasuho Izawa and Christopher Shores, 2002 Grub Street, London, ISBN 1-902304-89-6
Ki-43 'Oscar' Aces of World War 2 - Hiroshi Ichimura, 2009 Osprey Publishing Limited, Oxford, ISBN 978-1-84603-408-4
P-40 Warhawk vs Ki-43 Oscar: China 1944-45 - Carl Molesworth, 2008 Osprey Publishing Limited, Oxford, ISBN 978-1-84603-295-0




Last modified 27 September 2010