Biplane fighter aces

Japan

Lieutenant (junior grade) Hatsu-o Hidaka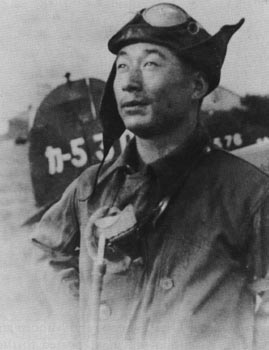 Hatsu-o Hidaka was born in Kagoshima Prefecture on 7 May 1915.
He enlisted the navy and graduated from the 24th Pilot Trainee class in July 1934 to become a fighter pilot.
In November 1935 he was assigned on board the Kaga.
At the start of the China Incident he advanced with the unit off Shanghai.
At 09:25 on 11 November, three Northrop 2ECs of the 2nd BG led by Yu C. Y. attacked the carrier Kaga off the Maanshan Islands. They didn't hit the carrier and were intercepted by three A5Ms from Kaga. Two of them were shot down; one was claimed by PO3c Hidaka while the second was claimed by the shotai leader Jiro Chono (his first combat and first victory).
Gammas no. 1405 (Sung I-Ching and Li Xi-Yong) and no. 1402 (Peng Te-Ming and Li Huan-Chieh) were both shot down. Yu managed to return to base with the third Northrop after escaping by diving into the clouds even if it also was damaged.
On 13 April 1938 the Japanese carrier Kaga launched a strike on Canton consisting of three Type 95 (A4N) fighters, three Type 96 (A5M) fighters and 18 Type 94 (Aichi D1A1) dive-bombers. PO1c Jiro Chono in an A5M led the fighters and Lieutenant Nishihara led the dive-bombers. Chono had taken over when the original leader, Lieutenant Hideo Teshima, had to abort due to mechanical problems on his A5M.
At 10:10, jingbao (intelligence) announced the approaching enemy aircraft. Gladiators of the 5th PG were on alert and were scrambled at 10:20 from Tienho airbase. Squadron Leader Wong Sun-Shui led nine Gladiators from the 29th PS and Captain Clifford Louie led nine from the 28th PS to intercept.
Flying in an echelon formation at 15,000ft, the 29th PS Gladiators were to be responsible for CAP above Guangzhou while 28th PS, flying a 3,000ft higher in two formations, were to seek and destroy enemy aircraft. At 10:50 nine dive-bombers at 13,000ft and 15 "pursuits" (actually five fighters and nine dive-bombers) at 17,000ft were spotted by Wong Sun-Shui above Jiangchuan (a hamlet located north-west of Tienhe airbase). It was clear that they were heading for the Tienhe airbase and Wong Sun-Shui wiggled his Gladiator's (no. 2913) wings to warn his wingmen of the approaching enemy fighters and simultaneously accelerated towards the bogeys. He led his flight consisting of Lieutenants Li Yu-Rong and Huang Kwang-Ching in a diving pass on the nine lower dive-bombers, which were in their bomb run on Tienho Airfield.
Wong Sun-Shui shot up one of the D1A1 and sent it down in flames. The top cover of Japanese fighters came down to intervene. Wong Sun-Shui got into a turning fight with one of the A4Ns and claimed to have shot it down (a wreck was found on one of the islands in the Pearl River, which might have been this aircraft). The flight of A5Ms then turned towards Wong Sun-Shui who was, unfortunately, plagued by jamming guns. After only two firing passes, he had only one of his cowl machineguns still capable of firing. Nevertheless, he managed to down one of the A5Ms before another (the lead plane in the flight flown by PO1c Chono) hit him from the left. Wong Sun-Shui was wounded in the left hand and his engine caught fire, forcing him to bail out. His Gladiator came down near Tai-Ho City north east of Canton (the location of this crash was possibly recorded in error. It is likely that crash site was Tai-Ho Hsiang village in Pan-Yu County south east of Canton as the fight had moved to the south east of Canton). While parachuting down, he witnessed his wingman downing another A5M.
The other two Gladiators in Wong Sun-Shui's flight also came under attack. Li Yu-Rong attacked and shot down a divebomber but he was himself hit from behind and killed by a pursuing A5M. His Gladiator no. 2910 fell in the south-eastern part of Canton City near Chungshan University. Lieutenant Huang Kwang-Ching tried to intervene but was too late. While he was dogfighting Li's assailant, two other Japanese fighters attacked him and hit him a dozen times, puncturing one of the tires on his landing gear. It was probably at this time when Lieutenant Teng Chung-Kai intervened, bouncing Huang's attackers from behind and disrupting their attack, thereby allowing Huang to escape to the north-west. Teng claimed to have downed one of the A4Ns in flames. Continuing his chase of the Japanese planes, Teng claimed to have downed another "Type 95" over Shi-Pai. It is unclear whether Teng claimed this type, i.e. an A4N, specifically as most other pilot-reports claimed only to have engaged "biplanes" (as opposed to monoplanes - i.e. A5Ms). In the heat of combat, it may have been difficult to differentiate between the A4Ns and the dive-bombers.
The remainder of the 29th PS was also kept busy actively attacking other Japanese fighters. Xieh Chuanwo and his wingman Huang Xiaolen fought on despite being outnumbered by the Japanese fighters.
Early in the action Clifford Louie and his 28th PS Gladiators also joined the combat. Clifford Louie and his wingmen Lieutenants Wu Bo-Jun and Chen Yu-Shen dived on the D1A1s as they were dropping their bombs. Louie claimed to have hit one of the D1A1s and sent it descending north east of Tienho Airfield streaming smoke. He then attacked another "biplane" (probably another D1A1) but his guns jammed after about a dozen rounds, forcing him to break off and climb up to a "covering position".
PO1c Tanaka commanded this D1A1 and it ditched after battle damage. Tanaka reported that he had just completed his bomb run when a Gladiator hit him from behind, damaging his engine, which spewed black smoke and sprayed oil over both crewmen. The D1A1 managed to limp out to the mouth of the Pearl River before the engine seized up. Trading height for distance, the D1A1 glided out to ditch. Tanaka and his crewman NAP1/c Katsumiha took to their dinghy but not before stripping the Type 89 machinegun (Japanese version of the Lewis gun) from its swivel mount. Using the gun, the two held off a number of Chinese armed junks long enough for a floatplane commanded by Lieutenant Yowahara to land alongside and picking them up.
As Louie pulled up to a higher altitude, his deputy Lieutenant Kwan Yen-Sun and wingman Leong Kongyung were diving into four A4Ns. Kwan fired a quick burst and the enemy fighters scattered. He managed to damage a fleeing A4N and seeing that the enemy fighter was trailing white smoke (probably from leaking fuel tank) he then attacked two other A4Ns. These returned the fire but his wingman Leong Kongyung broke off the attack from above. Leong then closed in on the tail on an A4N but he had to brake off the attack after malfunctioning machine-guns.
Lieutenant Chou Geng-Hsu followed Louie's Flight down on a firing pass at the D1A1s. He claimed to have fired over a hundred rounds at one of the dive-bombers while diving from 30 degrees above and behind it. He claimed to have pulled up and away after seeing the Japanese plane catch fire. At that point, Chou Geng-Hsu spotted Chono climbing up after him in his A5M. Chou Geng-Hsu dived at Chono and traded shots with the A5M forcing it to dive away.
PO1c Chono and the remaining A4N flown by PO3c Hatsu-o Hidaka attacked Louie's Flight, shooting down Wu Bo-Jun who was killed when his Gladiator no. 2810 crashed near Tai-Ho Hsiang (village) in Pan-Yu County south east of Canton. Chen Yu-Shen was also shot up and badly wounded when he crash-landed Gladiator no. 2812 at Bai-Ke Ao, also in Pan-Yu County. Totally Chono and Hidaka claimed two victories each in this combat.
Lieutenant Chou Ling-Hsu also followed Louie's Flight down on the D1A1s and spotted one circling. Diving from above and behind, Chou Ling-Hsu hit the D1A1 (which he identified as an A4N) making it stream smoke and descend. Fearing that the Japanese planes had an advantage at lower altitude, Chou Ling-Hsu climbed up to a covering position (clearly, the Chinese pilots were confusing the A4Ns with the D1A1s.). After two firing passes, Lieutenant Fan Hsin-Min also saw a Japanese biplane showing "signs of damage" and trying to escape.
Satoru Ono (8 victories – 3 in China) flying one of the D1A1s returned claiming one enemy fighter shot down.
The battle lasted for 40 minutes and the Gladiators landed at 11:40. Li Jahung returned with minor damaged to the wings of Gladiator no. 2908 and Huang Kwang-Ching returned with more than ten bullet holes and a punctured landing-gear tire on Gladiator no. 2917. The 28th and 29th Squadrons claimed at least nine victories in this air combat. It would appear that the Japanese lost at least 5 aircraft, one A5M, two A4Ns and two D1A1s while claiming 15 enemy fighters shot down and 3 probables. The fighter pilots lost were PO1c Naoshi Eitoku (Pilot 13), PO3c Yukio Miyasato (Otsu 3) and PO3c Yuji Mori (Otsu 3). The Chinese found a total of 4 wrecks, which would account for the 3 fighters and almost certainly one of the dive-bombers. One of the wrecks was found at Chi-Ao, which is on an island way out at the mouth of the Pearl River near Macao. That may have been one of the A4Ns that Teng chased away from Lieutenant Huang south east of Canton. The other 3 fell around Canton City, one at Shao-Ho just north east of Canton; one at the Chungshan University Agricultural Department south east of Canton and the third in an island on the Pearl River near Canton. Unfortunately, the types were not identified so it is difficult to match them up.
In June 1938 he was transferred to the 15th Kokutai.
On 18 July the 15th Kokutai dispatched 14 carrier bombers and five carrier attack aircraft under Lieutenant Commander Matsumoto, escorted by six A5Ms led by Lieutenant Mochifumi Nango (Class 55), to participate in the attacks on Nanchang. The carrier fighter squadron, however, was unable to rendezvous with the carrier bomber squadron at the appointed place. They clashed with a reported eleven Chinese fighters in an air battle over Lake Piyang and after finishing off a damaged enemy fighter Nango turned to search for a new opponent when another burning Chinese fighter crashed into him. Both machines tumbled into a lake. The Japanese fighters returned to claim 9 victories and two probables with only one loss. Two of the victories were claimed by PO3c Hidaka. PO3c Ichiro Higashiyama, who flew as number two wingman to Nango and witnessed his demise, claimed two enemy aircraft (totally 6 victories – 6 in China).
Five I-15bis from the 8th PS at Xiaogang (Hubei Province) had been sent to Nanchang for early reaction to Japanese attacks. In the air battle Lieutenant Huang Qiu was first shot down, and then the Japanese surrounded and destroyed the entire group of I-15bis. According to English sources it was the Soviet volunteer V. Dadonov, which crashed into Nango, escaping by parachute.
At the same time Lieutenant (junior grade) Ogawa and Satoru Ono (who recently had been posted from the Kaga and was flying as number two wingman to Matsumoto) of the carrier bomber unit pulled off the stunt of landing on the Nanchang airfield, setting enemy aircraft on the ground afire, and then taking off! Totally 19 Chinese aircraft were claimed destroyed on the ground. Ono also claimed two additional enemy aircraft in the air.
He returned to Japan the following December.
Hidaka then went on to serve successively as an instructor with the Kasumigaura, Kure and Omura Kokutais.
In October 1942 he was promoted to Warrant Officer and attached to Kokutai 204.
Toward the end of December, he advanced to the base at Buin, in the Solomon Islands.
He fought with Lieutenant Miyano but had to be hospitalised with malignant malaria and he was transferred back to Japan.
when the war ended he served as an instructor at the Yatabe Kokutai.
Hidaka ended the war with 2 biplane victories and a total of 11.
Claims:

| | | | | | | | | | |
| --- | --- | --- | --- | --- | --- | --- | --- | --- | --- |
| Kill no. | Date | Time | Number | Type | Result | Plane type | Serial no. | Locality | Unit |
| | 1937 | | | | | | | | |
| 1 | 11/11/37 | 09:25 | 1 | Northrop 2EC (a) | Destroyed | Nakajima A5M | | off the Maanshan Islands | Kaga FS |
| | 1938 | | | | | | | | |
| 2 | 13/04/38 | | 1 | Gladiator (b) | Destroyed | Nakajima A4N | | Canton area | Kaga FS |
| 3 | 13/04/38 | | 1 | Gladiator (b) | Destroyed | Nakajima A4N | | Canton area | Kaga FS |
| 4 | 18/07/38 | | 1 | Enemy fighter (c) | Destroyed | Nakajima A5M | | Nanchang area | 15th Kokutai |
| 5 | 18/07/38 | | 1 | Enemy fighter (c) | Destroyed | Nakajima A5M | | Nanchang area | 15th Kokutai |
Biplane victories: 2 destroyed.
TOTAL: 11 destroyed.
(a) Northrop 2EC Gammas no. 1405 (Sung I-Ching and Li Xi-Yong) and no. 1402 (Peng Te-Ming and Li Huan-Chieh) of the 2nd BG shot down.
(b) The 28th and 29th PS claimed at least nine victories (5 D1A1s, 3 A4Ns and 2 A5Ms) in this air combat while losing four Gladiators. The fighters from the Kaga claimed four victories while losing at least 5 aircraft, one A5M, two A4N and two D1A1. The Chinese found a total of 4 wrecks, which would account for the 3 fighters and almost certainly one of the dive-bombers.
(c) Probably claimed in combat with five I-15bis from 8th PS, which lost all five aircraft. The 15th Kokutai claimed 9 victories and two probables with only one loss.

Sources:
Chinese Air Force Gladiators in Action - D. Y. Louie, 1998 Small Air Forces Observer vol. 22 no. 4 (88) December 1998 kindly provided by Santiago Flores.
Japanese Naval Aces and Fighter Units in World War II - Ikuhiko Hata and Yasuho Izawa, translated by Don Cyril Gorham, 1989 United States Naval Institute, Annapolis, ISBN 0-87021-315-6
Much additional information kindly provided by Raymond Cheung, Edward Chan and Tom Chan.




Last modified 05 November 2008