Biplane fighter aces

Japan

Colonel Yoshio Hirose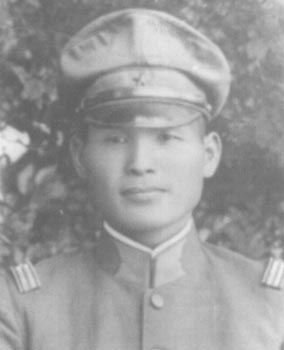 8 February 1912 - 22 December 1944
Hirose was born on 8 February 1912 in the Ibaragi Prefecture.
He graduated from Shimozuma Middle School and entered the preparatory school for the Military Academy in 1925.
He graduated from the Academy in July 1933 with the 45th course.
In October 1933, he was promoted to Second Lieutenant.
He completed the 48th Flying Cadet course in July 1934, undertook a fighter-training course at Akeno and a commander course here by July 1936.
As a First Lieutenant he was serving with the 16th Rentai in Manchuria when the China Incident commenced, and was ordered to northern China as the third element leader in the 2nd (Mizutani) chutai of the Miwa Daitai (1st Daitai, 16th Hiko Rentai).
The unit reached Tianjin on 12 July 1937, stopping enemy ground forces from capturing this airfield.
Ground support sorties were the principal duty until 22 August, when a move was made to Zhangbei.
During mid September, his flight once found a formation of four Chinese aircraft, but Hirose incorrectly identified them as friendly, and let them pass.
On 19 September 1937, nine of the chutai's aircraft patrolled over Tai Yuan led by Captain Tsutomu Mizutani when Hirose's flight engaged four biplane bombers identified as O-38s. Hirose and his wingmen claiming all shot down (one each) for the first victories ever claimed by Japanese Army fighters.
Congratulatory telegrams arrived from many sources after this combat.
On 21 September, fourteen Mitsubishi Ki-2 heavy bombers of the Japanese Army Air Force's 12th Hiko Rentai attacked Tai Yuan escorted by seven Kawasaki Ki-10 fighters of the 1st Daitai of the 16th Hiko Rentai. Major Hiroshi Miwa, commander of the 1st Daitai, 16th Hiko Rentai, led the IJAAF fighters. Hiroshi was well known to a number of Chinese pilots who were trained by him in Marshall Chang's flight school in Manchuria.
When approaching the IJAAF Ki-10s caught and shot down two V-65 Corsairs observation planes of the 12th Recon Squadron, which were on their way to Tai Yuan after undergoing repairs at Tai Ku. Both Chinese pilots, including Kwok Loy Louie - classmate of Louie Yim-Qun at the Portland Chinese Flight School, were killed.
Seven Curtiss Hawk IIs from the 28th PS, 3rd PG were scrambled at 14:00 to intercept the IJAAF raiders. Captain Chan Kee-Wong, commander of the 28th PS, flying Hawk II No.7 from the Academy, led them. The IJAAF fighters arrived before the Chinese Hawks were able to climb to altitude. Diving into the attack, the IJAAF fighters scattered the Chinese Hawks. Lieutenant Liang Ting-Yuan in Hawk No. 2810 was shot down and killed. Lieutenant Louie Yim-Qun's guns jammed and he had to retire from the action.
Captain Chan found himself all alone facing three IJAAF Ki-10s led by Major Miwa. In what appeared to a challenge to "single combat", Miwa apparently ordered his wingmen to circle above while he took on Chan alone. Chan saw Miwa dive at him from above. Chan countered by pulling his nose up to face Miwa head-on. Anticipating that Miwa would need to pull out of his dive after they pass each other, Chan pulled into a tight chandelle. He was into his manoeuvre even before Miwa passed him head-on. As a result, Chan was able get turned around and was above and behind Miwa when he began to pull out of his dive. Taking advantage of his position for a zero-deflection shooting pass, Chan shot up Miwa's Ki-10, sending it crashing into a field near Ta Meng. Miwa was pulled from the wreckage alive but later died of his injuries.
After seeing their flight leader downed, the two remaining Ki-10s dived into the attack. Without a wingman to cover him, Chan was put at a big disadvantage. Chan fought desperately to hold off the two Ki-10s, which were co-ordinating their attacks. After a series of frenzied turns, Chan found that he had lost a lot of altitude and running out of room to manoeuvre. In an attempt to shake his pursuers, Chan headed for the walls of Tai Yuan. Chan had hoped that ground fire from the Tai Yuan defenders would help drive off the IJAAF fighters. However, as he passed, Chan saw that the defensive positions on Tai Yuan's walls were empty. The defenders had probably taken cover when they saw what appeared to be three aircraft in a diving pass at them. Chan led the two Ki-10s in a mad dash above the rooftops of Tai Yuan, dodging around the smokestacks of the industrial city. Finally, the inevitable happened. Turning to avoid one of the Ki-10s, Chan was caught from behind by the gunfire of the other. Raking across the Hawk's unarmored seat from behind, two bullets hit Chan, one in the small of his back and the other in his left elbow. Chan recalled that his left arm "went cold" and he began to feel faint. Fearing that he would go into shock and lose control, Chan quickly looked for a place to land. He made for the playing fields of the Tai Yuan Women's High School, but could not clear one of the school buildings that was in the way. The stricken Hawk II crashed into the roof of the building causing Chan further injuries. Pulled from the wreckage gravely injured, Chan was evacuated to the rear. Doctors from the famous American-run Hsiang-Ya Hospital in Hunan were able to save Chan's arm but his flying career was over.
The Japanese pilots returning claming totally five victories and two damaged for the loss of Miwa. One of the Japanese victories was probably claimed by Yoshio Hirose of the 2nd chutai (Mizutani chutai) of the Miwa Daitai (Ki-10s), who claimed one victory over Tai Yuan during the day.
He returned to Akeno as an instructor.
Subsequently he took command of the 3rd chutai, 77th Sentai in August 1940 until July 1941 when he became executive officer of the Sentai following promotion to Major.
In December the unit, which was still equipped with Ki-27s, moved to forward airfields in southern Indo-China.
In the morning on 8 December 1941, nine Ki-30 light bombers of the 31st Sentai and escorted by 11 Ki-27s of the 77th Sentai led by Major Hirose made a demonstration flight over Bangkok. However, as they approach the Thai capital they were intercepted by Thai fighters. Three Curtiss Hawk IIIs of Foong Klap Lai 43 (Fighter Squadron 43) from the 1st Wing, flown by Flight Lieutenant Chin Chiramaneemai, Flight Lieutenant Chai Sunthornsing and Flying Officer Sarit Potivetchagul, had scrambled from Watana Nakorn airfield (in Prachinburi province) in an attempt to intercept. All three Thai fighters were immediately shot down and the pilots were killed. The victories were credited to Major Hirose, Lieutenant Yoshiro Kuwabara and Lieutenant Tsuguo Kojima.
On 23 December, 87 bombers attacked Rangoon and its airfields escorted by 30 Ki-27s from the 77th Sentai (commanded by Major Hiroshi Yoshioka). 60th (27 Ki-21s commanded by Colonel Ogawa Shojiro) and 98th (18 Ki-21s commanded by Colonel Usui Shigeki) Sentais attacked the docks and the harbour, while the 62nd (15 Ki-21s commanded by Lieutenant Colonel Onishi Hiroshi) and 31st (27 Ki-30s commanded by Lieutenant Colonel Hayashi Junji) Sentais attacked Mingaladon. The raid approached at 10:00 and twelve P-40s of the AVG's 3rd Squadron and 15 Brewster Buffaloes of 67 Squadron managed to reach 20,000 feet before engaging.
Sergeant Gordon Williams of 67 Squadron claimed one bomber, one probable and four more damaged while Sergeant C. V. Bargh claimed one probable Ki-27 but had his aircraft (W8143 "B") shot full of holes; he managed to evade his attackers and flew out to sea, there regaining height. His windscreen was covered in oil so he calmly removed his flyingboot, opened the cockpit and wiped the screen clean with his sock before continuing his search for the bombers. At 17,000 feet he was joined by Sergeant E. H. Beable and together they dived onto a formation seen below. Bargh claimed one bomber shot down, last seen in a dive with its fuselage alight. Beable attacked the bombers repeatedly and followed them over Rangoon; white smoke was seen poring from one and he then attacked a straggler, but as he did so this was shot down in flames from astern by another Buffalo (probably Bargh). Flying Officer J. F. Lambert claimed one bomber (as a He 111!) while Flying Officer J. S. Wigglesworth was credited with a probable bomber (also as a He 111). Flying Officer Bingham-Wallis (W8146 "D") sighted three vics of five Ki-21s north-east of Mingaladon and during a 15 minute chase he fired at several of them, seeing three spew out white and black smoke. Pilot Officer G. S. Sharp apparently was the only pilot to report seeing 'unidentified single-engined bombers' (presumably Ki-30s of the 31st Sentai), firing one long burst at them before being engaged by fighters. He evaded and returned to base, and was credited with one damaged as a result of his attack on the bombers. Sergeant H. Christiansen attacked a formation of bombers, which he also identified as Heinkels, and selecting one did a front-quarter attack, breaking away with his windscreen covered in oil; the bomber was claimed as probably destroyed. He continued firing at different aircraft until his visibility was completely obscured and then returned to base. One other bomber was claimed damaged by Sergeant K. A. Rutherford.
Meanwhile the twelve AVG pilots had split into two flights; one flight of six was led by Flight Leader George McMillan, the other led by Flight Leader Parker Dupouy (in aircraft '72'). At 18,000 feet McMillan's flight spotted the first wave of bombers (probably 62nd Sentai) coming in over the Gulf of Martaban and dived to attack. Flight Leader Charlie Older (P-8157) shot down the formation leader in flames, this aircraft blowing up, while R. T. Smith (in aircraft '77') claimed another which "blew up right in front of me and went down in flames"; he and McMillan then claimed a second (according to some sources Smith only claimed one shared), Smith reporting strikes on five more (one of which may have been the aircraft shot down by Flying Officer Lambert), but was then hit by return fire from one of the aircraft he attacked. McMillan's aircraft also suffered damage and was destroyed in the subsequent forced-landing, although the pilot survived unhurt. By this time Older had claimed a second, while another was credited to Flight Leader Tom Haywood, who also claimed one damaged. Flight Leader Robert Hedman reported strikes on two others over Rangoon, while Ed Overend made the flight's sixth claim north-east of Syniam. Escorting fighters then attack and 22-year-old Henry J. Gilbert was shot down in flames and killed. Paul Greene became involved, claiming one fighter shot down and one probable – both identified as A5Ms – before he too was hit and he had to take to his parachute; he was not wounded but the canopy of his parachute was riddled with bullets as he fell; as a result he hit the ground hard, injuring his spine. Hedman, whose cockpit canopy had been shattered by return fire from one of the bombers he had attacked, was also attacked by fighters, but evaded these and pursued the fleeing bombers out to sea before being obliged to return to base.
The second flight meanwhile had apparently run into a second wave of bombers (probably 98th Sentai), Dupouy leading three P-40s in a head-on attack whilst the others came in from the flank; Dupouy claimed two damaged but Neil G. Martin's aircraft was hit almost at once and he was killed (in fact he went down before Gilbert of the other flight, and was listed as the AVG's first KIA). Flight Leader Kenneth Jernstedt attacked a straggler, which he reported blew up, and the probably destroyed two more; others were claimed by Flight Leaders William Reed and Bob Brouk, and Ralph Gunvordahl who also claimed a probable while Brouk damaged yet another.
Totally the 67 Squadron claimed three bombers destroyed, three bombers and one fighter probably destroyed and six damaged bombers while suffering one Buffalo damaged. The AVG's 3rd Squadron claimed ten bombers, three probables and at least ten damaged. They also claimed one fighter and one probable while losing four P-40s and two pilots (Neil G. Martin and Henry J. Gilbert killed).
During the attacks on the docks, the 98th Sentai lost the two Ki-21s on the left side of the second element. Captain Iteya Mitsui crashed near the Rangoon docks killing the pilot and crew while First Lieutenant Nogami Ryohei's aircraft also went down, the pilot and two crew members becoming POWs. Over the airfield the 62nd Sentai lost five more. The 3rd chutai lost Captain Sabe Keiji's aircraft (no. 2), which crashed east of Rangoon at 13:02 and Captain Chota Kuko's which crashed on Rangoons waterfront at 13:07; both shot down by P-40s. The Sentai also lost the aircraft of First Lieutenant Yiso Tokyu of the 1st Chutai (shot down by AA fire), First Lieutenant Shingan Sho of the 3rd chutai (shot down by Buffaloes) and First Lieutenant Chojo Sei from the 3rd chutai (shot down by P-40s). The other ten bombers of this formation all suffered damage. The 98th Sentai's CO Usui Shigeki, who was flying in the 1st chutai's leading aircraft (Major Mitsuru Atsumi), was killed by a stray bullet. The gunners of 62nd Sentai claimed 12 enemy fighters and four probables. The fighter pilots, who had not been expecting the AVG, and identified the P-40s as Spitfires, claimed seven 'Spitfires' and two Buffaloes shot down, and one further aircraft destroyed on the ground by strafing, while four more probables were also claimed. Pilots credited with successes in this combat were Major Hirose (two), Captain Kaoru Kakimi, Lieutenant Shinjirou Nagoshi, Captain Misuhiro Matsuda, Warrant Officer Saburo Hagiwara, Lieutenant Yoshiro Kuwabara, Lieutenant Shigeru Suzuki and Warrant Officer Honma. No losses were suffered by the fighters or by the Ki-30s.
At Mingaladon 17 were killed and about as many were wounded while four aircraft (including two Buffaloes) were destroyed and two more were damaged (Blenheims). Rangoon was also hard hit and about 1000 civilians were killed and about as many were wounded
On 6 February, the Japanese launched an assault on Mingaladon. This began with attacks just after 04:00 by four Ki-21s of the 14th Sentai, followed an hour later by six more from the 62nd Sentai. At 07:00 15 Ki-30s from the 31st Sentai attacked, about 80 bombs landing within the airfield boundaries on this occasion, although little damage was done. Two 'A' Flight Hurricanes of 17 Squadron, on night readiness, were scrambled into the dawn sky – Flight Lieutenant Allan Carvell for the fourth time that night! He and Sergeant Ken Rathbone finally intercepted a number of the Ki-30s, each claiming one shot down. They obviously attacked the same aircraft for only one of the bombers failed to return.
Finally, with full daylight, came some 25 Ki-27 fighters of the 50th and 77th Sentai on a fighter sweep. A number of P-40s of the 1st AVG Squadron and six Hurricanes were scrambled to intercept; the Japanese reported meeting 17-18 fighters, identified as 'Spitfires', Buffaloes and P-40s. Pilot Officer Storey (Z5659/WK-C) was leading the Hurricanes, but these were jumped by three Ki-27s whilst climbing to 21,000 feet. Storey claimed two Ki-27s while Pilot Officer Underwood claimed one destroyed and one probable before returning with a damaged Hurricane and a wounded leg. Sergeant Malcolm McRae claimed one damaged, but was hit in the shoulder when an armour-piercing bullet went straight through the armour plate behind his seat; Pilot Officer Eric Batchelar's aircraft was also hit. Meantime Flight Lieutenant Barry Sutton (BE171/YB-B of 17 Squadron), who had been carrying out a reconnaissance sortie over the Salween River, also encountered the Japanese fighters as he was returning to base and claimed two probably shot down.
The American pilots who had joined the fight claimed a further seven 'I-97' fighters shot down and one probable to add to the RAF's three 'confirmed', three 'probables' and three damaged. Their claims were two apiece by Flight Leaders Robert L. Little and Greg Boyington, one each by Vice-Squadron Leader Robert H. Neale, Robert W. Prescott and William D. McGarry whilst Charles R. Bond claimed the probable. One AVG pilot was slightly wounded, joining Underwood and McRae in sick-quarters to receive anti-tetanus injections. All three were given the afternoon off, although they were advised that they would be fit for flying next day!
For the Japanese the 50th Sentai claimed three certain and four probables, and the 77th Sentai two and two probables (Lieutenant Kisaji Beppu one and one probable; Lieutenant Yoshiro Kawabara one, and Warrant Officer Fujinaga one probable), but from the latter unit Lieutenant Kitamura failed to return and Major Hirose force-landed his damaged fighter at Molulmein. No losses were recorded by the 50th Sentai.
Hirose left his post as executive officer in July 1942.
He was then posted to command the 64th Sentai during March 1943 following the death of Major Akera.
On 8 February 1944, twelve long-range Hurricanes of 134 Sqyadron, led by Squadron Leader W. H. Stratton, DFC, were undertaking an escort to Dakotas of 31 and 62 Squadrons dropping supplies when a large formation of hostile fighters were reported. Six of the Hurricanes broke away to see one formation of transports safely back to Chittagong, whilst the other six stayed over the drop zone with seven 31 Squadron Dakotas, which had dropped only half of their loads at this point.
Earlier in the day, two pairs of TacR Hurricanes had been despatched by 6 IAF Squadron, all finding themselves beneath the incoming Ki-43s. Flying Officers J. Varma and Ramunny, the second pair to take off, were attacked over Taung Bazaar, but managed to escape and return to base, but the other pair, Flying Officer J. C. Delima (AP892) and Flying Officer Reddy (BG868) both failed to return.
20 Ki-43s from the 64th Sentai were over the area, and had first spotted two of the TacR Hurricanes over Maungdaw. Whilst the 2nd Chutai stayed above as top cover at 12,000 feet, Major Hirose and his wingmen dived on these aircraft, followed by the 1st Chutai. Captain T. Miyabe, watching from above the attack on the 6 IAF Squadron aircraft, was attacked by Hurricanes and failed to take evasive action. His Ki-43 was badly damaged and he scarcely made it to Akyab, where he force-landed. The 2nd Chutai was quite hard hit, for apart from Miyabe, Lieutenant Masayoshi Niwa and Corporal Hiroshi Nagao both failed to return. One of Hirose's wingmen, Corporal Kiyoshi Ono, was shot down by AA whilst strafing, and he was also killed.
These losses appear to tie in fairly closely with the engagements which was to be reported by the pilots of 134 Squadron, although it seems that this unit and the Dakotas it was protecting, had taken off some hours after the 6 IAF Squadron aircraft. Six 134 Squadron pilots had spotted six Ki-43s, which they believed to be ground strafing, and attacked these. Flying Officer P. A. Knapton dived on one, which flew off to the north pouring smoke and with its propeller almost stopped, and he claimed a probable. Flight Sergeant E. E. Phillips stayed with the Dakotas, but was set upon by fighters and crash-landed at the mouth of Kyathit Chaung; a Ki-43, which had followed him down to strafe, failed to pull out of its dive, crashing to total destruction, the pilot being killed; this would seem to have been the 64th Sentai's Corporal Ono. Phillips returned on foot next day.
The Dakotas had been attacked by six to eight fighters, one of which got on the tail of Flight Sergeant V. R. Jackson's aircraft (FL556), although he managed to evade it by turning whenever told by one of the crew manning a machinegun at the rear of the aircraft. His attacker then appeared to be hit by concentrated light AA fire, and was seen to crash and blow up; this is believed to have been the aircraft flown by Lieutenant Tokuro Ono of the 204th Sentai. Dakota FD775 'E', flown by Flight Lieutenant J. A. Walker, was last seen with a fighter on its tail, and did not return; two of the crew were later picked up by the army. This aircraft may have fallen to another pilot of the 204th Sentai. Only one of this group of Dakotas managed to drop its full cargo, the others making about two thirds of the way before having to break away. Indeed, only about 12 of the 30 sorties made during the day actually got through to the drop zones.
Returning with the rest of the transports, 134 Squadron's Pilot Officer P. C. Walker saw some 15 fighters overhead, some of which then dived to attack. He obtained hits on one, which poured white smoke, and claimed a probable, but he was then chased back to base by two more. Flying Officer T. Pendergast spotted six plus over Bawli Bazaar, claiming damage to two; he was then pursued by five more, crash-landing four miles from Hove strip, where his aircraft flipped over onto its back, and he suffered a broken arm. When the losses suffered by the 64th Sentai are considered, it would appear that on this occasion the Hurricane pilots had done better than they had realised.
The pilots of the 64th Sentai claimed four Hurricanes shot down during these engagements, Major Hirose claiming three and Lieutenant Goichi Sumino one. Sumino, leader of the 3rd Chutai, later force-landed as a bullet had prematurely detonated in the barrel of one of his machineguns, he came down beside the River Chindwin, from where he was rescued three days later.
He led the 64th Sentai with distinction for 15 months, and at the time of his departure from Burma, the unit received a citation from the commanding officer of the 3rd Army.
In June 1944, he returned to Akeno as an instructor again, being presented to the Emperor due to his distinction as a pilot and leader in Burma.
On 22 December 1944, he took off during a raid on Nagoya with Captain Osamu Kawakami. Both of them rammed a B-29 and both of them being killed, Hirose's aircraft falling into the sea.
He was awarded a posthumous individual citation and promoted two ranks.
At the time of his death, Hirose was credited with 2 biplane victories and a total of 9.
He was considered a typical fighter pilot, who flew as often as he could at the head of his unit.
Claims:

| | | | | | | | | |
| --- | --- | --- | --- | --- | --- | --- | --- | --- |
| Kill no. | Date | Number | Type | Result | Plane type | Serial no. | Locality | Unit |
| | 1937 | | | | | | | |
| 1 | 19/09/37 | 1 | O-38 | Destroyed | Ki-10 | | Tai Yuan area | 16th Hiko Rentai |
| 2 | 21/09/37 | 1 | Enemy aircraft (a) | Destroyed | Ki-10 | | Tai Yuan area | 16th Hiko Rentai |
| | 1941 | | | | | | | |
| 3 | 08/12/41 | 1 | Hawk III (b) | Destroyed | Ki-27 | | Aranya Prathet | 77th Sentai |
| 4 | 23/12/41 | 1 | Enemy fighter (c) | Destroyed | Ki-27 | | Rangoon area | 77th Sentai |
| 5 | 23/12/41 | 1 | Enemy fighter (c) | Destroyed | Ki-27 | | Rangoon area | 77th Sentai |
| | 1944 | | | | | | | |
| 6 | 08/02/44 | 1 | Hurricane (d) | Destroyed | Ki-43 | | Maungdaw | 64th Sentai |
| 7 | 08/02/44 | 1 | Hurricane (d) | Destroyed | Ki-43 | | Maungdaw | 64th Sentai |
| 8 | 08/02/44 | 1 | Hurricane (d) | Destroyed | Ki-43 | | Maungdaw | 64th Sentai |
| 9 | 22/12/44 | 1 | B-29 (e) | Destroyed | | | Nagoya area | Akeno Army Flying School |
Biplane victories: 2 destroyed.
TOTAL: 9 destroyed.
(a) The 1st Daitai of the 16th Hiko Rentai claimed totally five victories and two damaged for the loss of the commander Major Hiroshi Miwa. Two V-65 Corsairs of the 12th Recon Squadron and two Hawk IIs from 28th PS, 3rd PG were lost.
(b) Claimed in combat with three Curtiss Hawk IIIs of Foong Klap Lai 43 (Fighter Squadron 43) from the 1st Wing, which lost all three pilots (Flight Lieutenant Chin Chiramaneemai, Flight Lieutenant Chai Sunthornsing and Flying Officer Sarit Potivetchagul). 77th Sentai made three claims and didn't suffer any losses.
(c) Claimed in combat with P-40s of the AVG's 3rd Squadron and Brewster Buffaloes of 67 Squadron. 77th Sentai claimed seven 'Spitfires' and two Buffaloes shot down, and one further aircraft destroyed on the ground by strafing, while four more probables were also claimed (bomber gunners claimed an additional 12 and 4 probables). Four P-40s and two pilots (Neil G. Martin and Henry J. Gilbert killed) were lost.
(d) Claimed in combat with Hurricanes from 134 Squadron, which claimed 1 destroyed, 2 probables and 2 damaged for the loss of two Hurricanes. The 64th Sentai claimed 4 Hurricanes while losing 3 Ki-42s and getting one damaged.
(e) Claimed by ramming.

Sources:
Air War For Burma - Christopher Shores, 2005 Grub Street, London, ISBN 1-904010-95-4
Bloody Shambles Volume One - Christopher Shores and Brian Cull with Yasuho Izawa, 1992 Grub Street, London, ISBN 0-948817-50-X
Bloody Shambles Volume Two - Christopher Shores and Brian Cull with Yasuho Izawa, 1993 Grub Street, London, ISBN 0-948817-67-4
Flying Tigers - Daniel Ford, 1991 Smithsonian Institution Press, Washington, ISBN 1-56098-541-0
Japanese Army Air Force fighter units and their aces 1931-1945 - Ikuhiko Hata, Yasuho Izawa and Christopher Shores, 2002 Grub Street, London, ISBN 1-902304-89-6
Much additional information kindly provided by Raymond Cheung and Tom Chan.




Last modified 19 September 2005