Biplane fighter aces

Japan

Tai-i Nokiji Ikuta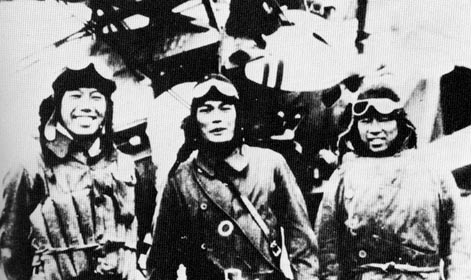 The three successful fighter pilots after the combat on 22 February 1932.
From the left Tai-i Nokiji Ikuta, Koku Heiso Toshio Kuro-iwa and Itto Kokuhei Kazuo Takeo.
Nokiji Ikuta was graduated from the 19th Naval Pilot Training Class in November 1929.
He was transferred to the aircraft carrier Kaga's fighter squadron where he served as a shotai (section) leader.
With the outbreak of the first phase of the Shanghai Incident on 29 January 1932, the 1st Koku-sentai (Carrier Division) (of which Kaga was the flagship and including Hosho) was posted to the 3rd Fleet and operated off Shanghai.
On 7 February, a Hikokitai (a detachment of a carrier group) under the command of division officer Lieutenant Yoshitane Yanagimura established its base in Shanghai at Kunda airfield and was used primarily in support of land operations.
On 22 February, three Type 3 carrier fighters (Nakajima A1N - a variant of the Gloster Gambet) under the command of shotai (section) leader Tai-i (Lieutenant) Ikuta (second aircraft flown by Santo Koku Heiso (Aviation Petty Officer, 3rd Class) Toshio Kuro-iwa and third flown by Itto Kokuhei (Aviation Seaman, 1st Class) Kazuo Takeo) joined three Mitsubishi Type 13-3 (B1M) carrier attack aircraft under the command of shotai leader Tai-i Susumu Kotani.
They engaged a Chinese Boeing 218 (the prototype for the P-12) piloted by the American Robert Short. Tai-i Kotani was killed and his radio operator/gunner A1c Sasaki was badly injured during this attack before Ikuta attacked Short's aircraft from the rear. At the same time, the aircraft flown by Toshio Kuro-iwa came in close under the rear of the enemy aircraft. Both Japanese aircraft opened fire and the Boeing was shot down.
The Mitsubishi commanded by Kotani was flown back to its base at Shanghai by the pilot ACPO Yoshiro Sakinaga.
Taisho (Admiral) Nomura of the Third Fleet issued commendations on the occasion.
This battle result is officially recognized as the first aerial victory by the Japanese air forces.
A cease-fire on 3 March ended the Shanghai Incident.
Ikuta ended the war with 1 shared biplane victory.
Claims:

| | | | | | | | | |
| --- | --- | --- | --- | --- | --- | --- | --- | --- |
| Kill no. | Date | Number | Type | Result | Plane type | Serial no. | Locality | Unit |
| | 1932 | | | | | | | |
| | 22/02/32 | ½ | Boeing 218 (a) | Shared destroyed | Nakajima A1N | | Shanghai area | Kaga FS |
Biplane victories: 1 shared destroyed.
TOTAL: 1 shared destroyed.
(a) American volunteer Robert Short shot down.

Sources:
Japanese Naval Aces and Fighter Units in World War II - Ikuhiko Hata and Yasuho Izawa, translated by Don Cyril Gorham, 1989 United States Naval Institute, Annapolis, ISBN 0-87021-315-6
Japanese Naval Air Force fighter units and their aces 1932-1948 - Ikuhiko Hata, Yasuho Izawa and Christopher Shores, 2011 Grub Street, London, ISBN 978-1-906502-84-3
Additional information kindly provided by Sidnei Maneta and Thomas Nilsson.




Last modified 27 February 2012