Biplane fighter aces

Japan

Warrant Officer Kiyomi Katsuki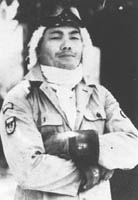 Katsuki was born in April 1919 in the Fukuoka Prefecture.
He joined the navy in June 1938. By May 1941 he had graduated from flight training for the seaplane reconnaissance role and assignments to various units followed.
When the Pacific War started, Katsuki was flying from the seaplane tender Chitose, and he completed a number of reconnaissance and patrol missions over the Philippines and the Dutch East Indies in an F1M2 'Pete' biplane scout.
On 11 January 1942 the Japanese sent a convoy of special landing force marines to Kema, in the Northern Celebes, which was opposed by seven Dutch and American PBYs off Menado. Katsuki and his squadron-mates attacked the flying boats in their 'Petes'. During the combat Katsuki claimed his first victory when he shot down a Dutch PBY (No Y-58 of GVT-17).
In September 1942 Katsuki was transferred to a forward seaplane base in the Shortland Islands to undertake patrol missions to Guadalcanal.
On 4 October 1942, while flying combat air patrol over the fleet in his 'Pete', he spotted four enemy fighters and five B-17s. In order to prevent the bombers from hitting the seaplane carrier Nisshin, Katsuki dove on the leading B-17 (B-17E of the 72nd BS, flown by Lieutenant David C. Everitt Jr.) and commenced his attack. After completing his pass, he rammed the aircraft from below, tearing the right main wing and the vertical stabiliser off the bomber and damaging his own right wing. Together with his observer he baled out of his stricken aircraft and both were rescued by the destroyer Akisuki. The crew of the B-17 all perished.
Katsuki later returned to Japan and began conversion training on seaplane fighters (Nakajima A6M2-N 'Rufe') at Yokusuka Air Base.
Around July 1943 he was then assigned to the 452nd AG and posted to their base at Shumshu, in the Aleutians. Soon after his arrival USAAF 11th Air Force B-25s and B-24s started pounding the Japanese on Paramushiru Island, in the frigid Kuriles, and eventually recaptured Attu Island in May.
Between August and October 1943 he claimed a B-25.
On 12 September Major Frank T. Cash of the 404th BS led a flight of B-24s to attack a troop staging area on Paramushiru Island. Ten seaplanes teamed with JAAF Nakajima Ki-43 'Oscars' of the 54th Sentai to attack the B-24s. Katsuki and four of his comrades duly claimed two B-24s destroyed – Major Cash flew one of these.
Katsuki left the Aleutians when their seaplane base finally froze over and returned to Japan on board the submarine I-36.
When he returned to Yokusuka he started conversion training on the new Kawanishi N1K1 Kyofu 'Rex' seaplane fighter and upon completing his training he was assigned to the 934th Ku. He moved with this unit to Ambon Island in the south-west Pacific area of Indonesia.
Around the end of 1943 or early in 1944, 15 of the new N1K1s were delivered to Singapore Naval Base by an aircraft carrier. From here replacement pilots for the 934th Ku flew nine of the new aircraft to Ambon via Java and Balikpapan, Borneo.
On 16 January 1944 seven N1K1s intercepted six B-24s claiming one shot down. Katsuki claimed this one and this was the type's first success.
On 18 January seven N1K1s intercepted twenty B-24s claiming one destroyed and one probable while losing one aircraft and pilot.
On 1 March 1944, the 934th Ku was disbanded, the surviving pilots flying their aircraft to Surabaya, Java, and then departing to fly Zero fighters.
The unit had claimed 29 aircraft destroyed and seven probables for the loss of five pilots.
After the disbandment of his unit Katsuki undertook further training to learn to fly the Mitsubishi A6M 'Zero' fighters from land, and was subsequently posted to the 381st AG.
Later he flew in the defence of the Balikpapan oilfields, before downing a further two enemy aircraft over Singapore.
He returned to Japan in February 1945 and was based at Omura airfield, where he flew Mitsubishi J2M Raidens ('Jack') on home defence sorties until the surrender.
Katsuki ended the war with two biplane victories and a total of at least 16 (seven of the scored in seaplanes).
Claims:

| | | | | | | | | |
| --- | --- | --- | --- | --- | --- | --- | --- | --- |
| Kill no. | Date | Number | Type | Result | Plane type | Serial no. | Locality | Unit |
| | 1942 | | | | | | | |
| 1 | 11/01/42 | 1 | PBY (a) | Destroyed | F1M2 'Pete' | | off Menado | 'Chitose' |
| 2 | 04/10/42 | 1 | B-17 (b) | Destroyed | F1M2 'Pete' | | Guadalcanal | 'Chitose' |
| | 1943 | | | | | | | |
| ? | ?/08-10/43 | 1 | B-25 | Destroyed | A6M2-N 'Rufe' | | Aleutians | 452nd AG |
| | 1944 | | | | | | | |
| ? | 16/01/44 (c) | 1 | B-24 | Destroyed | N1K 'Rex' | | Ambon Island | 934th AG |
| ? | ?/?/44 | 1 | Enemy aircraft | Destroyed | A6M 'Zero' | | Singapore | 381st AG |
| ? | ?/?/44 | 1 | Enemy aircraft | Destroyed | A6M 'Zero' | | Singapore | 381st AG |
Biplane victories: 2 destroyed.
TOTAL: 16 destroyed.
(a) Dutch PBY No. Y-58 of GVT-17.
(b) B-17E of the 72nd BS, flown by Lieutenant David C. Everitt Jr. shot down. Crew perished.
(c) It is possible that the date is 18 January 1944.

Sources:
Imperial Japanese Navy Aces 1937-45 - Henry Sakaida, 1998 Osprey Publishing, London, ISBN 1-85532-727-9
The Fighting Floatplanes of the Japanese Imperial Navy - Christopher Shores, Air Enthusiast Thirty-One




Last modified 9 February 2002