Biplane fighter aces

Japan

First Lieutenant Tameyoshi Kuroki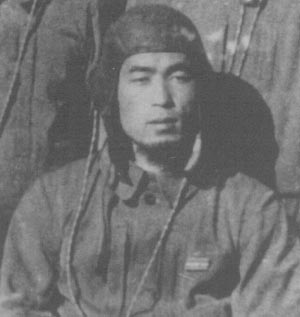 Tameyoshi Kuroki was born on 17 September 1918 in the Miyazaki Prefecture and graduated from the 3rd Juvenile Flying Soldier course (Sho-3) in November 1937.
He trained on fighters at Akeno before joining the 16th Rentai at Hailang in March 1938.
In September 1938, he was transferred to the newly-formed 33rd Sentai.
During the Nomonhan Incident, the Sentai was dispatched from its base at Xingshu to the Manchurian/Mongolian border as reinforcement on 27 August 1939, although still equipped with the old Kawasaki Ki-10 (Type 95).
While escorting reconnaissance Ki-36s and Ki-15-Is over the mouth of the Numurgin-Gol River on 5 September, 20 Ki-10s (1st and 2nd chutais of the 33rd Sentai) and five Ki-27s (probably from 64th Sentai) clashed with 62 Soviet fighters. The reconnaissance aircraft got away, but the VVS claimed to have downed seven Ki-10s and one Ki-27. Leitenant Pavel Solntsev (22 IAP) claimed one of the Ki-10s over squares 787 and 789 while flying an I-16. The remaining victories were claimed in the Khanshir area by I-16 from 22 IAP and starshiy leitenant G. Shabashov (22 IAP) and mladshiy leitenant Viktor Yuganov (56 IAP), both flying I-16s, claimed a shared Ki-10 as one of these. Starshiy leitenant Aleksandr Kostygov (I-16 with 22 IAP) claimed one Ki-10 shot down an a second shared with another pilot (possibly leitenant Aleksandr P'yankov, who claimed a shared together with another pilot). Starshiy leitenant Sergey Shankov and leitenant Aleksandr Suchkov (both I-16s with 22 IAP) claimed one Ki-10 each. One I-16 failed to return, while another was shot down by enemy anti-aircraft fire, having been an easy target below cloud at up to 2000m.
1st and 2nd chutais of the 33rd Sentai reported that they engaged Soviet fighters and Sergeant Kuroki, who flew as wingman to the 1st chutai leader, Captain Tadashi Ishikawa, claimed three shot down on this, his first combat, although he was hit in return, and wounded. Totally the 1st and 2nd chutais claimed 15 victories and 5 probables in this combat while losing two Ki-10s when two fell on the Mongolian side of the border. The pilot of one baled out and managed to get away. The 33rd Sentai didn't see any more action during the "incident" before the fighting ended. Patrolling between 2 and 5 September, 33rd Sentai pilots claimed 41 confirmed and eight possible victories at the cost of three own aircraft!
Warrant Officer Hirokichi Matsushita (NCO45) of the 64th Sentai was killed in his Ki-27.
In the end of September, the unit returned to Xingshu.
In September 1942, he entered the Army Flying Military Academy, graduating in August 1943 and rejoining the 1st chutai, now at Wuchang, as a Second Lieutenant.
A move was made to southern China and from there to Indochina, Sumatra and Burma.
On 5 December 1943, the IJAAF and IJNAF performed their first joint operation when they made the sole daylight raid on Calcutta. Involved were 9 Navy G4M bombers escorted by 27 A6Ms, joined by 18 Army Ki-21 heavy bombers, escorted by 74 Ki-43s from 33rd, 50th and 64th Sentais. The raid hit the port of the town killing 350 people. During the return flight the escorting fighters were joined by more Ki-43s from the 204th Sentai.
Kuroki claimed one fighter shot down during the return flight, but was himself attacked, the aircraft receiving damage to the fuel tanks and undercarriage. His initial intention was to dive into the ground and kill himself, but as the aircraft didn't catch fire, he managed to get back to base and land his badly damaged Ki-43.
Totally, the Japanese claimed 8 destroyed and 2 probables while losing 1 fighter and 1 bomber.
One of the units intercepting this raid was 67 Squadron of which Gordon Williams (Hurricane IIc KW774) claimed one and one damaged 'Oscar' (his 3rd and last victory).
The unit then moved to New Guinea, where he saw action during February and March 1944, claiming a number of victories.
Following an air raid on Hollandia, he managed to fly his damaged fighter back to Manila via Biak and Celebes with his wingman, Sergeant Mitsuo Yamato (8 victories), aboard also.
Kuroki didn't take part in the Philippines fighting due to illness, but was able to instruct junior pilots during this period.
It seems that he claimed his 16th and last victory in February 1945 when he claimed an F6F.
In spring 1945 he was promoted to 1st Lieutenant and formed a suicide attack unit. No suitable targets arose however, and he ended the war at Medang.
Kuroki ended the war with 3 biplane victories and a total of 16.
Claims:

| | | | | | | | | | |
| --- | --- | --- | --- | --- | --- | --- | --- | --- | --- |
| Kill no. | Date | Time | Number | Type | Result | Plane type | Serial no. | Locality | Unit |
| | 1939 | | | | | | | | |
| 1 | 05/09/39 | | 1 | Enemy fighter | Destroyed | Ki-10 | | Khanshir area | 33rd Sentai |
| 2 | 05/09/39 | | 1 | Enemy fighter | Destroyed | Ki-10 | | Khanshir area | 33rd Sentai |
| 3 | 05/09/39 | | 1 | Enemy fighter | Destroyed | Ki-10 | | Khanshir area | 33rd Sentai |
| | 1943 | | | | | | | | |
| ? | 05/12/43 | | 1 | Enemy fighter | Destroyed | Ki-43 | | Calcutta area | 33rd Sentai |
| | 1945 | | | | | | | | |
| 16 | ??/02/45 | | 1 | F6F | Destroyed | | | Japan | |
Biplane victories: 3 destroyed.
TOTAL: 16 destroyed.

Sources:
Aces High - Christopher Shores and Clive Williams, 1994 Grub Street, London, ISBN 1-898697-00-0
All aces of Stalin 1936–1953 – Mikhail Bykov, 2014
Japanese Army Air Force fighter units and their aces 1931-1945 - Ikuhiko Hata, Yasuho Izawa and Christopher Shores, 2002 Grub Street, London, ISBN 1-902304-89-6
Japanese Naval Aces and Fighter Units in World War II - Ikuhiko Hata and Yasuho Izawa, translated by Don Cyril Gorham, 1989 United States Naval Institute, Annapolis, ISBN 0-87021-315-6
Ki-43 'Oscar' Aces of World War 2 - Hiroshi Ichimura, 2009 Osprey Publishing Limited, Oxford, ISBN 978-1-84603-408-4




Last modified 30 September 2021