Biplane fighter aces

Japan

Lieutenant (junior grade) Koshiro Yamashita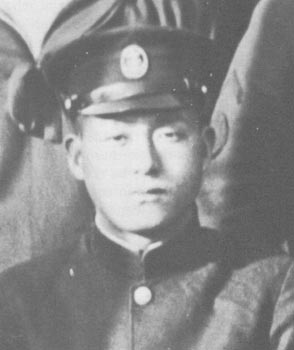 8 April 1910 – 30 March 1944
Yamashita was born in a farmhouse in Kochi Prefecture on 8 April 1910.
He enlisted at the Yokosuka Naval Barracks in 1927 as a fireman.
In May 1931 he was transferred to the Kasumigaura Kokutai as a member of the 17th Pilot training Class. He completed the course in March the following year and became a fighter pilot.
He was then successively posted to the Omura Kokutai, on board the Akagi and finally to the Yokosuka and Kanoya Kokutais.
At the start of the China Incident he served on board the aircraft carrier Ryujo, which was equipped with Nakajima A2N fighters.
At the outbreak of the China Incident the light aircraft carrier Hosho was posted together with the carrier Ryujo to 1st Carrier Division of the 3rd Fleet, leaving the port of Sasebo on 12 August. Arriving in the Ma-an-shan Islands area, they started supporting land operations beginning on 16 August. During this period, both Kaga and Ryujo groups had opportunity to engage in aerial battles.
Hosho and Ryujo proceeded south on 5 September, and starting 21 September, conducted several attacks on enemy bases in the vicinity of Canton.
On 21 September 1937 aircraft from the Japanese aircraft carriers Hosho and Ryujo (1st Carrier Division) attacked Canton despite bad weather under the leadership of Shosa (Lieutenant Commander) Kozono. During the first raid in the morning, the 29th PS scrambled seven Hawk IIIs under Captain Ho Ching-Wei to intercept twelve Type 94 dive-bombers and three torpedo (level) bombers and 15 Type 90 fighters (six from Hosho). A fierce dogfight ensued which lasted over 30 minutes. Two of the Hawk IIIs were shot down and both pilots killed (Hawks nos. 5239 and 5232). The Japanese carrier fighters also caught two Chinese observation planes and shot them down, killing one pilot (the other bailed out). The Japanese were not, however, to escape losses, Lieutenant Teng Chung-Kai and his fellow 29th PS pilots under Captain Ho fought so tenaciously that five of the Hosho's fighters ran out of fuel short of their carrier and ditched. Destroyers and other vessels rescued the Japanese pilots but this incident resulted in the biggest single loss of Japanese Navy fighters during the Sino-Japanese War 1937-1941.
Teng Chung-Kai was up again in the afternoon when the Japanese carriers sent 16 Type 94 dive-bombers escorted by nine Type 90 fighters back to Canton. All five remaining flyable Hawk III's went up, led by Lieutenant Chen Shun-Nan. Two of the Hawk IIIs headed off to Hu-Men at the mouth of the Pearl River to search for the enemy, leaving three, which actually made contact with Japanese over Canton. This time, Teng's aircraft (No. 5231) was hit, caught fire and he was forced to bail out.
Totally the fighters from Hosho and Ryujo claimed 16 victories and one probable (five victories and the probable during the afternoon raid) for the loss of five fighters during the day. Shotai leader PO1c Yamashita of the Ryujo fighter daitai claimed one Chinese aircraft and a second as a shared. PO2c Yoshi-o Fukui from the Ryujo was the one who discovered a group of intercepting Chinese fighters and plunged into them claiming two shot down.
According to Japanese sources the Chinese totally admitted 11 losses in these two raids.
After participating in a number of attack operations and operations in direct support of naval ground forces he returned to Japan.
In May 1940, after serving as an instructor at the Suzuka Kokutai, Warrant Officer Yamashita was ordered posted to the 12th Kokutai and advanced with this unit to Hankow.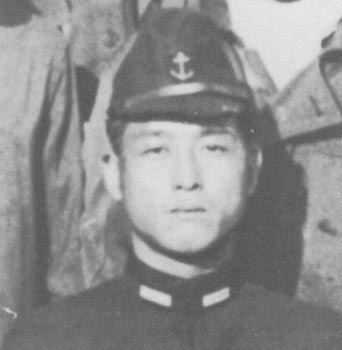 Yamashita while serving at the 12th Kokutai.
On 13 September 1940, Major Louie Yim-Qun was commander of 28th PS, stationed at Wenchiang near Chengdu.
During the day he took off with six I-15bis and refuelled at Suining (150 km NW of Chungking). He joined a formation with 19 I-15bis and nine I-16s commanded by Major Cheng Hsiao-Yu of the 4th PG.
At 10:00, Liu Chi-Han, base commander of Suining received a report that Japanese planes were flying towards Chungking and ordered the planes to take off. The I-16s, commanded by Squadron Leader Captain Yang Meng-Ging of the 24th PS, flew at 4500 meters and provided top cover for the I-15bis at 3500 meters.
The enemy aircraft sighted were 13 Mitsubishi A6M 'Zero' fighters from the 12th Kokutai led by Lieutenant Saburo Shindo, which during the day escorted twenty-seven G3M2s to Chungking. After that the bombers left the target, a Mitsubishi C5M1 reconnaissance aircraft radioed the Japanese fighters that Chinese fighters had been seen near Pi-sham.
As Chinese fighters were flying southeast, near Bei Shan, 40 km west of Chungking, Captain Yang's planes were hit by the Zeroes diving out of the sun and went down in flames and his deputy was wounded. The I-15bis were hit as they tried to climb into the sun. Without radios, they could not communicate with one another. They were out of formation and fought on their own. Cheng Hsiao-Yu led the entire 22nd PS into battle, and in the battle Captain Zhang Hong was killed. A group of nine I-15bis from the 28th PS led by Louie Yim-Qun engaged the Zeros over Chungking. Two of the I-15bis were shot down. The Japanese Zeroes, with their high speed, amazing climbing ability, agility and firepower, totally dominated the fight. After half an hour's battle most of the surviving Chinese planes were low on fuel and had to break off action.
This battle was debut of the Zero fighter and the Chinese Air Force suffered its worst defeat. Ten pilots were killed in action and eight were injured. Thirteen aircraft were destroyed and most of the ones that returned to base were badly damaged (11 were reported as damaged). Major Louie Yim-Qun was one of the injured in the fight. He landed his badly shot up I-15bis at Suining and counted 48 bullet holes on it. At least two pilots from 21st PS were killed and one more aircraft was hit, making a forced landing, the wounded pilot suffering a leg shot off, and later dying from loss of blood. One of the pilots that survived being shot down was Hsu Hwa-Jiang who later in the war continued to fly with the CACW.
All 13 Zeroes returned safely (four were slightly damaged) to their Hankou Base claiming 27 victories (both I-16s and I-15bis). All 13 Japanese pilot made claims in this combat; Lieutenant Saburo Shindo (leader 1st shotai, 1st chutai) claimed 1, PO1c Saburo Kitahata (1st shotai, 1st chutai) 2, PO2c Yoshio Oki (1st shotai, 1st chutai) 4, PO2c Kihei Fujiwara (1st shotai, 1st chutai) 1, Warrant Officer Yamashita (leader 2nd shotai, 1st chutai) 5, PO2c Toshiyuki Sueda (2nd shotai, 1st chutai) 2, PO3c Hatsumasa Yamaya (2nd shotai, 1st chutai) 2, Lieutenant (junior grade) Aya-o Shirane (leader 1st shotai, 2nd chutai) 1, PO1c Masayuki Mitsumasa (1st shotai, 2nd chutai) 2, PO2c Tsutomu Iwai (1st shotai, 2nd chutai) 2, PO1c Tora-ichi Takatsuka (leader 2nd shotai, 2nd chutai) 3, PO3c Kazuki Mikami (2nd shotai, 2nd chutai) 2 and PO3c Masaharu Hiramoto (2nd shotai, 2nd chutai) 1. The last of Yamashita's claims had been pursued to within fifty meters of the ground and then forced to crash into a rice paddy.
After this Yamashita and Saburo Kitahata flew a spectacular loop-the-loop fifty meters over the Paishih Railroad Station.
These five claims made Yamashita IJNAF's first 'ace in a day'.
On 26 October five fighters and five other aircraft were destroyed in the air during an attack on Chengdu. One I-15bis (no. P-5302) was shot down during dispersal and a Dewoitine D.510 of 28th PS was lost. Liu Wenlin of the 32nd PS was shot down in I-15bis no. P-3587. He was wounded in the right leg and died on the way to the aid station.
After this attack on Chengdu airfield by eight A6Ms led by Lieutenant Fusata Iida of the 12th Koutai, the returning Japanese pilots claimed ten enemy fighters and trainers. PO2c Tsutomu Iwai and Sea2c Yamashita strafed the airfield. Following the strafing, an unarmed trainer aircraft was attacked and shot down by Iwai while flying over the field. One trainer was claimed by Kazu-o Tsunoda for his first victory when he flew as wingman to Warrant Officer Yamashita.
At 09:15 on 14 March 1941 twelve Japanese Zeroes from the 12th Kokutai escorting ten carrier based attack planes were spotted flying towards Chengdu in the Szechuan Province. The 3rd Route Commander of the Chinese Air Force ordered the 3rd and 5th PGs to intercept them, while the present bombers were ordered to relocate to Lanzhou.
The two groups had a combined strength of 31 I-153s. Major Wong Sun-Shui, Commander of the 5th PG led nine I-153s at 7500 feet and Captain Shen Tse-Liu, his vice-commander led eleven I-153s at 7000 feet while Captain Chou Ling-Hsu, commander of the 28th PS of the 3rd PG led another eleven I-15bis' at 6800 feet. 3rd PG had t this time just flown in from Hami
The twelve Zeroes flew in two formations, with seven flying at low level, and five providing top-cover high above. The Chinese attacked, and battle was joined over Shangliu, southwest of Chengdu. Four of Major Wong Sun-Shui's I-153s had to drop out because of mechanical problems. He, however, pressed on with the attack and was fatally wounded after a shot in the head. Ren Yen was also killed in this action.
Captain Shen's eleven I-153s tangled with the Zeroes near Shangliu and Shen was shot down and killed directly over the Shangliu airfield. Lin Huan and Jiang Tung-Sheng were also killed in the action.
Captain Chou's group met the Zeroes near Chengdu. The aircraft were out of formation because of clouds and each pilot fought on his own. Chou and Yuan Fang-Bing were both killed in this action, while a third pilot made a forced landing on the water, but was strafed on the surface.
Three I-15bis from the 32nd PS also took part in this combat. These aircraft had been received at the beginning of the year from depot overhaul. Squadron commander Chen Peng-Yang was shot and a lightly wounded pilot, Qin-Bei, escaped by parachute.
The Chinese fought courageously and with determination, but their aircraft were totally outclassed by the Zeroes. Eleven I-153s were destroyed, seven were damaged, and eight pilots were killed in action. According to some sources the Chinese pilots claimed 6 enemies shot down.
Wong Sun-Shui made a forced landing at Sumatou but died two days later on 16 March in a hospital as a result of his head wound.
The returning Japanese pilots claimed 27 destroyed, 3 probables and 7 destroyed on the ground without any losses. Two and one probable was claimed by Yamashita during dogfights at low altitude in dense mist while PO3c Masayuki Nakase (in his first combat) claimed five I-15s and one probable. PO1c Matsuo Hagiri claimed three 'improved' I-15s while his number two wingman, Keishu Kamihira, claimed three enemy aircraft and one probable.
General Chou Chi-Jou, C-in-C of the Chinese Air Force wept bitterly upon learning the loss of his top flyers and re-named the air base in Chengdu to "Tse-Liu Airfield" in honour of Shen.
Putting together the number of aircraft downed during other air battles, Yamashita had shot down 10 enemy aircraft during the course of one year and a total of 11. He assumed the position of leading ace in the 12th Kokutai.
He was later assigned to the Kasumigaura, Tainan and Tsuiki Kokutais before being assigned duties in instruction younger pilots coming up.
In January 1944 he was transferred to Fighter Hikotai 304, Kokutai 210 and advance to Palau in the Micronesia area.
During an intercept battle against a large-scale attack by American carrier aircraft on 30 March, however, Yamashita was killed in action over Peleliu.
This was his first combat in the Pacific War theatre.
Yamashita ended the war with 1 biplane victory and a total of 11.
Claims:

| | | | | | | | | |
| --- | --- | --- | --- | --- | --- | --- | --- | --- |
| Kill no. | Date | Number | Type | Result | Plane type | Serial no. | Locality | Unit |
| | 1937 | | | | | | | |
| 1 | 21/09/37 | 1 | Enemy aircraft | Destroyed | Nakajima A2N | | Canton | Ryujo FS |
| | 21/09/37 | 1 | Enemy aircraft | Shared destroyed | Nakajima A2N | | Canton | Ryujo FS |
| | 1940 | | | | | | | |
| ? | 13/09/40 | 1 | Enemy fighter (a) | Destroyed | Mitsubishi A6M1 | | Chungking area | 12th Kokutai |
| ? | 13/09/40 | 1 | Enemy fighter (a) | Destroyed | Mitsubishi A6M1 | | Chungking area | 12th Kokutai |
| ? | 13/09/40 | 1 | Enemy fighter (a) | Destroyed | Mitsubishi A6M1 | | Chungking area | 12th Kokutai |
| ? | 13/09/40 | 1 | Enemy fighter (a) | Destroyed | Mitsubishi A6M1 | | Chungking area | 12th Kokutai |
| ? | 13/09/40 | 1 | Enemy fighter (a) | Destroyed | Mitsubishi A6M1 | | Chungking area | 12th Kokutai |
| | 1941 | | | | | | | |
| ? | 14/03/41 | 1 | Enemy fighter (b) | Destroyed | Mitsubishi A6M | | Chengdu area | 12th Kokutai |
| ? | 14/03/41 | 1 | Enemy fighter (b) | Destroyed | Mitsubishi A6M | | Chengdu area | 12th Kokutai |
| | 14/03/41 | 1 | Enemy fighter (b) | Probable | Mitsubishi A6M | | Chengdu area | 12th Kokutai |
Biplane victories: 1 and 1 shared destroyed.
TOTAL: 11 and 1 shared destroyed, 1 probable.
(a) Claimed in combat with Chinese I-15bis' and I-16s. 13 A6Ms from the 12th Kokutai claimed 27 victories without any losses. The Chinese fighters lost 13 aircraft, 11 pilots and got 11 aircraft damaged.
(b) Claimed in combat with Chinese I-15bis' and I-153s. Eleven I-153s were destroyed, seven were damaged, and eight pilots were killed in action while the Chinese pilots claimed 6 enemies shot down. The returning Japanese pilots claimed 27 destroyed, 3 probables and 7 destroyed on the ground without any losses.

Sources:
Japanese Naval Aces and Fighter Units in World War II - Ikuhiko Hata and Yasuho Izawa, translated by Don Cyril Gorham, 1989 United States Naval Institute, Annapolis, ISBN 0-87021-315-6
Soviet Fighters in the sky of China, Part III - Anatolii Demin, 2000 Aviatsiia Kosmonavtika 11 (translated by George M. Mellinger)
Additional information kindly provided by Hui Chen-Hung.




Last modified 01 September 2010