Biplane fighter pilots

Norway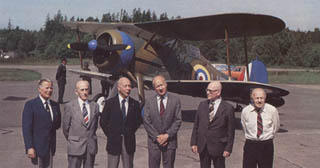 Photo of some of the Norwegian pilots in front of Gladiator N5641 in 1980.
From left: Per Waaler, Erling Munthe Dahl, Kristian Fredrik Schye, Finn Thorsager, Walter Rahm and British pilot Stuart Mills of 263 Squadron.
Image from Mach 3, 1980.
Click on the image to see it in full size.
Norway didn't produce any biplane fighter aces during the Second World War. On the morning of 9 April 1940 Jagevingen (Norwegian Fighter Wing) based on Oslo/Fornebu had seven operational Gloster Gladiators. Almost all of them and their base at Fornebu were lost in the first hours of the German invasion, but not before the Norwegian pilots had made a good account for themselves.
Following Gladiator pilots from Jagevingen made claims during these chaotic hours:
Fighter pilots with biplane claims: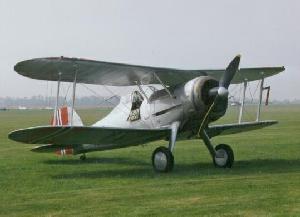 Shuttleworth Collection's Gloster Gladiator in the markings of a Norwegian Gladiator.
Photo courtesy of Peter Evans

Norwegian Army Air Service use of the Gloster Gladiator in the Second World War
Gloster Gladiator claims in the Norwegian Campaign 1940