Biplane fighter pilots

Norway

Lieutenant Rolf Thorbjørn Tradin, RAF no. N1019

28 April 1913 – 30 May 1943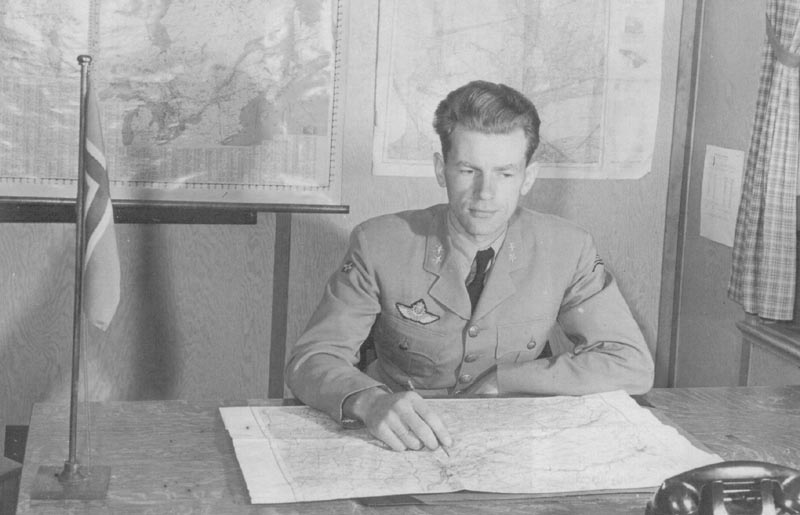 Rolf Tradin seen in his office at the Advanced Training Unit at the Little Norway base in Canada.
Rolf Tradin was born in Norway on 28 April 1913, and served as an officer in the Norwegian Army Air Force pre-war.
On 15 March 1940 Lieutenant Tradin was performing aerobatics in Gladiator 417 when the skies came loose after he pulled out from a dive. One of the skies hit the aft spar of the lower wing, causing the wing to collapse. Tradin was thrown clear out of the cockpit and was able to parachute to safety.
Lieutenant Tradin was acting as second-in-command of Jagevingen at the time of the German invasion.
At dawn on 9 April 1940, the Norwegian Jagevingen at Fornebu, Oslo, had seven of the ten available Gladiators serviceable, while the unit had ten officers and sergeants available to fly them, three of them under training. The serviceable Gladiators were 413, 419, 423, 425, 427, 429 and 433.
In the morning of the German attack Tradin (Gladiator 429) shot down a Ju 52/3m, seeing hits on the starboard wing and engine. Smoke poured from the aircraft and it rolled over on its back, spinning down apparently to crash at Torgskjær, outside Høvik.
This plane (WNr. 6570) from II/KG zbV1, was seen attacked and shot down by a pair of Norwegian Gladiators. It crashed north of Oslofjord with the loss of Feldwebel Albert Meier, his crew and 12 members of 2/FJR1.
Tradin then attacked a second aircraft, but it escaped in cloud. During these attacks three of Tradin's guns ceased operating, and now as he completed his attack the fourth also jammed. He returned to Fornebu were he could see two Gladiators on the field, but the Wing commander Captain Dahl (who was directing operations from his base control tower) warned him that an attack was underway, and he departed to seek a landing elsewhere. He landed on the north-eastern bay of Tyrisfjord and later Lieutenant Krohn also landed here in Gladiator 423.
Later in the morning Lieutenant Krohn and Lieutenant Tradin took of from Tyrisfjord and flew to Hamar, landing here on Lake Mjösa. Unfortunately the wheels of Tradin's aircraft went through the ice, and like the one flown by Braathen at Lake Bogstad, it was trapped immovably. It had to be abandoned, and was later captured by the Germans.
Following the German occupation of his country, he joined the police force on 1 July 1940, but in November he escaped to Sweden, then making his way half round the world to reach Little Norway training base in Canada.
Arriving in March 1941, he became an instructor and leader of the Advanced Training Unit.
In October 1942 he was posted to the UK, where after attending OUT, he joined 611 Squadron with the rank of Lieutenant.
On 30 May, he took part in a Ramroad sweep in the afternoon. He was seen to shoot down an Fw 190 into the sea at 16:03 10 miles north of Le Havre during this, his 25th sortie. However, in turn he was shot down into the sea outside Pont l'Evêque and killed by an Fw 190, which had got on his tail during the engagement. It was reported that the Luftwaffe aircraft which had shot him down failed to pull out of its dive, and also crashed into the sea.
At the time of his death Tradin was credited with one biplane victory and a total of two.
Claims:

| | | | | | | | | |
| --- | --- | --- | --- | --- | --- | --- | --- | --- |
| Kill no. | Date | Number | Type | Result | Plane type | Serial no. | Locality | Unit |
| | 1940 | | | | | | | |
| 1 | 09/04/40 | 1 | Ju 52/3m (a) | Destroyed | Gladiator | 429 | Torgskjær | Jagevingen |
| 2 | 30/05/43 | 1 | Fw190 | Destroyed | Spitfire IX | EB562/FY-B | Pont l'Evêque | 611 Squadron |
Biplane victories: 1 destroyed alternative 1 shared destroyed.
TOTAL: 2 destroyed alternative 1 and 1 shared destroyed.
(a) Ju 52/3m (WNr. 6570) of II/KG zbV1; Feldwebel Albert Meier, his crew and 12 members of 2/FJR1 were all killed. This victory might possible be shared with Second Lieutenant Finn Thorsager. Totally Norwegian units claimed 19 aircraft during the day of which fighters (the rest was claimed by ground gunners) claimed six. Luftwaffe lost two Bf 110s and a Ju 52/3m in combat, six Ju 52/3ms, one Bf 110 and one He 111 being brought down by ground fire.

Sources:
Air/50/173
Fledgling Eagles - Christopher Shores with John Foreman, Christian-Jaques Ehrengardt, Heinrich Weiss and Bjørn Olsen, 1991 Grub Street, London, ISBN 0-948817-42-9
Gloster Gladiator - Alex Crawford, 2002 Mushroom Model Publications, Redbourn, ISBN 83-916327-0-9
Gloster Gladiator Home Page - Alexander Crawford.
RAF Fighter Command losses: Volume 2 - Norman L. R. Franks, 1998 Midland Publishing Limited, ISBN 1-85780-075-3
Those Other Eagles – Christopher Shores, 2004 Grub Street, London, ISBN 1-904010-88-1




Last modified 23 November 2010