Biplane fighter aces

Soviet Union

General Mayor Mitrofan Petrovich Krasnolutskiy HSU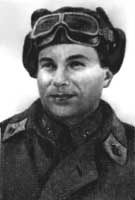 3 June 1906 - 11 March 1987
Krasnolutskiy was born on 3 June 1906 in the Voronezh region.
He joined the army in 1930 and graduated from an aviation school in Leningrad in 1932.
Krasnolutskiy took part in the Finnish-Soviet Winter War of 1939-40.
In August 1941, Krasnolutskiy served as deputy commander of the 65 ShAP, 55 SAD. During this time the unit was commanded by V. Belousov and equipped with Polikarpov I-152s.
On 12 August 1941, Krasnolutskiy attacked enemy troops together with seven more I-152s when they were attacked by a reported six Bf 109s. In fact, they have come involved in combat with a swarm of Finnish Morane MS.406s from 1/LLv 28, which reported intercepting six I-15s over Vieljärvi between 08:15-09:45.
During the combat, Krasnolutskiy made a "taran"-attack on a Finnish Morane over Soutjärvi (eastern Carelia). This was Morane MS.406 MS-301 flown by vääpeli Jorma Norola from 1/LeLv 28, who successfully landed his damaged aircraft and also claimed an I-152 and a damaged I-152! Vänrikki Aarre Linnamaa (MS-611) also claimed one shot down and one damaged I-152 while ylikersantti Antti Tani (MS-311) claimed a third damage I-152.
Krasnolutskiy managed to limp home with his damaged fighter and claimed the Finnish aircraft as destroyed. A second I-152 was lost when Leytenant V. P. Gordjun bailed out.
On 16 January 1942, he was awarded the Gold Star of the Hero of the Soviet Union and the Order of Lenin for this combat.
In April 1942, Mayor Krasnolutskiy took command over the 828 IAP on the Karelian Front.
In 1944, Lieutenant Colonel Krasnolutskiy became deputy commander of the 260 IAD on the Karelian Front
Krasnolutskiy ended the war with 1 biplane victory.
During the war Krasnolutskiy also were decorated with a second Order of Lenin, Order of the Red Banner (four times), the Order of Kutuzov 2nd Class, Order of the Patriotic War 1st Class (twice) and 2nd Class and the Order of the Red Star.
He continued to serve in the VVS after the war and in 1948, he finished the advance courses of commanders and chiefs of staff of air force units.
In 1954, he graduated from the General Staff's military academy.
He transferred to the reserve in October 1957 as a General Mayor to live in Voronezh.
Later he moved to Kiev were he passed away on 11 March 1987.
Claims:

| | | | | | | | | | |
| --- | --- | --- | --- | --- | --- | --- | --- | --- | --- |
| Kill no. | Date | Time | Number | Type | Result | Plane type | Serial no. | Locality | Unit |
| | 1941 | | | | | | | | |
| 1 | 12/08/41 | 08:15-09:45 | 1 | MS.406 (a) | Destroyed | I-152 | | Soutjärvi | 65 ShAP |
Biplane victories: 1 destroyed.
TOTAL: 1 destroyed.
(a) Claimed in a "taran"-attack on Finnish Morane MS.406 MS-301 over Soutjärvi (eastern Carelia). The pilot ylikersantti J. Norola from 1/LeLv 28 successfully landed his damaged aircraft.

Sources:
Aeroram
Polikarpov Biplane Fighter Varians - Yefim Gordon and A. Dexter, 2000 Wings of Fame Volume 17, Aerospace Publishing
Red Stars 1 - Carl-Fredrik Geust, Kalevi Keskinen and Kari Stenman kindly provided by Ondrej Repka
Suomen Ilmavoimat part III – 1941 – Kalevi Keskinen and Kari Stenman, 2007, ISBN 978-952-99743-1-3
Suomen Ilmavoimien Historia vol 4: Morane Saulnier M.S.406 - Kalevi Keskinen, Kari Stenman and Klaus Niska kindly provided by Ondrej Repka
Additional information kindly provided by Christer Bergström and Ondrej Repka




Last modified 17 September 2007