Biplane fighter aces

Soviet Union
At least 23 pilots from the Soviet Union became biplane fighter aces during the Second World War (and in the conflicts that preceded this war).
Biplane fighter aces: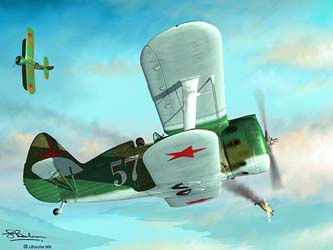 © Jerry Boucher.
Picture kindly provided by Jerry Boucher from the VIRTUAL AIRCRAFT WEBSITE.
Click on the image to see it in full size.
Fighter aces with biplane claims:
Fighter pilots with biplane claims:
More eminent biplane information from Black Cross/Red Star Volume I by Christer Bergström and Andrey Mikhailov.