Biplane fighter aces

Soviet Union

Mladishiy Leytenant Vladimir Nikolayevich Shavrov
1921 - 22 July 1941
Decorations

| | | |
| --- | --- | --- |
| Date | Decoration | Note |
| ??/??/?? | Order of Lenin | Posthumous |
Shavrov was born in 1921 in Kislovodske.
In July 1941, Shavrov served as a flight commander in the 7 IAP. During this time, the regiment was equipped with Polikarpov I-153s.
In the early morning on 22 July 1941, thirteen Russian I-153 fighters attacked Utti airfield. Four Finnish Curtiss Hawk 75A fighters of LeLv 32 took off at 03:25 and a wild melee over the airfield ensued. Alikersantti Mauno Kirjonen shot down one of the intruders just as his plane lifted off the ground, but at the same time one Tshaika attacked him from above; Kirjonen pulled up to meet the new enemy. Both pilots opened fire at the same moment. Kirjonen's plane was hit, metal pieces flew off and the engine started to smoke. The Russian pilot, mladshiy leytenant Shavrov, was hit through the head by one of Kirjonen's bullets and the I-153 dived into nearby Lake Haukkajärvi (some sources claims that Shavrov's claim was made in a "taran" ramming attack). Kirjonen had to parachute. His parachute opened just before he landed into the shallow shore water of Haukkajärvi. These were Kirjonen's victories 2-3 of a total 9 ¾. The Finnish Hawk was CU-501, which crashed in Karhula village near Valkeala at 03:35.
It seems that Nikolay Svitenko (I-153) also made a claim in this combat as he claimed an Bf 109 over Utti during the day.
At least 14 MiG-3s from 7 IAP were also involved in combat over Utti during the day (reportedly with Bf 109s) and as the Finnish only reported one attack on Utti it seems that these also were involved in the morning attack. One Bf 109 was claimed by starshiy leytenant Aleksey Baranov and a second by leytenant Ivan Dubovik. Two more Bf 109s were claimed as shared by 14 pilots including starshiy leytenant Baranov and leytenant Dubovik.
Shavrov's I-153 was lifted from the lake and the dead pilot was buried near the airfield. The engine of the I-153 was detached from the plane and it was lifted in the 1980s.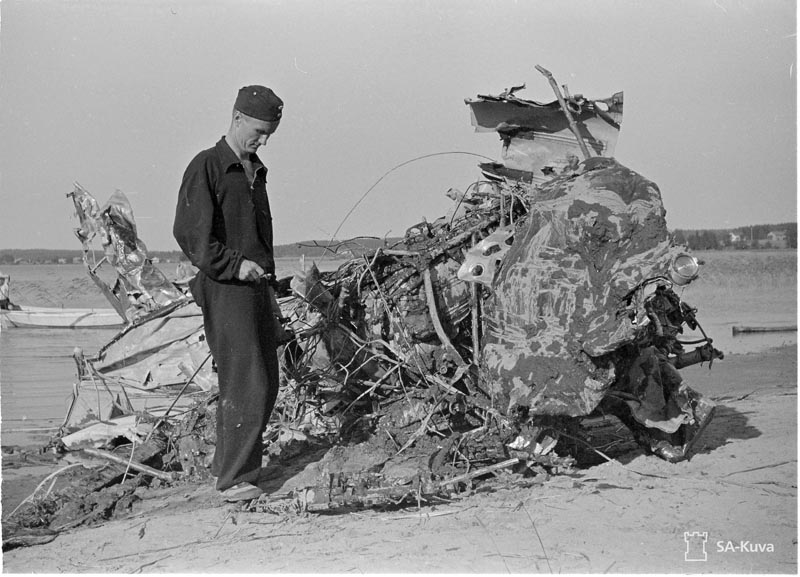 Alikersantti Mauno Kirjonen in front of the wreck of Shavrov's I-153 on the shore of Haukkajärvi.
Photo from SA-Kuva
For this combat, Shavrov was decorated with a posthumous Order of Lenin.
At the time of his death, Shavrov was credited with 1 biplane victory.
Claims:

| | | | | | | | | | |
| --- | --- | --- | --- | --- | --- | --- | --- | --- | --- |
| Kill no. | Date | Time | Number | Type | Result | Plane type | Serial no. | Locality | Unit |
| | 1941 | | | | | | | | |
| 1 | 22/07/41 | 03:35 | 1 | Curtiss (a) | Destroyed | I-153 | | Haukkajärvi | 7 IAP |
Biplane victories: 1 destroyed.
TOTAL: 1 destroyed.
(a) Finnish Curtiss Hawk 75A CU-501 shot down over Etäla-Suomi. The pilot alikersantti Mauno Kirjonen of LeLv 32 managed to parachute.

Sources:
Aeroram
All aces of Stalin 1936-1953 – Mikhail Bykov, 2014
Hävittäjä-Ässät (Finnish Fighter Aces) - Kalevi Keskinen, Kari Stenman and Klaus Niska, 1994 Apali, Tampere, ISBN 952-5026-00-0
Kohtalokkaat lennot 1939-1944 - Jaakko Hyvönen kindly provided by Tuomo Lukkari
Red Stars 1 - Carl-Fredrik Geust, Kalevi Keskinen and Kari Stenman kindly provided by Ondrej Repka
Soviet Aces 1936-1953
Soviet Fighter Pilots 1936-1953 - Mikhail Bykov
Suomen Ilmavoimat part III – 1941 – Kalevi Keskinen and Kari Stenman, 2007, ISBN 978-952-99743-1-3
Additional information kindly provided by Christer Bergström, Ondrej Repka and Yuri V. Shakhov




Last modified 24 April 2021