Swedish Voluntary Aviators

Vänrikki Gustaf-Mauritz Armfelt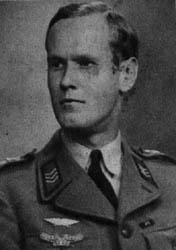 2 February 1917 – 4 March 1997
Gustaf-Mauritz Armfeldt was born on 2 February 1917 in Stockholm and was a trained fighter pilot from the Swedish Air Force.
He volunteered for service during the Winter War in Svenska Frivillig Kåren (SFK) (The Swedish Voluntary Corps).
He returned to Finland in May 1943 during the Continuation War (as the only Swedish pilot to serve in Finland during this war).
He received the rank of kersantti (sergeant) and served in T-LeLv 35.
Since he didn't spoke Finnish he was used for maritime reconnaissance flying seaplanes where his observer could speak Finnish over the radio.
He was wounded in an accident on 4 October 1943.
On 21 November 1943, he was promoted to vänrikki.
In the end of 1943, he was transferred to the Fighter School where he spoke English with his Finnish flying teacher.
He received the Finnish Aviation Badge ("Wings") on 24 February 1944.
On 22 June 1944, he joined 2/LeLv 16 and with this unit, he flew reconnaissance sorties in Gloster Gladiators. Since he didn't speak Finnish his reports were translated after the sorties.
When 2/LeLv 16 was re-equipped with Myrsky fighters in the end of July 1944, he was not allowed to fly any more since this type of aircraft was equipped with radios.
He was decorated with the Vapaudenristi 4 (the Finnish Cross of Freedom 4th Class) on 26 September 1944 for his service in Finland and returned to Sweden the next day.
Armfeldt was considered a fearless pilot with good flying-skill and more than 500 hours of flight-time, which was more than most Finnish squadron commanders.
Armfeldt was together with Sten Åke Haraldsson the only foreigners that served in the Finnish Air Force during the Continuation War.
He was married on 29 April 1953.
On 4 March 1997, Armfelt passed away in Stockholm.
Sources:
Hiljaa ja matalalla part 3 - Onni Kuuluvainen kindly provided by Jari Lappalainen
Svensk flygare i Finland - Flyg no. 18 1943
Sveriges Dödbok 1947-2006 – Sveriges Släktforskarförbund
Article by Eino Ritaranta in "Suomen Ilmailuhistoriallinen Lehti" no. 1/1996 kindly provided by Carl-Fredrik Geust
Additional information kindly provided by Carl-Fredrik Geust




Last modified 23 August 2007