Biplane fighter pilots

Sweden

Löjtnant Åke Nettelbladt-Hollsten, SFK nr. 868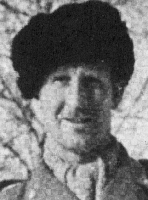 4 May 1913 – 15 January 1965
Åke Nettelbladt-Hollsten was born on 4 May 1913 and was from Umeå.
He received his pilot training in the Swedish Air Force and was promoted to fänrik (Pilot Officer) on 21 April 1939 at F8 (Wing No. 8).
When he joined F19 he was part of the Reserve of the Swedish Air Force.
At F19 he served as a fighter pilot.
After the Winter War, he continued to serve in the Swedish Air Force and on 1 July 1941, he was promoted to löjtnant (Lieutenant). At this time, he was serving at F21.
He was married on 24 June 1945.
Åke Nettelbladt-Hollsten passed away on 15 January 1965. At the time, he was living in Jakobsberg.
Sources:
F19 - en krönika - Greger Falk, Svensk flyghistorisk Förening, Stockholm, ISSN 0345-3413
Sveriges Dödbok 1947-2006 – Sveriges Släktforskarförbund




Last modified 31 January 2012