Biplane fighter aces

United States of America

Major Albert John 'Ajax' Baumler, O-371809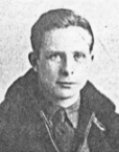 17 April 1914 - 2 August 1973
Albert Baumler was born in Bayonne, New Jersey, on 17 April 1914.
He did his primary and basic training at Randolph Field from June 1935 to February 1936, and then did his advanced training at Kelly Field from 19 February to 17 June 1936. He was however eliminated on the latter date, at which he had 205 hours and 30 minutes of training time and a total of 319 hours and 15 minutes flying time.
On 15 October 1936 he received a commercial transport rating.
He resigned his Army Air Corps commission and made his way to Spain.
In Spain he flew for the Spanish government from 27 December 1936 to 15 July 1937.
He qualified on the I-15 on 7 February 1937 and was assigned to Escuadrilla Kazakov, which was equipped with I-15 Chatos.
At 11:30 on 16 March his patrol flew a sortie from Soto Madrid. In the Brihuega-Valdesor-Pajares sector the patrol met a formation of Fiat CR.32s. In the ensuing combat Baumler shared a CR.32 with A. N. Zeitsoff. It seems that totally two CR.32s were claimed in this combat for no losses.
Four days later, on 20 March, Baumler (CA-022) attacked a group of three Italian S.81 bombers escorted by five Fiat CR.32s. Baumler claimed a Fiat 10 kilometres south-east of Brihuega.
On 17 April, the three Nationalist He 51 escuadrillas operated over the Teruel front with a total of 17 fighters.
2-E-2, with five He 51s, saw an enemy bomber but was unable to close with it. Shortly after they were joined by another He 51, flown by teniente Jaime Palmero Palmeta, and caught sight of ten I-15s patrolling well above their own altitude of 4,000m. They climbed to attack, determined to break off at the moment of interception, but teniente Palmero was unable to evade one I-15 that was coming down very fast in a dive, and the two machines collided. The ensuing combat ranged all over the sky, and ten more I-15s and a third fighter squadron soon joined the battle against the five remaining aircraft of 2-E-2. Capitán Ángel Salas Larrazábal made attacks on four aircraft but didn't claim anything and arrived at Calamocha with his petrol tanks almost dry and with 18 bullet holes in the fuselage and wings. He had remained in the combat area until all the Republican fighters had disappeared. Alferéz Jorge Muntadas Claramunt, alferéz Rafael Mazarredo Trenor and alferéz Joaquín Ansaldo Vejarano had already landed at Calamocha, and only Ansaldo's aircraft was free from damage. The fifth pilot, alférez Javier Allende Isasi was shot down by alferéz Juan Comas Borrás of 2a/16. Allende's fighter was seriously damaged and chivalrously escorted by Comas it until Allende was able to make a forced-landing in Nationalist-held territory.
2-E-2 had alone been involved in this combat, the other two He 51 escuadrillas were unaware of the action and were patrolling peacefully over their own lines.
Nationalist observers on the ground saw seven aircraft fall, and if one discounts the two He 51s flown by Palmero and Allende, this gives the destruction of five I-15s, but the Nationalist communiqué claimed a total of seven aircraft destroyed.
It seems that 18-21 I-15s were involved since it's known that three escuadrillas took part in the combat; 1a/16 (Escuadrilla La Calle), 2a/16 and Escuadrilla Kazakov (the two last escuadrillas operated from the same airfield near Sarrion) and five claims are known. The 2a/16 was first to engage, followed by Escuadrilla Kazakov and finally by the 1a/16.
Additional to Comas' claim of Allende, Baumler (Escuadrilla Kazakov) reported that on his second mission of the day, his group intercepted a formation of Heinkel He 51 pursuits. Giving chase to the enemy, Baumler crippled a Heinkel; as he did not see it crash, he was awarded with only a probable victory. He did, however, obtain credit for a subsequent "kill" in this same combat. Aleksandr Osadchiy, CO of Escuadrilla Kazakov claimed two He 51 while Frank Tinker from the 1a/16 claimed a He 51while flying in I-15 CA-058.
The I-15 that collided with teniente Palmero was flown by Alfonso Calvo Ortíz of the 2a/16, who also was killed.
It seems that Manuel Aguirre Lopez of Escuadrilla Kazakov also took part in this combat but without claiming anything.
Escuadrilla Kazakov converted to Polikarpov I-16 Moscas in the end of May and Baumler qualified on the I-16 on 1 June 1937.
On 2 June, Baumler (CM-065) claimed a CR.32 in flames over the San Ildefonso-Segovia area.
Operating from Castejon on 14 June, Baumler (CM-069) claimed a CR.32 over Huesca.
At 16:45 on 8 July, he was part of a group out of Chozas Madrid to escort ten Rasante light bombers to Quejormas, when his group engaged an enemy force of bombers and fighter escorts. In the ensuing combat he claimed a probable Fiat CR.32.
Baumler returned to the US in the end of July after having claimed 2 biplane victories and a total of 4.
Totally during his time in Spain he flew 174 hours and 35 minutes.
While flying for the Spanish government he earned $1,500 a month plus $1,000 for each aircraft shot down.
After his return to the US he re-joined the Army, being commissioned to Second Lieutenant and rated as a pilot on 30 September 1938.
When the recruitment of pilots for the AVG in China started in March 1941, Baumler signed up for this unit as one of the 100 pilots recruited.
However he ran afoul on Ruth Shipley at the State Department, who refused him a passport on the grounds that he had violated his previous travel documents by flying for a foreign government.
Instead he was posted to AMISSCA (United States Military Mission to China) flying with spare parts for the AVG on the Pan Am Clipper, which left for Hawaii on the night of 3-4 December 1941. However his intent seems to have been to join the AVG when arriving in Burma.
He made as far as Wake Island, where he awoke to Japanese bombs, shells and bullets on 7 December. The Pan Am Clipper escaped with twenty-seven bullet holes, none in a vital spot. The cargo was dumped and the aircraft filled with refugees, including Baumler and a dozen of civilian workers, took of for the devastated Hawaii at noon.
In February 1942 he was serving with the 15th PG, 45th PS, and at the end of the month he had 725 hours and 30 minutes of training time and a total of 1750 hours and 20 minutes flying time.
He was sent to the 10th AF in India, and attached to the Flying Tigers for experience.
On 4 July 1942 he joined the 23rd FG, 75th FS.
He was Commanding Officer of the 74th FS from 11 December 1942 to 18 February 1943.
During the Second World War he claimed 5 more victories and he ended the war with 2 biplane victories and a total of 9.
He was decorated with two DFCs and one AM.
Baumler continued to serve after the war before retiring from the Air Force Reserve in September 1965.
Post-war he was decorated with a BS and Commendation Ribbon.
He passed away on 2 August 1973 in Denison, Texas.
Claims:

| | | | | | | | | | |
| --- | --- | --- | --- | --- | --- | --- | --- | --- | --- |
| Kill no. | Date | Time | Number | Type | Result | Plane type | Serial no. | Locality | Unit |
| | 1937 | | | | | | | | |
| | 16/03/37 | 11:30 | 1/2 | CR.32 | Shared destroyed | I-15 | CA-023 | Brihuega-Valdesor-Pajares | Escuadrilla Kazakov |
| 1 | 20/03/37 | | 1 | CR.32 | Destroyed | I-15 | CA-022 | 10 km SE Brihuega | Escuadrilla Kazakov |
| | 17/04/37 | | 1 | He 51 (a) | Probable | I-15 | | Sarrion area | Escuadrilla Kazakov |
| 2 | 17/04/37 | | 1 | He 51 (a) | Destroyed | I-15 | | between the lines, Sarrion area | Escuadrilla Kazakov |
| 3 | 02/06/37 | | 1 | CR.32 | Destroyed | I-16 | CA-065 | San Ildefonso-Segovia area | Escuadrilla Kazakov |
| 4 | 14/06/37 | | 1 | CR.32 | Destroyed | I-16 | CA-069 | Huesca | Escuadrilla Kazakov |
| | 08/07/37 | 16:45- | 1 | CR.32 | Probable | I-16 | CA-022 | Quejormas | Escuadrilla Kazakov |
| | 1942 | | | | | | | | |
| 5 | 22/06/42 | 13:00- | 1 | I-97 fighter | Destroyed | P-40E | | S Changsha | AVG |
| 6 | 30/07/42 | 01:00- | 1 | type 97 bomber | Destroyed | P-40E | | Hengyang | 75th FS |
| 7 | 30/07/42 | 01:00- | 1 | type 97 bomber | Destroyed | P-40E | | 30m N Hengyang | 75th FS |
| 8 | 30/07/42 | 09:00-11:00 | 1 | Enemy fighter | Destroyed | P-40E | | Hengyang | 75th FS |
| 9 | 03/09/42 | 08:00 | 1 | Enemy fighter | Destroyed (b) | P-40E | #128 | S Hengyang a/f | 75th FS |
Biplane victories: 2 and 1 shared destroyed, 1 probable.
TOTAL: 9 and 1 shared destroyed, 2 probables.
(a) Claimed in combat with 2-E-2, which lost two He 51 without making any claims. Republican fighters claimed at least five He 51s, while losing one I-15.
(b) According to Baumler's combat report this claim was shared with Tex Hill but award citations give both pilots full credit for a victory each on this date.

Sources:
Air War over Spain - Jesus Salas Larrazabal, 1974 Ian Allan Ltd, Shepperton, Surrey, ISBN 0-7110-0521-4
Fiat CR.32 Aces of the Spanish Civil War - Alfredo Logoluso, 2010 Osprey Publishing, Oxford, ISBN 978-1-84603-983-6
Flyers of Fortune
Flying Tigers - Daniel Ford, 1991 Smithsonian Institution Press, Washington, ISBN 1-56098-541-0
Nĺgra leva än - F. G. Tinker, 1939 T. V. Scheutz Bokförlag AB, Stockholm
Polikarpov Fighters in action Pt. 1 - Hans-Heiri Stapfer, 1995 Squadron/Signal Publications, Carrollton, ISBN 0-89747-343-4
Stars & Bars - Frank Olynyk, 1995 Grub Street, London, ISBN 1-898697-17-5
Additional information kindly provided by Miguel Ansede Fernández.




Last modified 17 November 2015