Biplane fighter aces

Yugoslavia

Porucnik Milenko M. Milivojevic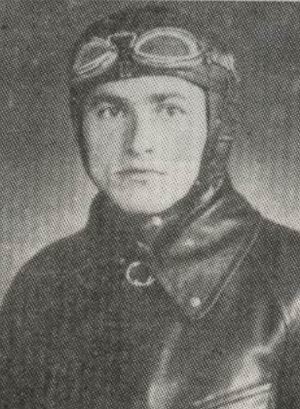 14 September 1910 – 6 April 1941
Milenko Milivojevic was born in Sevojno, Serbia, on 14 September 1910.
He served as a fighter pilot instructor at the Fighter pilot school at Mostar, Bosnia, and the Independent Fighter Eskadrila of the 2nd Fighter School.
At the time of the German invasion three Avia BH-33E-SHS biplane fighters were attached to the Independent Fighter Eskadrila of the 2nd Fighter School at Mostar. Two of these obsolete biplane fighters were on detachment at Podgorica, Montenegro.
On 6 April the airfield was attacked by 7./JG 26 and the two Avias were scrambled. Oberleutnant Joachim Müncheberg shot down one over the airfield at 12:05 (his 34th victory) and the other was shot down five minutes later during a violent dogfight over the mountains by Leutnant Klaus Mietusch (his 6th victory). Porucnik (First Lieutenant) Milivojevic and Narednik (Flight Sergeant) Djordje Cvetkovic-Ciga were both killed - the latter on his 29th birthday. The German pilots claimed the fighters as Furies. On the same day, Müncheberg went on to claim another BH-33 and a Breguet XIX destroyed on the ground at Podgorcia (the Breguet claim was not admitted however).
According to Yugoslav records Cvetkovic-Ciga was credited with two victories over Italian (Reggia) aircraft plus a third not confirmed which was destroyed by ramming. Milivojevic was credited with one victory over an Italian (Reggia) fighter. These claims can't be confirmed and the attacking German fighters seem not to have suffered any losses.
At the time of his death Milivojevic was credited with one biplane victory.
Claims:

| | | | | | | | | |
| --- | --- | --- | --- | --- | --- | --- | --- | --- |
| Kill no. | Date | Number | Type | Result | Plane type | Serial no. | Locality | Unit |
| | 1941 | | | | | | | |
| 1 | 06/04/41 | 1 | Reggia fighter (a) | Destroyed | Avia BH-33E-SHS | | Podgorica area | Independent Fighter Eskadrila |
Biplane victories: 1 destroyed.
TOTAL: 1 destroyed.
(a) Claimed in combat with Bf 109s from 7./JG 26, which didn't suffer any losses.

Sources:
Air Enthusiast Quarterly/Three kindly provided by Börje Henningsson
Air war for Yugoslavia, Greece and Crete - Christopher Shores, Brian Cull and Nicola Malizia, 1987 Grub Street, London, ISBN 0-948817-07-0
Luftwaffe Claims Lists - Tony Wood
The Yugoslav Furies - Sid Napier, 1998 Small air forces observer vol.22 no.4 kindly provided by Santiago Flores
Vazduhoplovne Zrtve 1913-1945 – Dusan Cirovic, 1970, Zemun, kindly provided by Nenad Miklusev.
Additional information kindly provided by Lars Larsson and Nenad Miklusev.




Last modified 18 May 2006