Biplane fighter aces

China

Captain Wang Han-Hsun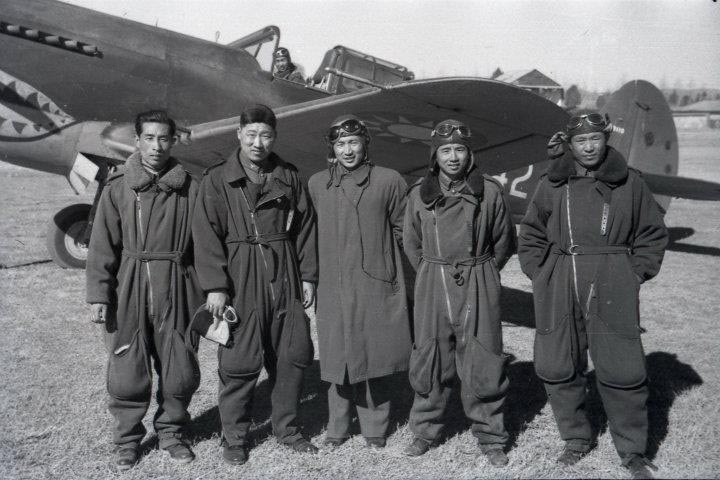 Pilots from the 3rd FG in front of a Chinese P-40. The image is probably taken in the spring of 1942 at Wujiaba Airport outside Kunming.
Identified pilots are (from left): Yuan Chin-Han, Wang Han-Hsun, unknown, Tsai Ming-Yong and Wang Wen-Hua.
Image copyright R. T. Smith used by permission of Brad Smith.
Captain Wang Han-Hsun served as commander of the 26th PS of the 5th PG between May 1937 and 1 October 1938.
On 9 December 1937 fifteen Japanese bombers escorted by eight fighters attacked Nanchang, the capital of the Kiangsi Province. Captain Wang Han-Hsun, commander of the 26th PS of the 5th PG, engaged them leading four Curtiss Hawk IIIs from Wuhan. During the engagement he shot down a Type 96 fighter. Three of his aircraft was however lost, among them Hawk no. 2604, flown by Chou Ke-Yi, who was killed. Kuan Chung-Chieh of 8th PS (Hawk no. 2606) managed to parachute from his burning aircraft but was strafed and killed by Japanese aircraft on the ground. 29th PS's new commander, Lin Tian-Jiao, also took part in this combat and was shot down.
The Japanese reported that eight A5Ms had battled with 20 Chinese and Soviet fighters. The Japanese claimed that they shot down twelve enemy aircraft while losing one A5M (the one shot down by Han-Hsun). Twelve more Chinese aircraft were claimed destroyed on the ground. It seems that the lost Japanese pilot was PO3c Naoshi Teramatsu of the 13th Kokutai (even if there is some uncertainties regarding the place of his death).
PO3c Kan-ichi Kashimura of the 13th Kokutai was involved in a combat with a large number of Curtiss Hawks and after shooting down one of them, he collided in the air with another Chinese Hawk III, which already had been shot down and was falling out of control. A third of the left wing of the A5M1 (no. 4-115) was thorn away, but Kashimura was able to return to base. After four landing attempts, the aircraft somersaulted on touching the ground on its fourth approach and lost its tail in the subsequent crash. Kashimura walked away from the wreckage without any injuries. Kashimura's exploits in this combat was widely published in Japan. Kashimura was killed in combat over Russell Island on 6 March 1943 and at the time of his death he was credited with 12 victories (10 of them over China).
In this combat Sea1c Kuniyoshi Tanaka of the 13th Kokutai (in his first combat) used up all his ammunition in claiming to have shot down a Curtiss, a Hawk and a Corsair (his first three victories of a total of 17 – twelve of them claimed during the China Incident). Kiyoto Koga of the 13th Kokutai claimed three I-16s in this combat (victory nos. 11-13).
At 07:40 on 3 August 1938, 18 G3Ms were seen flying over Guangde. Later at 09:00, more than 70 Japanese fighters were reported heading for Hankou. In response to this treat, the Chinese Air Force scrambled 52 fighters consisting of 20 I-15bis, 13 I-16s, 11 Gladiators and 7 Hawk IIIs in four groups from Hankou to intercept the Japanese intruders. The 11 Gladiators were assigned to the 4th PG, which was divided into two subgroups. Subgroup A was led by Captain Wu Yu-Liu, Commander of the 3rd PG, who was flying an I-15bis and with four Gladiators under his leadership. Subgroup B was led by 28th PS leader Chin Shui-Tin, who was flying Gladiator no. 2809 and with six Gladiators under his leadership.
Subgroup A took off from Hankou at 09:55. Because Wu Yu-Liu's I-15bis not could match the speed of the Gladiators, he was forced to fly astern of the Gladiators and he therefore passed the command to Zhu Jia-Xun, Squadron Leader of 32nd Squadron. As Zhu led the Gladiators to move into the forward position, Wu's I-15bis was attacked by A5Ms. Since the I-15bis was obsolete in comparison to the more nimble Japanese fighters, Wu's situation was most critical but luckily Zhu and his Gladiators returned and attacked the A5Ms. Zhu and He Jermin took charge of the attack while the other Gladiators provided them with cover at a higher altitude. Zhu attacked the two A5Ms chasing Wu's I-15 and one of them abruptly turned and fled while the other was hit by Zhu, who punctured the A5Ms wing tank causing it to lose altitude rapidly. Zhu's wingman, He Jermin, shot down another A5M, which ditched into Lake Chaoping. Totally, Subgroup A was in combat with the A5Ms for more than 10 minutes and they landed at Hankou airbase at 11:30.
Subgroup B was airborne just a few minutes after Subgroup A departed. Chin led the seven Gladiators in a wide orbit in the south-west corner of Hankou climbing to 12000 feet. The height made the Chinese pilots groggy from hypoxia when they suddenly became aware that the sky to their left was speckled with A5Ms. Chin signalled the Gladiators to climb to 21000 feet but the Japanese fighters detected them. Over 30 A5Ms diving from 2000 feet above engaged the seven Gladiators. There were three I-16s from the 1st Air Group (probably from the 26th PS) attached to Subgroup B and these were lagging behind the Gladiators. The attacking A5Ms immediately cut these off. Squadron vice-commander Louie Yim-Qun in Gladiator no. 5732 was flying in the tail end Charlie position and he was attacked simultaneously from different directions but he was relieved by Chin and Shen Mushiu in Gladiator no. 2804. Louie Yim-Qun claimed a shared enemy aircraft destroyed in this combat.
An I-16 under attack from several A5Ms was helped by Chin's wingman, Fan Hsin-Min in Gladiator no. 2805, who dived to his rescue but he was soon himself under attack from other A5Ms. Chin went to his wingman's aid and managed to shoot the A5M off his tail. Before Chin could deliver the coup de grace to his victim, he came under attack himself. The first indication he got of the attack was bullets bouncing off the newly installed armour plate, which probably saved his life. Chin turned tightly to evade the attack but his Gladiator was already damaged. Three A5M's lined up to making firing passes, diving from above, firing and then zooming back up for altitude, taking full advantage of the A5M's better performance in the vertical plane. After a few passes, Chin's aircraft was badly shot up, with a number of wing-bracing wires shot away. His aircraft was almost uncontrollable and he decided to take one of the A5M's with him. As one of them completed his firing pass and began his zoom climb, Chin reversed his turn and rammed the A5M. His right wings and nose hit the tail of the A5M and tore it off. Chin's head was slapped against the side of the canopy of the wildly spinning Gladiator before he was able to bail out. Landing in a field, Chin was presented with a machine gun salvaged from his crashed Gladiator. Hitching a ride back to Hankou in a Douglas O-2MC, Chin was sent to the infirmary when Chennault came to visit him. Chin joked about the machine gun by asking Chennault if he could swap it for a new plane to fight the Japanese. Chennault later embellished the story in "The Way of a Fighter" saying that Chin found the gun, carried it back to the airfield and asked to swap it for a plane. More dramatic but not quite the truth!
A fourth A5M was claimed by Liu Ling-Yang of 28th PS. His own aircraft was however damaged and he bailed out into the Yangtze River and swam to safety.
Subgroup B lost another Gladiator in this combat. This loss was attributed to an engine failure when the engine on Gladiator no. 5723 stopped in the middle of the combat. The Gladiator started to spin and with many difficulties was the pilot, Chou Ling-Hsu, able to get out of the cockpit in time since when he was hanging in his parachute, the Gladiator exploded in mid-air, sending debris flying several thousand feet in all directions.
In this combat claimed the commander of the 26th PS, Captain Wang Han-Hsun, an enemy aircraft before his I-16 was badly hit; in his cabin were more than 60 bullet hits. Liu Ling-Chi (no. 5922) also shot down a Japanese aircraft. When his I-16 was set afire the pilot baled out. I-16 no.5921 was shot down and no. 5920 made a forced landing.
The Japanese escort seems to have been 21 A5Ms, which returned claiming 27 enemy aircraft and 5 probables for the loss of three fighters from the 15th Kokutai (Lieutenant (junior grade) Naohisa Shinjo (Class 62) and PO2c Hitoshi Fukusawa (Pilot 27) were killed while PO3c Namitaro Matsushima (Pilot 30) was taken prisoner but later returned) after having been intercepted by a reported 50 Chinese aircraft.
In November 1939 Han-Hsun served as deputy commander of the 5th PG.
On 4 November 1939 72 G3Ms (36 from the 13th Ku, 18 each from the Kisarazu and Kanoya Ku) attacked Chengtu in Sichuan Province in retaliation for a highly successful attack on the Hankow Huang-chia-tun Airfield on 14 October 1939. (DB-3 bombers flown by Soviet volunteers, who destroyed over 50 Japanese Army and Navy aircraft made this attack.) The G3Ms came over in two formations, each with 36 aircraft. Captain Okuda (nicknamed 'King of the Bombers'), commander of the 13th Ku, led the first formation with all of the aircraft from 13th Ku.
The Chinese responded by sending two formations against the attackers. The first Japanese formation was heavily attacked by seven Dewoitine D510s of the 17th PS, led by Captain Shen Tse-Liu and seven I-15bis from the 27th PS led by Captain Hsie Chuan-Ho. The 27th PS first made contact with the 13th Ku about 4,000m over Fenghuang Shan. The Chinese Air Raid Warning Net had given ample warning and the Chinese fighters, equipped with oxygen and radio receivers in the lead aircraft, were able to climb and attack the Japanese from above. Diving down at 65 degrees from behind, the I-15bis concentrated on the leading flight of G3M's. After the initial pass, the I-15bis followed up with firing passes from the rear at the same level or slightly below. Then came the cannon armed D510. Captain Shen led his squadron in a level attack from the front. (Past experience had shown that when firing in a dive, the spring tension of the drum magazine in the Hispano HS-404 cannon was insufficient to feed the gun causing stoppages.) This time, under ideal conditions, Shen was able to make one devastating head-on pass on Okuda's G3M. Multiple hits by the deadly 20mm cannon set Okuda's G3M on fire at the right wing root. The fire then spread to the fuselage fuel tanks. The G3M then nosed over in a dive, which resulted in both wings snapping away. Shen and his squadron turned around to attack the Japanese formation form the rear. This was when the concentrated firepower of the G3Ms began to tell. Shen's D510 No. 5921 was damaged and he made a forced landing in which he was injured. Another D510 (No. 5924 flown by Lieutenant Chen Kwei-min) was damaged in the fuel tank but managed to land safely. Three 27th PS I-15bis were slightly damaged. Another G3M was shot out of formation smoking heavily but was not seen to crash by the time the Chinese fighters retired.
The second Chinese formation was led by deputy group commander Wang Han-Hsun and included nine I-15bis led by Captain Ma Kwok-Lim of the 29th PS and six I-16's of the 26th PS. Included in Ma's group were Lieutenant Teng Chung-Kai, now promoted to deputy squadron leader. They met the Kisarazu and Kanoya formation over Taiping-shi Airfield. Ma led the I-15bis in a vertical diving pass on the leading flight of the formation. After the initial pass, the I-15bis turned back to attack from below and behind. They were joined by two I-16's from the 26th PS, which had become separated from their formation. After the first two passes, the volume of return fire from the Japanese formation was seen to appreciably slacken. The lead ship from the Shotai to the right of the leading shotai was seen to catch fire and gradually descend below the formation. Teng in I-15bis No. 2903 was credited with hitting this aircraft and contributing to it falling out of formation. In a final firing pass from behind and below, the concentrated return fire from the Japanese formation hit Teng's aircraft and he crashed to his death. Wang Han-Hsun in I-15bis "V-2" was wounded and made a forced landing. All but one of the other I-15bis were damaged and three more had to make forced landings (I-15bis nos. 2910, 2904, 2907). Both of the 26th PS I-16s were also shot up badly, one, No. 2609 crashed at Jintang, killing its pilot Lieutenant Tuan Wan-Yu and the other, No. 2604 force landed at Pengshang.
During the attack the Japanese dropped over 100 bombs on Fenghuang Shan Airfield. The second Japanese formation of 36 aircraft dropped over 200 bombs on Wenjiang Air Field. They destroyed one aircraft and two trainers on the ground.
After the battle, the Chinese found three wrecks and the bodies of Okuda and one of his Buntaicho. The Japanese, however, admitted to a total of 4 losses.
Wang Han-Hsun ended the war with 1 biplane victory and a total of 2.
Claims:

| | | | | | | | | |
| --- | --- | --- | --- | --- | --- | --- | --- | --- |
| Kill no. | Date | Number | Type | Result | Plane type | Serial no. | Locality | Unit |
| | 1937 | | | | | | | |
| 1 | 09/12/37 | 1 | Type 96 (a) | Destroyed | Hawk III | | Nanchang area | 26th PS |
| | 1938 | | | | | | | |
| 2 | 03/08/38 | 1 | Enemy aircraft (a) | Destroyed | I-16 | | Hankou area | 26th PS |
Biplane victories: 1 destroyed.
TOTAL: 2 destroyed.
(a) A5M from 13th Kokutai shot down. It seems that the lost Japanese pilot was PO3c Naoshi Teramatsu of the 13th Kokutai (even if there are some uncertainties regarding the place of his death).

Sources:
Chinese Air Force Gladiators in Action - D. Y. Louie, 1998 Small Air Forces Observer vol. 22 no. 4 (88) December 1998 kindly provided by Santiago Flores.
Japanese Naval Aces and Fighter Units in World War II - Ikuhiko Hata and Yasuho Izawa, translated by Don Cyril Gorham, 1989 United States Naval Institute, Annapolis, ISBN 0-87021-315-6
Soviet Fighters in the sky of China, Part II - Anatolii Demin, 2000 Aviatsiia Kosmonavtika 10 (translated by George M. Mellinger).
Soviet Fighters in the sky of China, Part IV - Anatolii Demin, 2000 Aviatsiia Kosmonavtika 11 (translated by George M. Mellinger)
Information kindly provided by Raymond Cheung, Tom Chan, Samuel Hui and Erich Wang.




Last modified 23 December 2011