Biplane fighter aces

China

Captain Wang Tien-Hsiang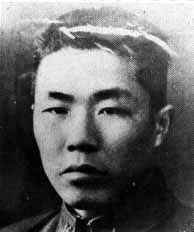 Wang Tien-Hsiang was a native of Huang Yen in the Chekiang Province.
He first entered the Army but later transferred to the Air Force and entered the Central Flying School.
As a distinguished graduate, he remained in the school as an instructor, and was later promoted to leader of a pursuit unit.
In the 1932 Shanghai-Woosung action against the Japanese, he was injured in action.
He was later promoted to commander of the 7th PS, which was equipped with Curtiss Hawk IIs.
When the war broke out in 1937, he was ordered to replace Colonel Kao Chi-Hang as the acting commander of the 4th PG after that Kao had been wounded on 15 August 1937. The 4th PG was at this time equipped with Curtiss Hawk IIIs.
At 07:00 on 22 August Wang led 18 Hawk IIIs (including five aircraft from the 5th PG) to attack Japanese surface forces in the Liu Ho area near Shanghai.
Four A2Ns under the command of Lieutenant (junior grade) Tadashi Kaneko discovered the 18 Curtiss Hawk fighters that were scouting at a height of three thousand meters while they were flying a patrol over Pao-Shan. They made a surprise attack on them from the rear. Six enemy aircraft were shot down and the Japanese fighters did not even receive a single hit. Three of these were claimed by the number two wingman PO2c Yoshi-o Fukui while Kaneko claimed two. This was the first fighter sortie by the fighters from the Ryujo.
After the combat it was reported that Captain Wang had shot down two enemy fighters before his own aircraft was damaged and crashed, killing him. Four more Chinese Hawks were lost. Hawks nos. 2404 and 2405 landed at Sushui while the 22nd PS returned to Nanking.
Japanese aircraft were very active after the Chinese attack and Captain Liu Chui-Kang of the 24th PS (5th PG) was delayed to land for over one hour until 13:45 due to retaliating Japanese attacks.
At the time of his death, Wang was credited with 2 biplane victories, these being claimed while flying the Curtiss Hawk III.
Claims:

| | | | | | | | | |
| --- | --- | --- | --- | --- | --- | --- | --- | --- |
| Kill no. | Date | Number | Type | Result | Plane type | Serial no. | Locality | Unit |
| | 1937 | | | | | | | |
| 1 | 22/08/37 | 1 | Enemy fighter (a) | Destroyed | Curtiss Hawk III | | Liu Ho area | 4th PG |
| 2 | 22/08/37 | 1 | Enemy fighter (a) | Destroyed | Curtiss Hawk III | | Liu Ho area | 4th PG |
Biplane victories: 2 destroyed.
TOTAL: 2 destroyed.
(a) Claimed in combat with A2Ns from the Ryujo which didnít sustain any losses.

Sources:
Chinese Air Force in Action Series no. 3 kindly provided by Erich Wang
Japanese Naval Aces and Fighter Units in World War II - Ikuhiko Hata and Yasuho Izawa, translated by Don Cyril Gorham, 1989 United States Naval Institute, Annapolis, ISBN 0-87021-315-6
Red Baron of China Air Space kindly provided by Erich Wang
Information kindly provided by Tom Chan and Erich Wang.




Last modified 08 April 2003