Biplane fighter aces

Japan

Commander Tadashi Kaneko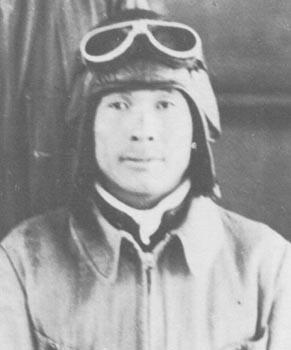 Kaneko was born in Tokyo as the son of a lawyer.
He attended Tokyo Municipal High School No. 1 and entered the Naval Academy.
In 1932 he graduated from the 60th class and in July 1935 he completed the 26th Aviation Student Course and became a fighter pilot.
At the start of the China Incident he served as a shotai leader of the fighter daitai on board the aircraft carrier Ryujo.
At 07:00 on 22 August Captain Wang Tien-Hsiang led 18 Hawk IIIs (including five aircraft from the 5th PG) to attack Japanese surface forces in the Liu Ho area near Shanghai.
Four A2Ns under the command of Lieutenant (junior grade) Kaneko discovered the 18 Curtiss Hawk fighters that were scouting at a height of three thousand meters while they were flying a patrol over Pao-Shan. They made a surprise attack on them from the rear. Six enemy aircraft were shot down and the Japanese fighters did not even receive a single hit. Three of these were claimed by the number two wingman PO2c Yoshi-o Fukui while Kaneko claimed two. This was the first fighter sortie by the fighters from the Ryujo.
After the combat it was reported that Captain Wang had shot down two enemy fighters before his own aircraft was damaged and crashed, killing him. Four more Chinese Hawks were lost. Hawks nos. 2404 and 2405 landed at Sushui while the 22nd PS returned to Nanking.
Japanese aircraft were very active after the Chinese attack and Captain Liu Chui-Kang of the 24th PS (5th PG) was delayed to land for over one hour until 13:45 due to retaliating Japanese attacks.
Kaneko participated in the attacks on Canton in September before returning to Japan.
In August 1938 he returned to the central China battlefront as division officer in the 15th Kokutai.
Until the end of that year Kaneko was involved primarily in base air defence and in direct support of ground forces.
Following his return to Japan Kaneko was next posted to the 12th Kokutai in April 1939 as division officer and advanced to Hankow. There were, however, no opportunities for air combat.
In May 1940 Kaneko served as division officer in the Omura Kokutai and in October he served as division officer in the Mihoro Kokutai.
In September 1941 he was transferred to the newly commissioned aircraft carrier Shokaku, again as division officer.
He participated in the attack on Pearl Harbour (without meeting any aerial opposition), the attack on Salamaua and in Indian Ocean operations.
In the morning at 07:00 on 9 April 1942 91 B5Ns led by Commander Fuchida and escorted by 41 A6Ms led by Lieutenant Commander Itaya attacked Trincomalee, Ceylon. The Japanese aircraft came from the carriers Soryu, Hiryu, Akagi, Zuikaku and Shokaku.
British fighters scrambled (Hurricanes from 261 Squadron and Fulmars from the Staff Flight) and attacked the incoming Japanese aircraft. The Hurricanes returned claiming four bombers and four fighters (of which two had been seen to collide), plus one bomber and three fighters probably destroyed and one fighter and at least five bombers damaged. 8 Hurricanes (plus one destroyed on the ground) and 1 Fulmar was shot down while 3 more Hurricanes were damaged. The Japanese fighters claimed 48 victories and 3 probables while four were claimed destroyed on the ground. Three A6Ms were lost and 1 B5N.
Lieutenant Kaneko led the fighters from Shokaku, which returned claiming 12 fighters shot down and one probable, 12 fighters and one probable shared with other A6Ms plus two Hurricanes and one biplane destroyed on the ground.
In May 1942 Kaneko was transferred to the 6th Kokutai as group leader and in order to participate in the occupation of Midway, the group advanced towards the battlefront by taking passage on the aircraft carriers. Lieutenant Kaneko happened to be on board the Akagi.
On 4 June he observed the wave formation attacks on his aircraft carrier by American carrier aircraft and could no longer contain himself. Taking off from the carrier with four of his pilots, Kaneko intercepted and shot down two large torpedo aircraft and three more were shot down by the others in his section.
After his rescue following the sinking of the Akagi and return to Japan, he was transferred to the Hiyo as group leader in July.
In October the unit advanced into the Solomons area.
Because of an engine malfunction of the aircraft carrier, however, the air group was diverted to the base at Rabaul.
Starting the latter part of October, Kaneko participated in the daily forays conducted during the Guadalcanal attack operation.
On 1 November 1942 he was promoted to Lieutenant Commander.
During the 11 November attack on Guadalcanal he claimed three F4Fs.
On 14 November 1942 Kaneko took off from Buin leading eleven of his colleagues to provide escort to the ship convoy that was transporting the 38th Division.
At about 14:30 the same day, while in combat with enemy carrier fighters and bombers, Kaneko was hit ad crashed to his death.
At the time of his death Kaneko was credited with 2 biplane victories and a total of 8.
Claims:

| | | | | | | | | |
| --- | --- | --- | --- | --- | --- | --- | --- | --- |
| Kill no. | Date | Number | Type | Result | Plane type | Serial no. | Locality | Unit |
| | 1937 | | | | | | | |
| 1 | 22/08/37 | 1 | Curtiss Hawk (a) | Destroyed | Nakajima A2N | | Pao-Shan | Ryujo FS |
| 2 | 22/08/37 | 1 | Curtiss Hawk (a) | Destroyed | Nakajima A2N | | Pao-Shan | Ryujo FS |
| 3 | ??/??/?? | 1 | Enemy aircraft | Destroyed | | | China | |
| | 1942 | | | | | | | |
| 4 | 04/06/42 | 1 | Torpedo aircraft | Destroyed | A6M | | Midway | 6th Kokutai |
| 5 | 04/06/42 | 1 | Torpedo aircraft | Destroyed | A6M | | Midway | 6th Kokutai |
| 6 | 11/11/42 | 1 | F4F | Destroyed | A6M | | Guadalcanal | Hiyo |
| 7 | 11/11/42 | 1 | F4F | Destroyed | A6M | | Guadalcanal | Hiyo |
| 8 | 11/11/42 | 1 | F4F | Destroyed | A6M | | Guadalcanal | Hiyo |
Biplane victories: 2 destroyed.
TOTAL: 8 destroyed.
(a) Claimed in combat 13 Curtiss Hawk IIIs from the 4th PG and five from the 5th PG. The Japanese fighters claimed six Hawks without losses. The Chinese fighters claimed two victories while losing five aircraft (Captain Wang Tien-Hsiang killed).

Sources:
Bloody Shambles Volume Two - Christopher Shores and Brian Cull with Yasuho Izawa, 1993 Grub Street, London, ISBN 0-948817-67-4
Chinese Air Force in Action Series no. 3 kindly provided by Erich Wang
Japanese Naval Aces and Fighter Units in World War II - Ikuhiko Hata and Yasuho Izawa, translated by Don Cyril Gorham, 1989 United States Naval Institute, Annapolis, ISBN 0-87021-315-6
Red Baron of China Air Space kindly provided by Erich Wang




Last modified 08 April 2003