Biplane fighter aces

Commonwealth

Wing Commander William 'Bill' Riley DFC, RAF no. 37422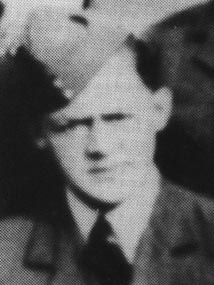 1917 – 16 July 1942
Bill Riley was born in 1917.
He was an Irishman from Manorhamilton, County Leitrim and joined the RAF on a short service commission in August 1935, becoming acting Pilot Officer on 21 October 1935.
He was posted to 11 FTS, Wittering on 2 November and joined 54 Squadron at Hornchurch on 11 May 1936.
He was promoted to Pilot Officer on 26 August 1936.
On 9 February 1937, he was sent to the Electrical and Wireless School at Cranwell as a Staff Pilot on the Signals Squadron.
He was promoted to Flying Officer on 26 April 1938.
On 16 December 1938, he was posted to the Far East, joining the administrative staff of HQ, RAF Far East in Singapore, on organisation duties.
He returned to the UK and on 11 November 1939 he was posted as a Flying Officer to 12 Group Pool, Aston Down, on a course.
After converting to Spitfires, he joined 610 Squadron at Wittering on 22 December 1939.
On 26 April 1940, he was promoted to Flight Lieutenant.
In May 1940, he was posted to 263 Squadron as a Flying Officer for its second period of service in Norway.
On 21 May, the Squadron's Gladiators flew off HMS Furious to their base at Bardufoss.
During the afternoon of 24 May 1940, a He 111 of Stabsstaffel/KG 26 strayed over Bardufoss while it was operating with four other He 111s from I Gruppe over Narvik. Here it was intercepted at an altitude of 500 feet by Flying Officer H. F. Grant Ede and Flight Lieutenant Riley. Grant Ede attacked first from the beam, then half-rolled into a stern attack and silenced the upper gunner. Riley followed with a stern quarter attack, which put the starboard engine out of action. At that moment Flight Lieutenant Caesar Hull arrived, at the end of his own patrol, and got in a burst, which stopped the other engine.
This was He 111H-3 '1H+KA' (WNr. 2411) of Stabsstaffel/KG 26, which was shot down at Fjordbotneidet, Gratangen. The pilot Oberleutnant Hartmut Paul was wounded and taken POW, Oberfeldwebel Eduard Strüber (observer) was killed, Unteroffizier Gunther Eichmann (flight engineer) was taken POW, Unteroffizier Hans Blunk (air gunner) was taken POW and Feldwebel Alfred Stock (wireless operator) was killed.
During this combat was Grant Ede's Gladiator slightly damaged by return fire.
During the afternoon of 26 May, Riley and Pilot Officer Parnall attacked five He 111 at 10,000 feet over Harstad, having already chased one such bomber away 30 minutes earlier. Riley pressed home a beam attack one the second aircraft and then repeated this but he was hit and wounded. Parnall had attacked the No. 4 bomber, silencing the gunner. This aircraft disappeared into low cloud over the mountains south of Bardu. Both these bombers were later reported to have crashed, and the latter's wreck was said to have been found near Bogen. These seems to be mistaken confirmations of other wrecks, for the only casualties suffered by the Luftwaffe in these attacks amounted to one He 111 from each of 2/KG 26 and 2/KGr 100 damaged, each with one member of the crew wounded.
On the withdrawal from the area, he was sent by transport since he had been wounded on 26 May. Thus he was not lost when most of the squadrons pilots went down aboard HMS Glorious.
On 17 July, he joined 302 (Polish) Squadron at Leconfield at its formation as a Flight Commander.
At 15:50 on 21 August, Riley claimed a Ju 88 probably destroyed 2 miles east of Bridlington.
He claimed a Ju 88 and a second as a probable over the Thames Estuary at 17:23 on 18 September.
At 10:15 on 15 October, he claimed a Bf 109 over Canterbury.
Early in 1941, he went to 252 Squadron, one of Coastal Command's new Beaufighter units.
At 14:20 on 16 April, Flight Lieutenant Riley, with Warrant Officer Donaldson (Beaufighter T3237/PN-K) destroyed a FW 200 north-east off Scotland. Riley described the squadron's first success:
"At the end of the patrol an enemy aircraft was sighted at 1420 hrs on a course of 210 degrees. Identified as a Condor. I started my attack from the beam quarter, finishing up astern. Fire was opened at 300 yards and continued in short bursts to point blank range when astern. The Condor replied with the midship gun. The Condor caught fire at the rear port wing root, both engines appearing unserviceable. The Condor swung to the left, straightened out, then dived into the sea in flames at an angle of 45 degrees. No survivors and very little wreckage were seen. The Condor was painted entirely green, with crosses silhouetted in white. No lower gondola observed."
Riley's victim was FW 200 C-3 F8+AH (WNr 0039) of 1./KG 40 which failed to return after having taken off from Stavanger-Sola with the loss of the whole crew: pilot Oberleutnant Heinze Därner, second pilot Oberleutnant Hermann Richter, observer Leutnant Hans-Joachim Stein, wireless operator Unteroffizier Günther Glöckner, Unteroffizier Martin Maier and air gunner Gefreiter Rudolf Kunath.

The following month the squadron was posted to the Middle East and arriving in Malta on 1 May.

Approaching Malta on 3 May after a local flight, his Beaufighter, T3237 'K' was attacked in error by a Hurricane who took it for a Ju 88, and he crash-landed on Luqa airfield, suffering some injury.

On 7 May three of 252 Squadron's Beaufighters escorted five Blenheims of 21 Squadron to attack an Axis supply convoy near Lampedusa. While doing so they engaged an Italian transport aircraft, variously identified as a Caproni Ca.310 or a Savoia S.81. The aircraft, an S.81 transport of 149o Gruppo SAS, was intercepted by the three Beaufighter pilots and was lost with many aboard. The three Beaufighter pilots involved were Riley, Squadron Leader Yaxley and Sub Lieutenant Fraser.

On 28 May three Beaufighters arrived at Abu Sueir from Malta to take part in the operations during the retreat from Crete. Two were from 272 Squadron while the third was flown by Flight Lieutenant Riley from 252 Squadron.

Late in the afternoon on 30 May Pilot Officer G. A. Tovey (in Hurricane W9329) of 274 Squadron was accompanying a Beaufighter flown by Flight Lieutenant Riley when they came across Leutnant Walter Fischer's He 111 1H+KN of II/KG 26, which was on a ferry flight to Cyrenaica. Riley attacked first, but closed so rapidly that his Beaufighter collided with the bomber, although both aircraft seemed to escape serious damage. This did however allow Tovey the opportunity to nip in and shoot the Heinkel down into the sea.

He was promoted to Squadron Leader on 1 June 1941.

He was awarded a DFC on 31 October 1941. He was then posted to 201 Group as a controller.

In early April 1942 Riley was attached to 272 Squadron in Egypt, pending his taking command of 227 Squadron, which was to form on Malta.

On 14 April 'Ultra' intercepts of Italian Naval signals and aerial reconnaissance tracked down an Axis convoy heading for Tripoli. The convoy consisted of the German Reichenfels and the Italian Vettor Pisani, Ravello and Reginaldo Giuliani escorted by five destroyers, one torpedo boat and one MTB.
At midday six torpedo-armed Beauforts of 39 Squadron and two of 22 Squadron departed Bu Amud (Cyrenaica), to strike the convoy; they were then to fly on to Malta and land, as were the four Beaufighters of 272 Squadron supplied as escort. At the briefing, it was stressed that all aircraft were to fly very low, down to 100 feet in the reconnaissance area, while the Beaufighters were to locate the target for the Beauforts, then break for Malta when at the limit of their fuel. Originally it had been intended that nine Beauforts would participate in the strike but at the last moment one 39 Squadron machine developed a fault, and only eight departed.
The rather inadequate escort of four Beaufighters were led by Squadron Leader Riley (navigator Sergeant Blakely), who had volunteered to lead the escort. His No 2 was Pilot Officer Stephenson, while Flying Officer Derek Hammond led the other section with Flight Sergeant J. S. France on his wing. Due to the speed differential with the Beautorts, these four were obliged to weave overhead, increasing fuel consumption and thereby reducing their range.
By the time the strike force had reached a point 70 miles south-east of Malta the leader, Flight Lieutenant J. M. Lander, realized that they must have overshot the convoy and turned south-west to continue the search. Twenty minutes into the new heading, Squadron Leader Riley sighted a Bf 110 on the same course as the Beautorts, and chased it for 15 minutes without result. On turning to rejoin the formation he sighted what he took to be two more Bf 110s at 2,000ft. He climbed to attack and claimed both shot down into the sea. Whilst one of his victims would seem to have been a Zerstörer of III./ZG 26 in which the gunner, Unteroffizier Rudolf Leuthoff was wounded (the Bf 110 E-1 WNr. 3924 force-landed at Marsala due to engine failure; 20 % damaged), the other was actually a Do 17 Z of the same Gruppe, which was shot down. It was assumed that one of these two aircraft had been responsible for the loss of 27-year-old Flying Officer James Bruce Halbert's (RAAF no. 406006) Maryland (AH298), which was lost with the whole crew around midday after having shadowed the convoy. Riley then chased a Ju 88 but was only able to damage it before running out of ammunition. These combats led him towards the convoy, which he saw only a few miles away.
The other Beaufighters attacked a Ju 88, which appeared to be shadowing the Beauforts, but the combat was indecisive. On climbing to attack this aircraft (which was at about 1000 feet) the crews also spotted the convoy: "It was at this time that the mistake was made which affected the success of the operation." so concurred the subsequent official enquiry into the mission, which was about to turn into a disaster for the gallant torpedo-bomber crews, now 500 miles from their base, for neither Squadron Leader Riley nor Flying Officer Hammond ascertained whether the convoy had also been seen by the Beauforts before turning towards Malta. Both section leaders apparently thought that the strike force could not have failed to see the convoy and that they were manoeuvring for position to attack. Actually, the Beauforts, flying much lower than their escort – at approximately 40/50 feet – had not sighted and did not do so until about 30 minutes later, owing to the small field of vision at such a low altitude.
The Beauforts, now devoid of escort, pressed on but as they approached the convoy at wave top height, some 15 – 20 Bf 109s of JG 53, six Bf 110s and a number of Ju 88s were seen patrolling overhead. The crews were alarmed at the prospect of having to evade the Messerschmitts, particularly the Bf 109s, such types not being anticipated so far out to sea – at least 120 nautical miles from Sicily; it seems likely that they were fitted with auxiliary fuel tanks for the purpose. The fighters pounced on the torpedo-bombers as the pilots attempted to line up on their chosen targets – the two largest transports, Reichenfels and Reginaldo Giuliani.
Flight Lieutenant Lander (X8924) and Pilot Officer Belfield (N1100) went for the rear ship on the left, attacking from starboard, while Leaning's section made for the same vessel from the port quarter; Beveridge's trio took the rear right-hand transport. Only five torpedoes were launched – three explosions being reported, with much smoke being seen from both ships, while a destroyer was also believed hit – the other three aircraft being forced to jettison when engaged by the escort. In fact, none of the torpedoes struck home and no damage was done to any of the vessels.
As soon as the torpedoes had been released, 24-year-old Pilot Officer Bertram W. Way's (RAF no. 45739) aircraft (N1166) was seen to have lost contact with the others of its section; Way attempted to join up with Lander's section instead, but as he moved closer he was attacked by a Bf 109 and shot down. The crew of an escorting Z.506B floatplane of the 170a Squadriglia RM reported being attacked by three 'Blenheims', one of which was then shot down by a Messerschmitt; the Italians had undoubtedly witnessed the demise of Way's aircraft and crew. It seems likely that it fell to Feldwebel Ludwig Reibel of 1./JG 53, who claimed a Beaufort shot down about 100km south-east of Malta at 16:05, and of this, his 7th victory, reported:
"Shortly before reaching the convoy our Gruppe noticed eleven (sic) low-flying Bristol Beauforts. We managed to drive them away from our convoy by attacking. I chased three Beauforts flying south-west and attacked the last one. On my second attack the aircraft was leaking fuel from its left side. On my fifth attack there was an explosion on the left side. The aircraft went into the water and crashed. I couldn't see what happened to the crew as I had to follow the other aircraft."
A desperate race to reach distant Malta was now begun, as the remaining Beauforts stayed close above the water, taking violent evasive action. Their chances were slim, but they nearly made it. At 16:45, Malta was almost in sight when 25-year-old Flight Lieutenant Robert G. W. Beveridge's (RAF no. 86337) luck ran out and his aircraft (N1169) splashed into the sea (Beveridge's body was later recovered from the sea). This was closely followed by another from his section, flown by 21-year-old Flying Officer Robert B. Seddon (RAF no. 89833), whose crippled N1186 ditched some six miles short of the Island. Flying Officer Derek A. R. Bee's (RAF no. 89073) aircraft (X8923) was seen flying low over Malta, endeavouring to line up for a landing, but a Messerschmitt appeared on his tail and shot the Beaufort down into the sea; there were no survivors.
Next to go down was Pilot Officer Belfield's N1100, four Bf 109s being seen buzzing around this until it ditched off Zurrieq, the crew taking to their dinghy. A nearby fishing boat which went to pick them up turned back owing to the presence of the Messerschmitts. Two fishermen in another boat disregarded the fighters however, and rescued the crew. In the meantime, another boat manned by L/Cpl. Julian Sciberras and Paul D'Amato went out to meet the fishing boat and two of the airmen were transferred to this.
Only three Beauforts now remained, and Flight Lieutenant John Lander's aircraft (X8924) was the next singled out for attack as he made his final dash for safety. His badly damaged aircraft had sustained a twisted wingtip, caused by hitting the sea whilst taking evasive action and the gun turret was out of action. Dodging some of his pursuers by flying close to Dingli Cliffs, he managed to crash-land on l.uqa runway, without hydraulics and with the rudder stripped of fabric over three-quarters of its length; he and his crew escaped injury. Flying Officer S. W. Gooch's machine (N1002) also got down, badly holed in the fuel tanks and with its hydraulic lines severed, while Flight Lieutenant A. T. Leaning's W6505 also landed safely; paradoxically, it had escaped even a single bullet hole!
Following the ditching, the crew from Flying Officer Seddon's aircraft had managed to extricate themselves, although two had been badly wounded. However, their dinghy had been holed, and would not inflate. Sergeant McGregor, whose back had been peppered with shrapnel, and Sergeant Alexander Miller (RAF no. 992624), one of the gunners, decided to swim for the shore. The wounded Seddon and 28-year-old Sergeant Thomas B. Keegan (RAF no. 986282) remained with the sinking aircraft, supported by their Mae Wests, in the hope that an ASR craft would spot them and pick them up. They perished, however, as did Miller when exhaustion finally overtook him. Alone, McGregor swam for five hours before finally reaching a rocky cliff edge, from where he was rescued next morning.
It seems that pilots from JG 53 claimed the majority of the Beauforts. Feldwebel Reibel of 1./JG 53 claimed one at 16:05 (most probably Pilot Officers Way's N1166) and Oberleutnant Klaus Quaet-Faslem of 2./JG 53 claimed one Beaufort at 16:45. Feldwebel Herbert Rollwage of 5./JG 53 claimed two Beauforts at 17:05 and 17:07 south of Krendi while Feldwebel Alexander Kehlbuth of 5./JG 53 claimed one at 17:06 south of Krendi. Two Bf 109s of II/JG 27 flew from Crete as escort to a Ju 52/3m, meeting a bomber en route, 40 km north-west of Derna, which Oberleutnant Oskar Simon shot down into the sea at 15:25. They claimed it as a Blenheim, but it seems likely that it was one of the Beauforts lost during the day.

Between 05:20-10:20 on 1 May, three Beaufighters of 272 Squadron undertook an offensive sweep along the western Cyrenaican coast during which a convoy of 50 lorries was attacked on the Benghazi-Agedabia road. Six tankers, a petrol bowser and 21 trucks were claimed destroyed. Squadron Leader Riley (Beaufighter Ic "D" with navigator Flight Sergeant Williams) also forced a Ju 52/3m of KGrzbV 400 to land apparently becoming bogged down in soft sand on the beach in the Gulf of Sirte. He then shot it up on the ground as three men jumped out of it and ran for cover; during the second attack, he did not see any further visible signs of damage.
The Ju 52/3m was credited as a destroyed but was in fact only 40 % damaged; reportedly 40km north of Agedabia. It subsequently returned to base with one of the crew KIA and one WIA.

He was promoted to Wing Commander on 1 June 1942.

On 14 June, the ships in Operation Vigorous were heavily attacked by Axis aircraft.
At 18:15 five 272 Squadron Beaufighter Ics departed Gambut, led by Wing Commander Riley who had been attached to this unit from Group Headquarters. As the new escorts took up their station, two Bf 109F-4s from III./JG 53 appeared overhead, searching for a missing comrade, Leutnant Hesse. Oberfeldwebel Alfred Seidl of 8./JG 53 at once dived on Pilot Officer W. B. Roger's aircraft (T4885/F) and shot it down at 19:15 (reported as 110km NNE Derna) so swiftly that the pilot and his observer, Sergeant G. L. Woolven, later reported that they thought Wing Commander Riley had accidentally shot them down. This belief was reinforced when Riley returned to claim a Ju 88 shot down. There is little doubt, however, that his victim had indeed been a German aircraft for, apart from the fact that Seidl did claim a Beaufighter shot down, two Ju 88s were reported lost to fighters or AA and three more were damaged and crash-landed on return to Crete.
The crew of the shot down Beaufighter (Rogers and Woolven) was fortunate to survive the ditching. When their aircraft hit the sea, the observer was able to scramble clear but it rapidly sank, taking the pilot down with it. Unable to open the escape hatch, Rogers resigned himself to his fate until pressure burst open the hatch and he was shot to the surface in an air bubble! At the same time, an almost empty fuel tank was ripped from the wing as the aircraft broke up and surfaced nearby allowing Woolven, who was a poor swimmer, to use it as a raft while Rogers pushed him ashore – in a swim that lasted ten hours!
272 Squadron's Sergeant George Tuckwell (navigator Sergeant Forrest) claimed another of the bombers during this patrol for his second victory. Tuckwell (Beaufighter T7329/W) had been endeavouring to maintain station over the convoy but was constantly fired on by the escorting warships, despite his being in radio contact with Coventry, and firing off the correct identification flares. Eventually, finding himself low on fuel, he decided to fly on to Malta but while en route, he spotted a Ju 88, managed to manoeuvre onto its tail – apparently unseen – and shot it down. Tuckwell's victim was possibly Ju 88A-4 WNr. 5542 L1+CH from 1./LG 1 aircraft flown by Oberleutnant Gerhard Brenner (RK), from which the crew took to their dinghy; of their subsequent plight, colleague Gerd Stamp recalled:
"We shadowed them for several days whilst they were in their dinghy, but the sea was too high and too rough for a landing by a flyingboat. It was terrible not to be able to get them out of the water."
About a week later, the dinghy was recovered but of Brenner and his crew there was no sign; it was assumed they had been washed overboard in heavy sea.
Two other Ju 88s from LG 1 crash-landed at Herkalion having sustained fighter or AA damage; Oberleutnant Helmut Lohnert's Ju88A-4 from 5./LG 1 had been heavily damaged (10% damaged and one of crew WIA), while I./KG 54 also suffered a further loss. Leutnant Herbert Knöthe's Ju 88A-4 WNr. 140216 B3+ML from 2 staffel was attacked by a fighter about 70 miles to the west of Crete (probably Wing Commander Riley's victim); the damaged aircraft succeeded in reaching Crete, only to crash on landing at Tymbaki, where it was totally destroyed. The crew perished.

He was shot down by flak on 26 June but returned to the squadron the next day.

Taking off in the morning on 11 July 1942, six 272 Squadron Beaufighter Ics (06:30-11:40) and three from 252 Squadron (06:35-11:15) undertook a patrol 60 miles north of Tobruk, hoping to intercept transport aircraft. Around 09:15, 25-30 Ju 52/3ms were seen approaching, all flying in tight vic formations. The lower flight of Beaufighters went in first for a head-on attack. The top cover, seeing no escorts present, joined in. There was, however, an escort of one Bf 110, one Ju 88 and one He 111; there was also considerable return fire through the fuselage portholes from the troops aboard.
Squadron Leader C. V. Ogden with navigator Sergeant M. C. Thomas (Beaufighter Ic T5031/A) from 272 Squadron initially claimed one shot down and one damaged, then attacked again, claiming damage to three more. He was at that stage attacked out of the sun by the Bf 110, his aircraft being hit and damaged. Squadron Leader Riley (T4880/Q), leader of the top cover four, had attacked several Ju 52/3ms, but saw the fighter on Ogden's tail and chased it off. It seems that Riley (with navigator Sergeant J. Martin) was credited with one destroyed Ju 52/3m even if this is not verified with the Squadron's ORB. Riley's aircraft was damaged by return fire in this combat and he made a forced landing at LG.39. Pilot Officer E. H. Hodgson with navigator Sergeant W. J. Antonia (T4980/F) reported sending one transport into the sea in flames while Sergeant K. A. Graham with navigator Sergeant L. J. Powdrill (T3290/B) claimed one Ju 52/3m as damaged.
252 Squadron claimed one destroyed Ju 52/3m, one probable and two damaged. The destroyed was claimed by Flying Officer A. D. Frecker with navigator Pilot Officer K. P. Hunnings (T4979) and the probable was claimed by Flying Officer Ian Maclean with navigator Sergeant E. V. B. Strange (T5054). One damaged was claimed by Maclean/Strange while the second damaged was claimed by Sergeant G. D. S. Rignall with navigator Sergeant J. Kilmister. Rignall/Kilmister's Beaufighter (T4881/D) was damaged by return fire and they also landed at LG.39 on return, but both were safe.
In fact, Luftwaffe losses appear to have been limited to a single Ju 52/3m lost and two damaged. Ju 52/3m (WNr. 6438 BA+OV) from Ln.Rgt.Afrika was shot down and crashed in sea off Derna with pilot Oberfeldwebel Heinrich Bock, wireless operator Unteroffizier Ernst Ruland, flight engineer Obergefreiter Johann Kocher, passenger Feldwebel Ernst Dunzlaff and passenger Unteroffizier Hugo Lautenbach all becomming MiA. Ju 52/3m (WNr. 5576) from 15./KGzbV 1 was damaged (15 %) and crash-landed at Tobruk airfield with Oberleutnant Richard Ziller and air gunner Obergefreiter Walter Rinkus WiA, wireless operator Unteroffizier Josef Geschwind KiA and one safe. Ju 52/3m (WNr. 3090) from IV./KGzbV 1 was damaged (10 %) and also crash-landed at Tobruk airfield with Unteroffizier Otto Ständer WiA and three safe.

On 16 July 1942, as the squadron took off from its Egyptian base to hunt transport aircraft flying in from Crete, the Beaufighters of Wing Commander Riley and Pilot Officer Deppe collided and crashed into the sea. Whilst Deppe and his navigator survived, Riley and Sergeant Martin were lost.

At the time of his death, Riley was credited with 1 biplane victory and a total of 8 and 2 shared destroyed.

Claims:

| | | | | | | | | | |
| --- | --- | --- | --- | --- | --- | --- | --- | --- | --- |
| Kill no. | Date | Time | Number | Type | Result | Plane type | Serial no. | Locality | Unit |
| | 1940 | | | | | | | | |
| | 24/05/40 | p.m. | 1/3 | He 111 (a) | Shared destroyed | Gladiator II | | Fjordbotneidet | 263 Squadron |
| 1 | 26/05/40 | | 1 | He 111 (b) | Destroyed | Gladiator II | | Harstad | 263 Squadron |
| | 21/08/40 | | 1 | Ju 88 (c) | Probable | Hurricane I | R4095 'WX-M' | 2m E Bridlington | 302 Squadron |
| 2 | 18/09/40 | | 1 | Ju 88 | Destroyed | Hurricane I | V6735 'M' | Thames Estuary | 302 Squadron |
| | 18/09/40 | | 1 | Ju 88 | Probable | Hurricane I | V6735 'M' | Thames Estuary | 302 Squadron |
| | 19/09/40 | | 1/3 | Ju 88 (d) | Shared destroyed | Hurricane I | V6735 'M' | NE Brandon | 302 Squadron |
| 3 | 15/10/40 | | 1 | Bf 109 E | Destroyed | Hurricane I | P3923 'U' | Canterbury | 302 Squadron |
| | 1941 | | | | | | | | |
| 4 | 16/04/41 | 14:20 | 1 | FW 200 (e) | Destroyed | Beaufighter Ic | T3237/PK-N | NE Scotland | 252 Squadron |
| | 07/05/41 | | 1/3 | Ca.310 (f) | Shared destroyed | Beaufighter Ic | | Lampedusa | 252 Squadron |
| | 1942 | | | | | | | | |
| 5 | 14/04/42 | 12:15-16:35 | 1 | Bf 110 (g) | Destroyed | Beaufighter Ic | 'R' | SE Malta | 272 Squadron |
| 6 | 14/04/42 | 12:15-16:35 | 1 | Bf 110 (g) | Destroyed | Beaufighter Ic | 'R' | SE Malta | 272 Squadron |
| | 14/04/42 | 12:15-16:35 | 1 | Ju 88 | Damaged | Beaufighter Ic | 'R' | SE Malta | 272 Squadron |
| 7 | 01/05/42 | 05:20-10:20 | 1 | Ju 52/3m | Destroyed | Beaufighter Ic | 'D' | Gulf of Sirte | 272 Squadron |
| 8 | 14/06/42 | 18:15-20:05 | 1 | Ju 88 (h) | Destroyed | Beaufighter Ic | | escorting convoy MW 11;Gulf of Sirte | 272 Squadron |
| 9 | 11/07/42 | 06:30-11:40 | 1 | Ju 52/3m (i) | Destroyed (j) | Beaufighter Ic | T4880 'Q' | Tobruk - Crete | 272 Squadron |
Biplane victories: 1 and 1 shared destroyed.
TOTAL: 9 and 3 shared destroyed, 1 or 2 probables, 1 damaged.
(a) Heinkel He 111H-3 '1H+KA' (WNr. 2411) of Stab/KG 26 shot down. The pilot Oberleutnant Hartmut Paul was wounded and taken POW, Oberfeldwebel Eduard Strüber (observer) was killed, Unteroffizier Gunther Eichmann (flight engineer) was taken POW, Unteroffizier Hans Blunk (air gunner) was taken POW and Feldwebel Alfred Stock (wireless operator) was killed.
(b) One He 111 of 2./KG 26 and one He 111 of 2./KGr 100 damaged, each with one of the crew wounded during this combat.
(c) This is recorded in the ORB as 'inconclusive' and may not have been treated as a probable.
(d) Believed to be Ju 88 A-1 WNr 2151, 3Z+GH of I/KG77, shot down north-east of Brandon. Unteroffizier Dorawa and crew killed.
(e) FW 200 C-3 WNr 0039 (F8+AH) of 1./KG 40; Oberleutnant Hermann Richter and his crew were lost.
(f) Actually an S.81 transport of 149o Gruppo SAS, which was lost with many aboard.
(g) Aircraft of III./ZG 26; one was actually a Do 17 Z-10 (WNr. 3250 of 10./ZG 26), which was shot down (crew KIA); a second, Bf 110 E-1 WNr. 3924 was either lost or damaged, the gunner, Unteroffizier Rudolf Lenthoff, being wounded.
(h) Probably Ju 88 A-4 WNr. 140216 B3+ML of 2./KG 54 flown by Leutnant Herbert Knöthe, which crash-landed on Crete (crew KIA).
(i) Claimed in combat with Ju 52/3ms from IV./KGzbV 1 and Ln.Rgt.Afrika, which lost 1 Ju 52/3m and got 2 damaged. 252 and 272 Squadron claimed 4 Ju 52/3ms destroyed, 1 probable and 7 damaged while suffering 3 damaged Beaufighters.
(j) Not verified with 272 Squadron's ORB.

Sources:
Aces High - Christopher Shores and Clive Williams, 1994 Grub Street, London, ISBN 1-898697-00-0
Aces High Volume 2 - Christopher Shores, 1999 Grub Street, London, ISBN 1-902304-03-9
A History of the Mediterranean Air War 1940-1945: Volume Two – Christopher Shores and Giovanni Massimello with Russell Guest, Frank Olynyk & Winfried Bock, 2012 Grub Street, London, ISBN-13: 9781909166127
Air war for Yugoslavia, Greece and Crete - Christopher Shores, Brian Cull and Nicola Malizia, 1987 Grub Street, London, ISBN 0-948817-07-0
Beaufighter Aces of World War 2 - Andrew Thomas, 2005 Osprey Publishing Limited, ISBN 1-84176-846-4
Deutsche Luftwaffe Losses & Claims -series - Michael Balss
Fledgling Eagles - Christopher Shores with John Foreman, Christian-Jaques Ehrengardt, Heinrich Weiss and Bjørn Olsen, 1991 Grub Street, London, ISBN 0-948817-42-9
Luftwaffe Claims Lists - Tony Wood
Malta: The Spitfire Year 1942 - Christopher Shores and Brian Cull with Nicola Malizia, 1991 Grub Street, London, ISBN 0-948817-16-X
Men of the Battle of Britain - Kenneth G. Wynn, 1999 CCB Associates, ISBN 1-902074-10-6
The Commonwealth War Graves Commission
RAF Fighter Command Victory Claims Of World War Two: Part One 1939-1940 - John Foreman, 2003 Red Kite, ISBN 0-9538061-8-9
Additional information kindly provided by Birger Larsen.




Last modified 14 September 2022